Spring's Hottest Shorts Trend Is A Modern Remix Of The '90s Classic Bermuda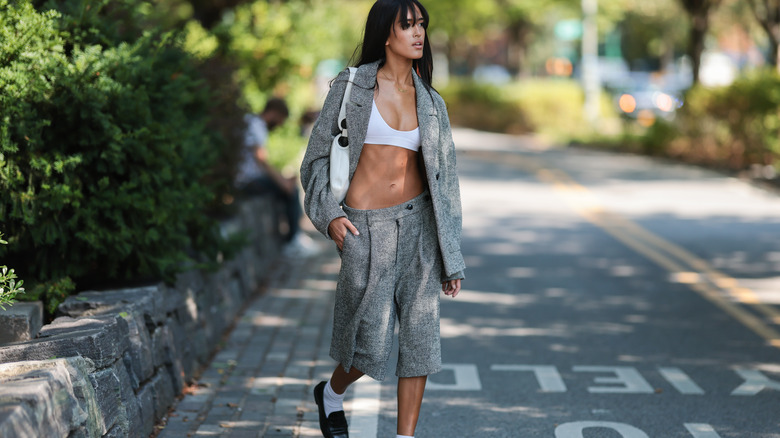 Jeremy Moeller/Getty Images
Whether or not we like it, '90s-era fashion is here to stay. Despite the emergence of other fashion trends, there's no denying that Y2K has a strong hold on our style. From head to toe, various fashion trends from this era have slowly crept back into our wardrobes indefinitely. One of the pieces that have made a significant comeback is the Bermuda short. These staple bottoms, which were once an iconic piece of '90s fashion, are now one of the chicest trends for spring. Unlike the shorts you can find in your dad's closet, these Bermuda shorts are all about making your outfits chic and ready for warm weather.
Advertisement
There's no denying that Bermuda shorts are an unexpected choice for making a fashion statement, but it has quickly become a favorite among style icons. One fan of this trend is model Bella Hadid. Hadid helped make Bermuda shorts the fashion-forward trend after stepping out in a matching preppy outfit complete with brown Bermuda shorts (via StarStyle). The trick to styling Bermuda shorts is to embrace the length and stick to your style preferences. Like many of today's trends, Bermuda shorts can easily be incorporated into your wardrobe, no matter your style.
Make it monochrome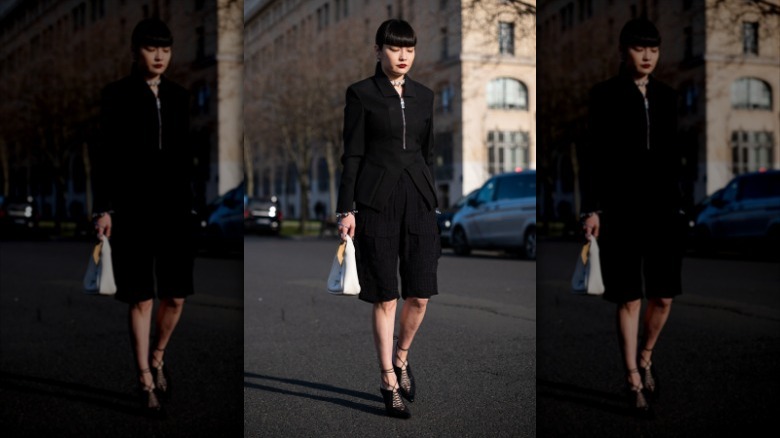 Claudio Lavenia/Getty Images
The easiest way to style your Bermuda shorts is by using them in a monochrome outfit. A monochrome outfit is one of the simplest styling tricks for whenever you don't know how to pair a clothing piece. Styling a monochrome outfit is easy as putting on a simple tee in the same color as your Bermuda shorts. If you want to level up your look, add a third piece in the form of a light jacket or blazer. Don't forget to add accessories in the same color or a pop of color for a chic and sophisticated look.
Advertisement
Can't go wrong with khaki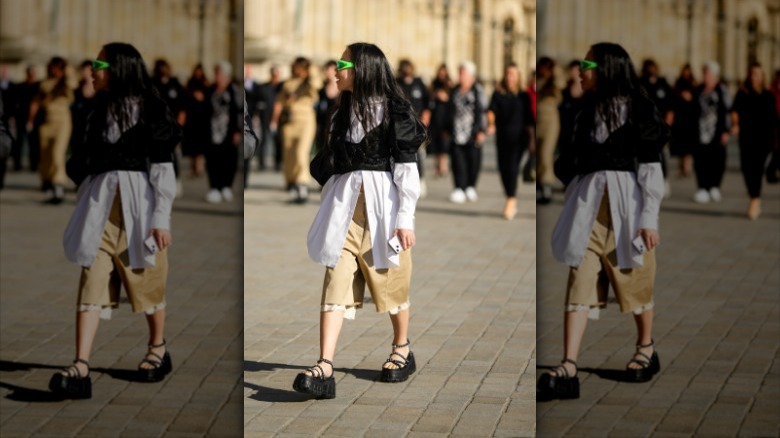 Edward Berthelot/Getty Images
Khaki Bermuda shorts will always be a classic bottom piece. Although many times we remember khaki Bermuda shorts as part of a school or work uniform, these pieces are the perfect base for any outfit. Because these bottoms are neutral pieces, you can pair them with almost any color on top. From brightly colored hues to other neutral colors, khaki Bermuda shorts are a fashion lover's ideal piece. This piece is especially perfect if you want to create a modern, chic, and preppy outfit.
Advertisement
Down with denim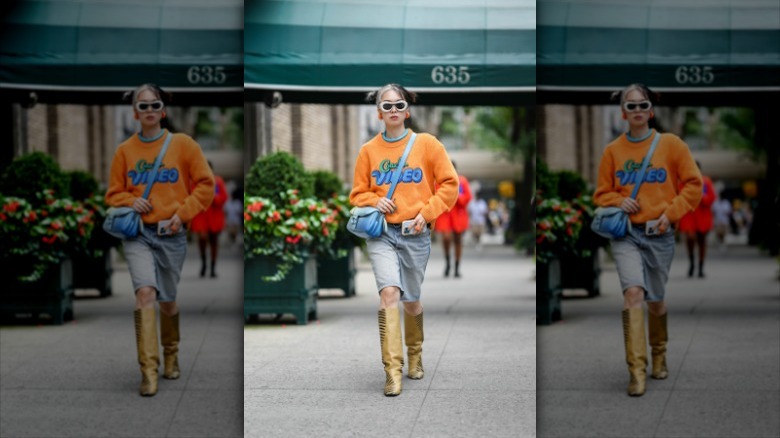 Edward Berthelot/Getty Images
You can never go wrong with a little bit of denim. A pair of denim Bermuda shorts will always be a chic way to incorporate the trend into your closet. Because denim is universal and easy to style, you can style these pieces with any top. Denim Bermuda shorts are also the perfect way to dress down any outfit that might seem too formal for your taste.
Advertisement
Powerful pastels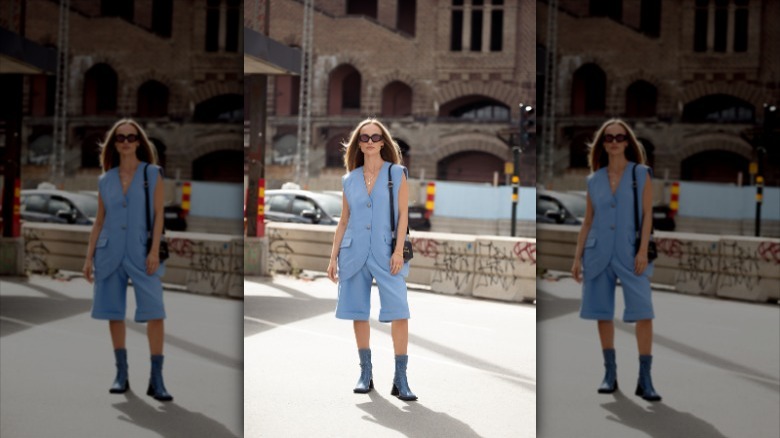 Raimonda Kulikauskiene/Getty Images
It's not spring without incorporating some pastel colors. Pastel-colored Bermuda shorts are one way you can bring this chic trend into the spring season without a struggle. Popular pastel colors like yellow, pink, and blue are classics for the season that you can seamlessly add to your spring rotation. Bermuda shorts in these hues add femininity while still keeping the tailored look. Pair these pieces with other tailored, lightweight pieces for a fresh spring outfit.
Advertisement
A minimalist must-have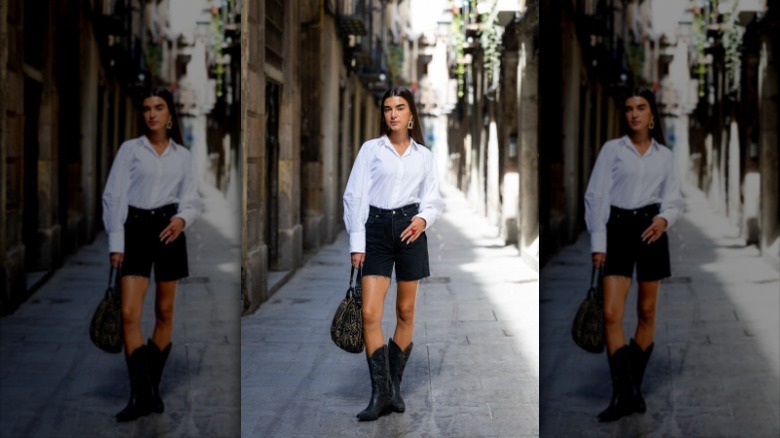 Christian Vierig/Getty Images
Although the '90s weren't known for their minimalism in fashion, there are still ways to tone down this trend to fit an everyday style. The best way to add Bermuda shorts to a minimalist's closet is to opt for a dark-colored pair. Style your Bermuda shorts with another solid-colored or neutral top and keep the rest of your look toned down. This pairing is also perfect if you want to incorporate Bermuda shorts into your workwear outfits.
Advertisement
Statement prints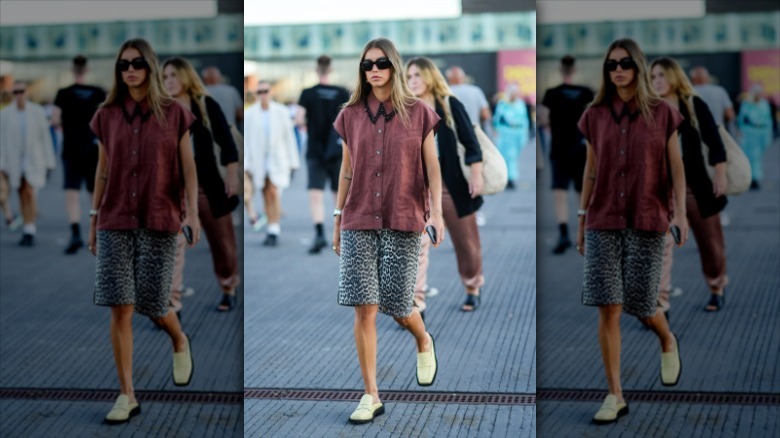 Edward Berthelot/Getty Images
There's simply no such thing as being too bold or loud in fashion. Create a funky and unique look by adding a bit of print to your Bermuda shorts for an unexpected twist to your outfits. While printed Bermuda shorts aren't as common as solid-colored shorts, they can add even more of a statement. With printed Bermuda shorts, you can either keep your top toned down or opt for an equally bold printed top. 
Advertisement
Make it metallic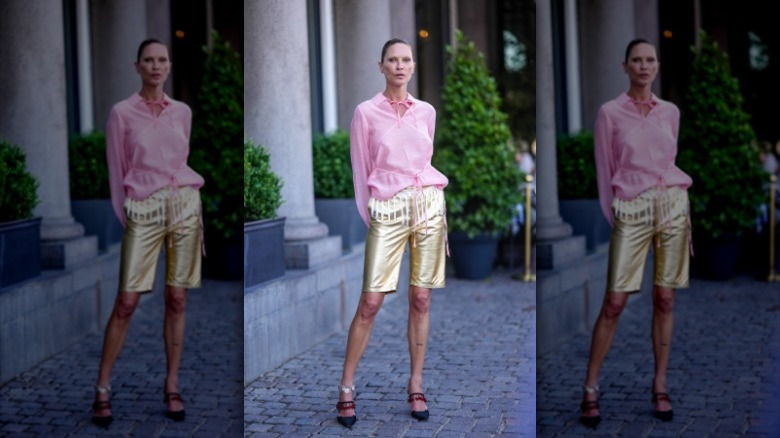 Edward Berthelot/Getty Images
If you've been keeping up with this year's trends then you know that metallics are another trend to look out for this season. Mixing metallic colors with your Bermuda shorts is a chic and glam way to take on these trends head first. While many wear Bermuda shorts in cotton or linen fabrics, metallic fabrics will add a more sophisticated look. Metallic Bermuda shorts are a must-have for any spring events you want to keep cool in without having to dress down.
Advertisement
Bermudas are formal, too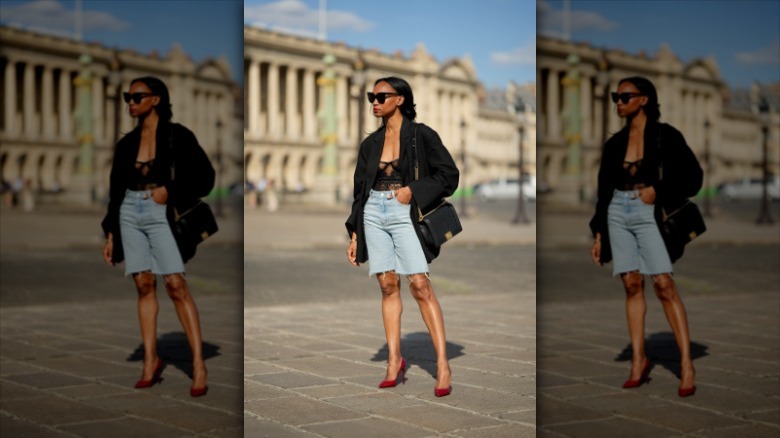 Edward Berthelot/Getty Images
There's no reason why you can't make Bermuda shorts into a formal outfit. While Bermuda shorts can easily be worn in any casual setting, adding them to your formal looks is a quick way to add some fun. If you're reaching for a cotton or linen pair of Bermuda shorts, add a more formal top or outerwear piece to dress up your look. Don't forget your favorite pair of heels for a comfortable look that can take you to any formal spring event.
Advertisement