Crisp Button-Up Shirts Are Going To Be The Fashion Staple You Can't Ignore In 2023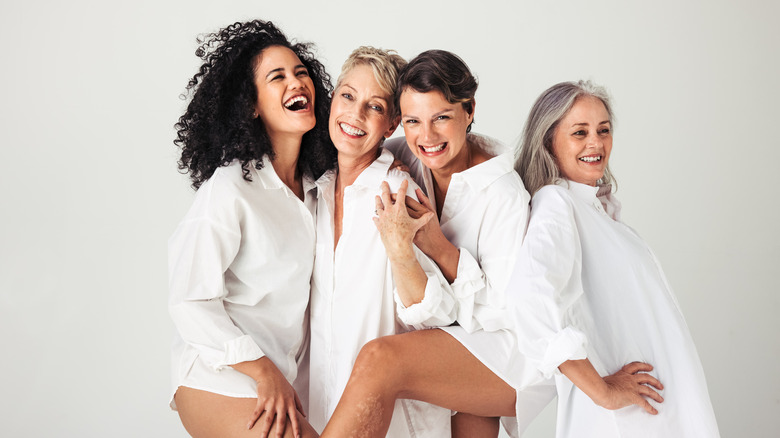 Jacoblund/Getty Images
In fashion, we are used to trends changing overnight. What was all the rage in December 2022 can suddenly be considered outdated only a month later. Tech Fashionista explains that there are many reasons for fads in fashion. The type of outfit may only look good on one body type, the look may be too eccentric to transcend styles, and the outfits themselves could be cumbersome to wear or to combine with what's already in someone's wardrobe. However, there is a wardrobe staple that will be essential for us to embrace in 2023.
Most of us have a crisp, white button-up shirt in our closets. Town & Country explains that the white button-up shirt is a wardrobe must-have. It's a versatile staple that is chic and stylish no matter how it's paired. Styling a white button-up shirt is straightforward in a formal or informal setting. In 2023, the white button-up will be the fashion staple that you should get ready to embrace.
White button-up with shorts
Because white button-up shirts can be used for formal or informal outfits, consider pairing yours with your favorite pair of cut-offs. This relaxed look is equal parts casual and sexy. Wear your crisp, white shirt with your favorite wedges, letting your hair down and feeling confident in this timeless look. Tuck in your shirt or leave the bottom unbuttoned and tie it at your waist for the perfect look for a day out. Consider accessorizing with a hat and a Boho bag.
Pair a white button-up with a skirt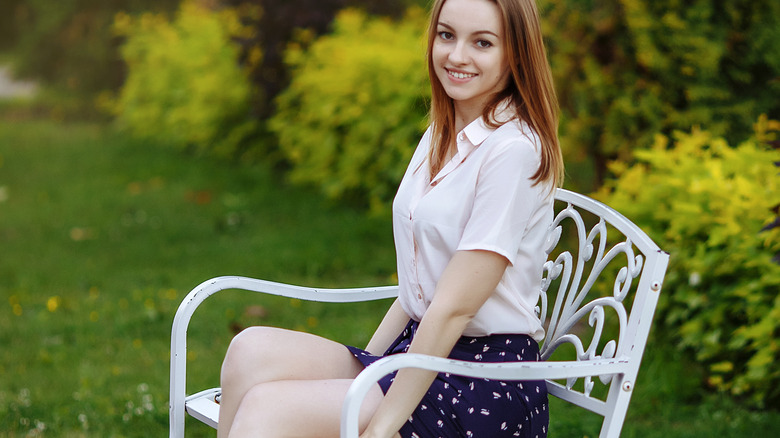 Liubov Kaplitskaya/Getty Images
A way to make this look more sleek and formal is to wear your white button-up on top of your favorite skirt. A white button-up matches any pattern on your and any style of skirt. Whether your skirt is tight to your body or flowing a bit more, your white button-up will be the perfect top for this look. Tucking your shirt into your skirt gives you a great option for work wear, and adding a belt is a fun way to accessorize your outfit. Wear this outfit with ankle booties or simple slides.
Unbuttoned with jeans or a dress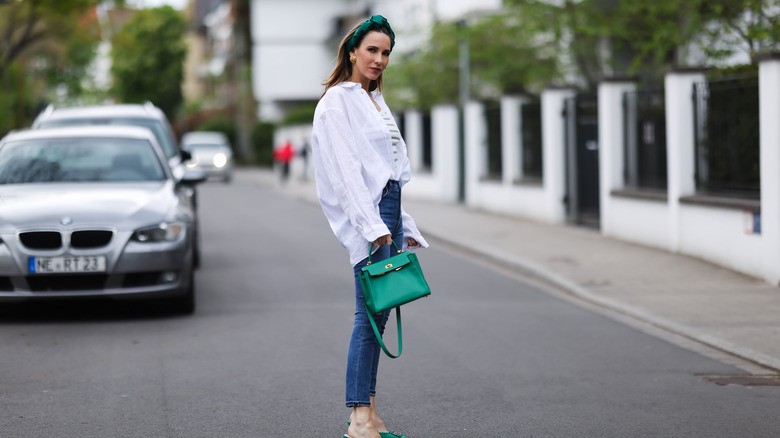 Jeremy Moeller/Getty Images
Although the button-up looks beautiful buttoned all the way up to your neck, consider your options with wearing it unbuttoned halfway or all the way. The white button-up can be unbuttoned all the way down and worn over your favorite short dress or maxi dress. This look is a little more formal and a great option for the office or coffee with friends. In addition, to make this look less formal, leave the white shirt buttoned halfway over a pattered tank top under it with your favorite jeans. This is the perfect in-between-seasons look.
Button-up dress with a belt
Dress shirts appeared in the fashion world quite a while ago, and they are still a simple way to stay stylish and look sexy. The white button-up shirt dress style is no different. Pair your white shirt with a belt and some matching earrings. For colder climates, consider wearing your shirt dress over leggings and add boots or booties. Consider wearing this with sneakers for a more casual look. A crisp, white button-up worn as a dress is a comfortable and stylish option for this closet staple.
Tied up with a skirt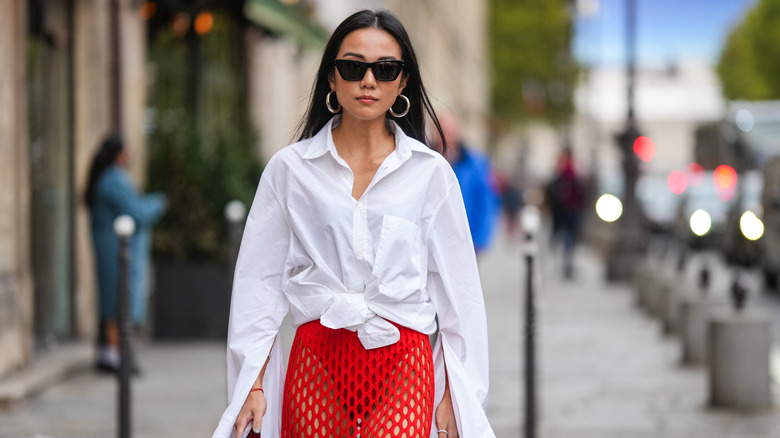 Edward Berthelot/Getty Images
If your white button-up is oversized, you have the perfect top for a tied look. Whether it is tied up over a maxi skirt, ripped jean shorts, or leggings, tying up your white button-up is a cute and sassy way to wear this closet staple. Consider rolling the sleeves, tying on the right or the left of your waist, or even tying it up above your belly button to show some skin. Make sure the bottoms are sleek and slimming, and you've got another great option for the white button-up.
Casually tucked in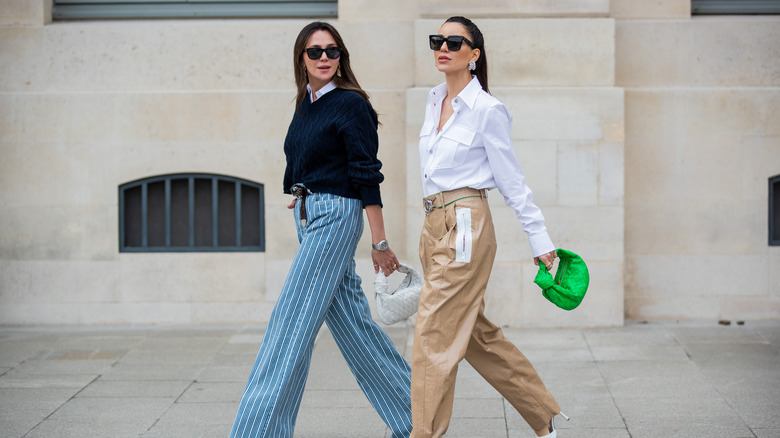 Christian Vierig/Getty Images
Because the white button-up is so versatile, don't compromise comfort for style. Pair your white button-up with some loosely tapered pants, tailored joggers, or wide-legged trousers. By tucking in your white button-up to your pants, you'll accentuate the fun look of these different pant styles and create a gorgeous silhouette. This is a versatile look you can take right to the office or wear when you're having tea with your pals — and you can add a pop of color to the look with the right handbag.