Low Buns Are Coming Back Thanks To Sofia Richie
Sofia Richie has single-handedly been setting style trends, and we are here for it. From her glamorous wedding look to the dainty vintage watches she's been known to wear, she has been creating style waves that have inspired both the fashion world and the beauty world on a global scale. One of the looks that she has become synonymous with is the low bun.
One way to achieve this popular hairstyle is by first placing your hair in a low ponytail. Richie does a sleek low bun, but she also sometimes leaves the face-framing pieces of her hair out to create more of a messy look. Next, form a twist with two sections of your hair until you get to the bottom of the ponytail, and then wrap it around the base. From there, secure your hair with pins, creating the perfect low bun. Once you have mastered the hairstyle, there are a bunch of ways to make this look your own, whether it's with statement accessories or more intricate styling techniques. Trust that there's a low bun for every occasion and style.
Keep it casual with a scrunchie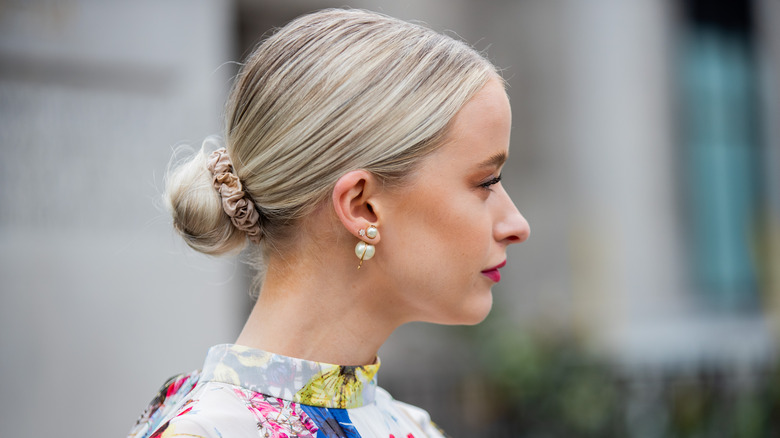 Christian Vierig/Getty Images
For those who are low on time, keep it simple by creating a low bun in the usual way and then securing it with a scrunchie. Scrunchies are great hair accessories because they add a cute touch, while still allowing the hair to be casual. To have the look stand out, use a scrunchie that is larger so it sticks out next to the bun.
Add a few statement accessories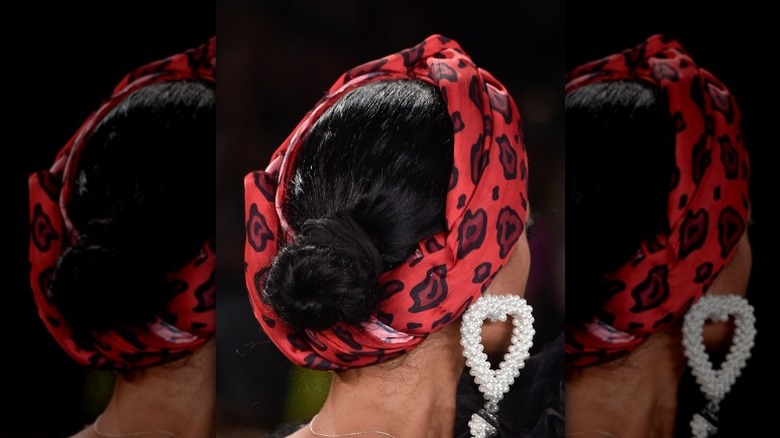 Peter White/Getty Images
Sofia Richie's low bun is all about quiet luxury, but you could adapt this to a maximalist style by incorporating statement accessories. If you want your hair to have a more unique vibe, try adding a bold headband or chunky earrings. Pearl earrings, in particular, will bring an under-the-sea touch that will make this look your own.
Let your bun get a little messy
If you are in a rush and still want a cute style, put your hair in a looser ponytail before creating the low bun. This allows the hair to be less pristine, but still gorgeous as ever. Don't worry about tucking in all the loose pieces with pins — they'll give this style more edge when they're free!
Incorporate a beautiful braid
While it might seem complicated, braids are really easy to add to your low bun. To get the look, create two braids in the front of your hair, before pushing all of your hair back into a ponytail. From there create your low bun as usual, and see how amazing it turns out. Braids tend to suit messier buns rather than sleek ones!
Flowers are a great addition
If you want a simple yet feminine accessory, adding a flower to your bun is your ticket. Flowers are an easy way to add a bohemian vibe to your look, while still maintaining the elegance that Sofia Richie has. Create your low bun as usual, and then add a few where you see fit.