Light-Wash Jeans Are Finally Getting Their Due (No Thanks To Decades Of Dark-Wash Propaganda)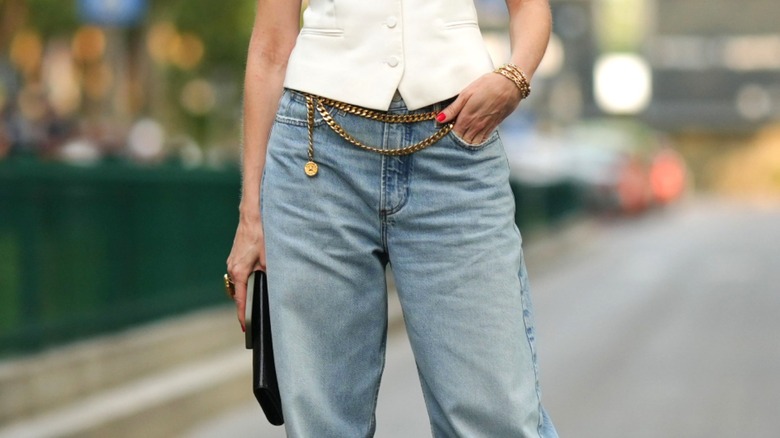 Edward Berthelot/Getty Images
For a while there, light-wash denim became synonymous with mom jeans — and not in a good way. So it's no wonder that fashionistas eventually rebelled against the pale and faded jeans of yore, jumping eagerly onto the bandwagon of moody, slimming dark-wash jeans instead. But guess what? Mom jeans are back in style, and it's high time that light-wash jeans made their own resurgence. From airy blue tints to the harsh pallor of bleached or acid-wash jeans, the softer hues of light-wash denim can add much-needed brightness to any ensemble.
Of course, there's also the seasonal debate. Instead of trying to keep up with trends, some people try to switch up their denim hues with rising and falling temperatures, reserving the lightness of pale jeans for sunny days. "During the warmer months, bleached blue denim always works for me. It gives such a fresh summer vibe," fashionista and content creator Elaine Davis tells Who What Wear. And it's true — light-wash denim is a quintessential summer look. But these versatile jeans shouldn't just be relegated to warm weather. If you're hoping to embrace their fresh, clean aesthetic, light-wash jeans can easily be styled for every season and occasion.
Light-wash slim-fit jeans are effortlessly glamorous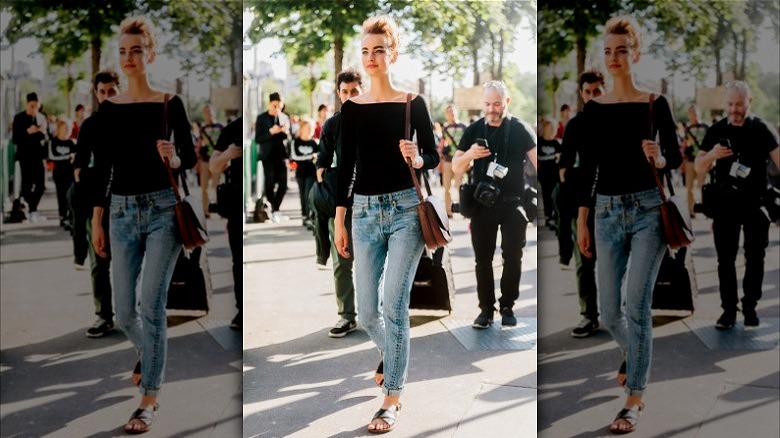 Melodie Jeng/Getty Images
When it comes to simple glamour, nothing embodies quiet confidence like a classic pair of slim-fit jeans. Fitted enough to show off your figure but relaxed enough to communicate an air of ease, slim-fits present an ideal partner for your next trip to the farmers' market or Sunday brunch. And when you style this cut with equally nonchalant light-wash denim, the effect is effortlessly chic. The key? Neither the cut nor the color are "try hard" looks, making it seem like you just roll out of bed looking instantly fashionable.
Light-wash skinny jeans create a sleek silhouette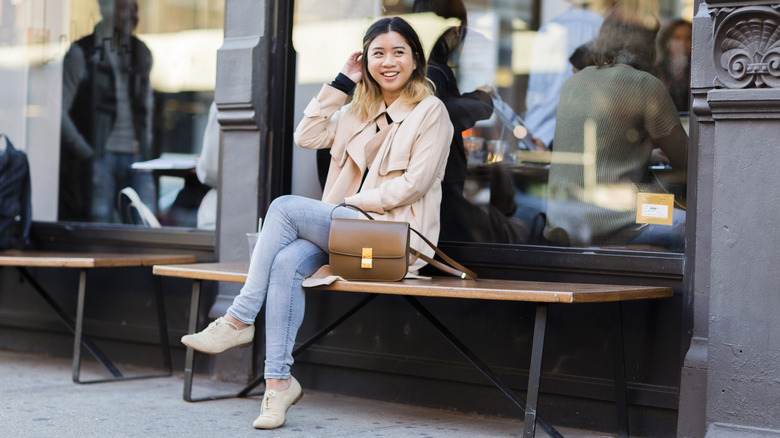 Melodie Jeng/Getty Images
Skinny jeans have become a surprising point of contention in the fashion community. But no matter what the haters may say, skinny jeans aren't dead. On the contrary, they've earned their spot as denim must-haves — and when you want an outfit that breathes easy sophistication, you can't go wrong with the refreshing combo of light-wash skinny jeans and flats. The long, unbroken lines of this silhouette are universally flattering and can work with other fashion staples from every season. For casual elegance, top light-wash skinny jeans with an oversized sweater in fall and winter, a chic trench or rain jacket in spring, and an airy blouse in summer.
Distressed light-wash denim adds a subtle edge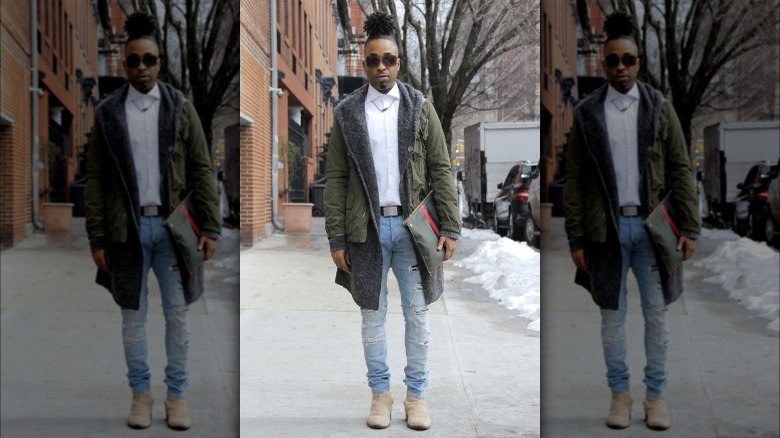 Georgie Hunter/Getty Images
Artfully distressed jeans are nothing new, but something about ripped light-wash denim just hits different. The deep, pristine color of dark-wash jeans can actually fight with the rough-and-tumble vibe of frayed holes — but with a light-wash look, those tears and rips seem right at home. Perhaps it's because the faded look of light-wash jeans adds to the illusion that the fabric has earned its wear and tear, creating a more genuine sensation of edginess. Whatever the reason, distressed light-wash denim provides an understated coolness that won't distract from the rest of your ensemble.
High-waisted light-wash jeans are youthful and flirty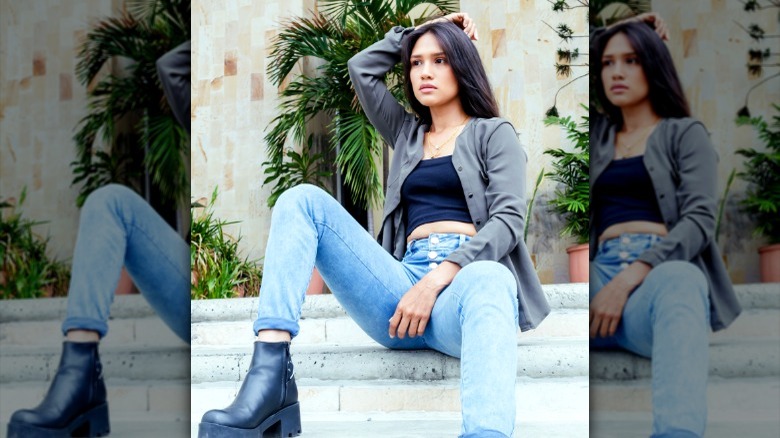 Anderson Arboleda/Getty Images
High-waisted jeans have been having a moment in recent years, and it's easy to see why. Their flattering structure compliments any figure and lets you play with cropped proportions without having to bare your entire midriff. Presented in summery, light-wash denim, high-waisted jeans feel fun and flirty. Pair these jeans with a crop top or tuck in your favorite tee for an easy day-to-night ensemble ideal for concerts, festivals, or grabbing a few drinks with friends.
Light-wash flares offer a playful, vintage vibe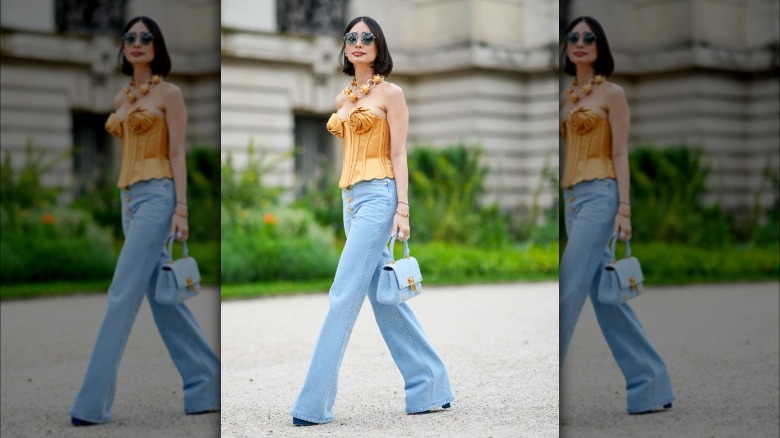 Edward Berthelot/Getty Images
Like the tides, flared jeans come and go. Right now, the tide is in again — which is just one of many reasons to add flared jeans to your wardrobe. And while you can find them in an array of colors and finishes, there's something timelessly appealing about quirky, light-wash flares. This silhouette and color combo doesn't take itself too seriously, adding a pop of interest to any outfit. Try pairing flared light-wash jeans with a fitted top to maintain the flow of their curvaceous lines. And don't forget to let a little toe peep out from that flared hem — these jeans look extra cute when they're serving a hint of platform heels or chunky boots.
Detailed light-wash jeans create a subtle statement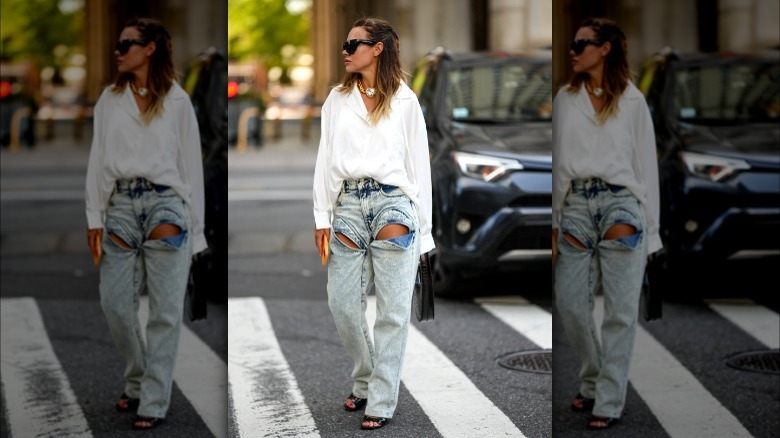 Edward Berthelot/Getty Images
Regular jeans may be a wardrobe staple, but plenty of designers love to experiment with their denim. So if you want jeans that could double as an outfit centerpiece, you've got options — from denim with cutouts or embroidery to trendy split-hem jeans. Whichever twist you select, choosing these funky jeans in a light wash makes the details easier to read and appreciate, so the uniqueness of your denim catches the eye.
To let the intricate detail on your light-wash jeans stand out even more, consider pairing them with understated pieces. A breezy button-up or basic white tee adds class and lets your jeans take their rightful place as your outfit's focal point.
Super-baggy light-wash jeans are chic streetwear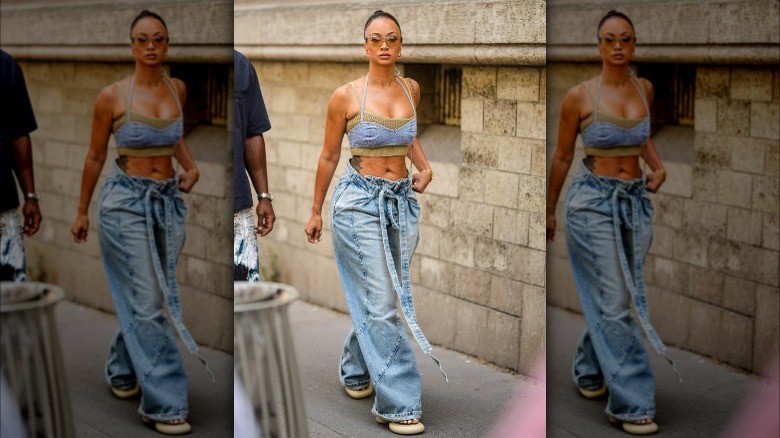 Edward Berthelot/Getty Images
From its informal roots, streetwear has grown into a fashion-forward genre that both inspires and takes inspiration from haute couture. But at its core, streetwear still embodies a casual energy — which is why it plays so well with light-wash denim. Use streetwear looks as an opportunity to play with proportion and the juxtaposition of hard and soft. For instance, a pair of oversized light-wash jeans offers a stylish counterpoint to the tight fit of a crop top or that noughties-throwback babydoll tee.
Any light-wash jeans look classic with a graphic tee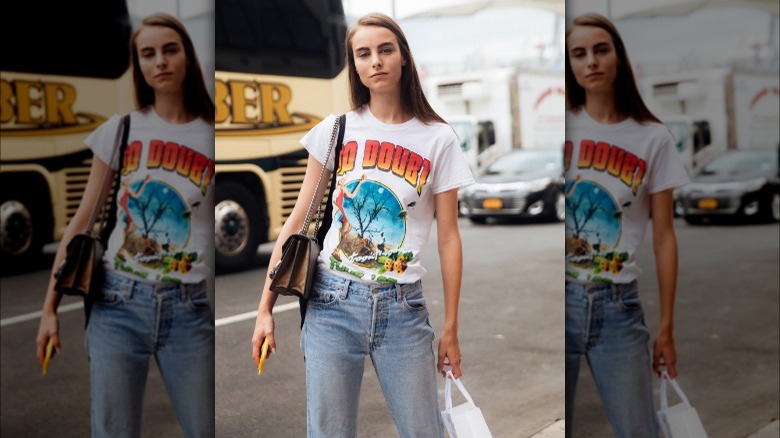 Melodie Jeng/Getty Images
Is there anything more classic than jeans and a T-shirt? And while dark-wash denim has long been a favorite among those seeking a more polished aesthetic, light-wash jeans are a natural pairing for any graphic tee. This duo looks so good together that the cut of the jeans barely matters — simply slip on your favorite pair of light-wash denim to perfectly complement that tour shirt, slogan tee, or branded top. If the shirt hangs long, try tucking it in or employing Tan France's beloved semi-formal French tuck.
Think outside the box with light-wash denim overalls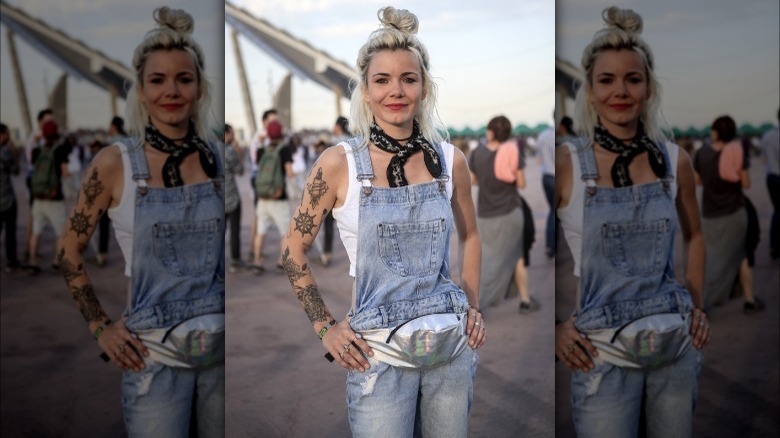 Xavi Torrent/Getty Images
Trying out varied ways to style light-wash jeans? You can also put a spin on the look by going for light-wash denim overalls, instead. Light-wash overalls offer a chill, down-to-earth fashion sensibility that is eminently unfussy. Plus, you can style light-wash overalls for all seasons, whether with a punky tank top for warm weather or a long-sleeved tee and cozy cardigan come wintertime.