Butterfly Tops Have Fluttered Back Into Style - And They Look Great On Everyone
Besides having hit songs, Dua Lipa is known for being part of the '90s wave that has influenced contemporary fashion. From Y2K accessories to sheer pieces, the London-born singer knows how to bring a retro vibe to her wardrobe. One of the many pieces she's helped to bring back is the butterfly top. 
The butterfly top was iconic in the '90s thanks to celebrities like Mariah Carey, who rocked it at every opportunity. With the butterfly top back in the trends, it's time to make this once daunting garment modern and accessible to everyone.
Many trends from the 1990s and early 2000s, like low-rise jeans, made those who didn't have small waistlines feel like they couldn't wear them. But now we know that anyone can wear anything — it's the confidence you wear it with that counts. Fortunately, there are ways to wear the butterfly top that suit every confidence level, highlight those features about your body that you love, and help you achieve the specific look you're going for.
Crochet butterflies
Crochet fashion evokes nostalgia and summer, and always creates a form-fitting figure. A crochet butterfly top, for example, is perfect for those who want to show off their figure without worrying about fabrics that aren't breathable or don't stay in place. This material fits your body like a glove, so it's ideal for fashionistas looking for tight-fitting pieces. 
Cropped denim butterflies
Denim isn't always the most comfortable fabric, but its retro vibe makes it worth the stiffness! A cropped denim butterfly top can work on both tall and short people, though if you are on the shorter side and don't want to show as much skin, you can pair it with high-waisted shorts or jeans. And of course, double-denim is the ultimate nod to the '90s. Britney Spears would be proud!
Wearing it over clothes
The butterfly top is known for being worn on its own, but that doesn't mean it can't make for the perfect layering piece. For those who want something with more coverage and modesty, wearing the butterfly top over a button-down or plain tee, either long or short-sleeved, is the best solution. The butterfly top, worn like a standard sweater vest, elevates any understated piece, turning your look from business casual to high-fashion. 
Embroidered butterfly tops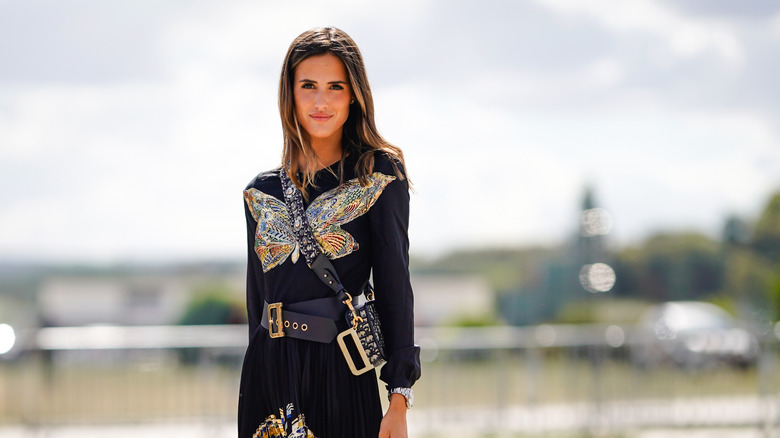 Edward Berthelot/Getty Images
Not all butterfly tops need to come as stand-alone pieces. These tops can also come with the butterfly graphic embroidered to get the same vibe. For those not completely secure with baring that much skin, an embroidered butterfly motif on a regular top will immediately give you nostalgia without having to step outside of your comfort zone. 
Long butterfly tops with outerwear
Many butterfly tops are crop tops that only cover the chest area. Although those are perfect on anyone, people who don't want to show as much skin can opt for a longer-length butterfly top. The excess material combined with the butterfly cut will give you the perfect balance between showing skin and covering body parts that you want to cover, and for extra coverage, you could pair it with a coat or long jacket. The length also makes this a particularly great style for tall gals. 
Sequined butterflies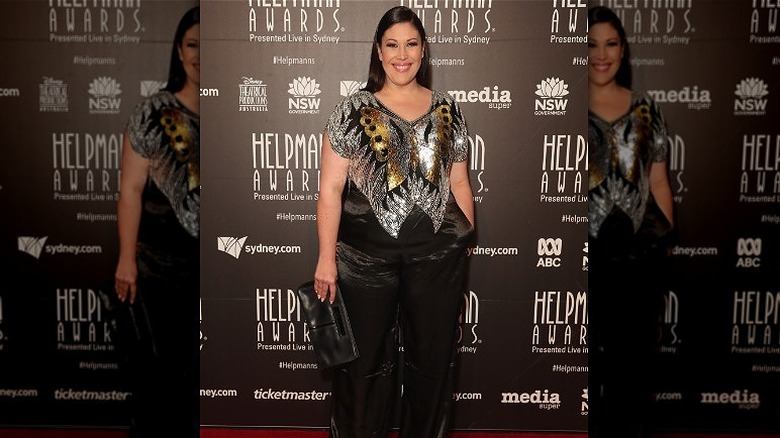 Don Arnold/Getty Images
Aside from denim, another common design for this trend contains tons of sparkle. Sequined butterfly tops are ideal for anyone because everyone looks fabulous in sequins. Unlike other textures or fabrics, sequins can look fantastic in any design or color. Plus, sequins increase the fun in your wardrobe, giving you more confidence and style points. You look as you feel, and there's no doubt that this sparkly and shiny classic is perfect for dipping your toe in the dopamine dressing trend. 
Butterfly accent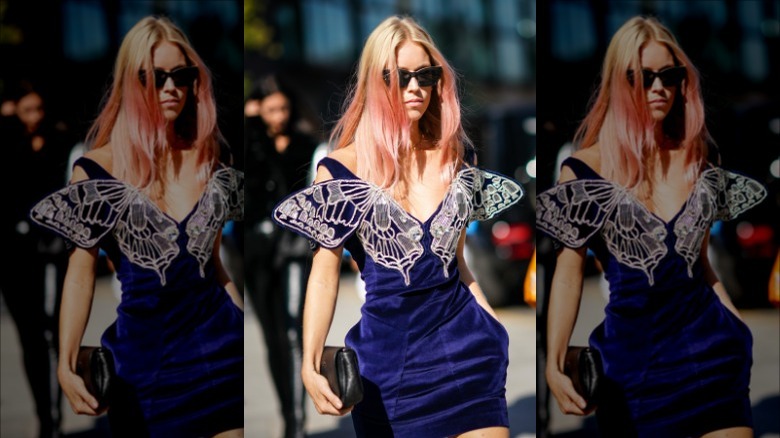 Edward Berthelot/Getty Images
Accents and prints are subtle ways of getting the butterfly top fashion into your wardrobe. With butterfly accents such as 3D details, prints, and butterfly-shaped layers that work with any top, you can easily create or accentuate an hourglass shape. They will highlight the shoulders while appearing to cinch the waist. 
The chic butterfly top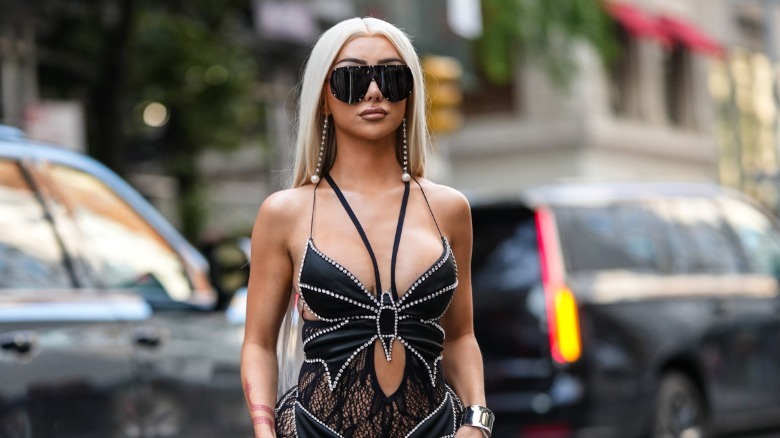 Edward Berthelot/Getty Images
Although this trend is perfect for those looking to complete their Y2K wardrobe, not everyone feels comfortable wearing such a street-style piece. Making this trend a bit more sophisticated is as easy as looking for sleek fabrics and designs. Tight-fitting silk, and satin are some of the fabrics known best for elevating any look, and they also work wonders to highlight your favorite features. Reaching for a top with a printed or butterfly-shaped motif is the easiest way of taking this trend into 2023. 
The butterfly blouse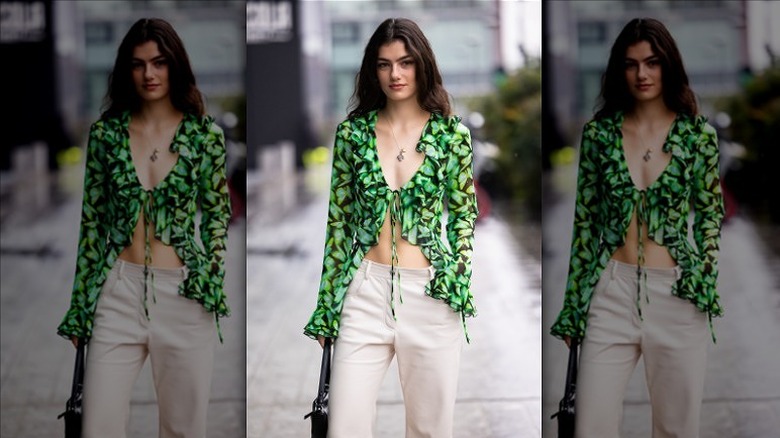 Claudio Lavenia/Getty Images
The butterfly top has officially entered its butterfly blouse era. Although no one can replace the nostalgia of a butterfly top, the butterfly blouse is the grown-up and mature iteration that suits everyone, particularly those who are not comfortable with minimal material or are seeking a more elegant look. With cutouts in the material, any blouse with these characteristics can give you the butterfly effect.