Dua Lipa's 2023 Met Gala Look Gave Bridal Barbie In The Worst Way (Sorry, Twitter)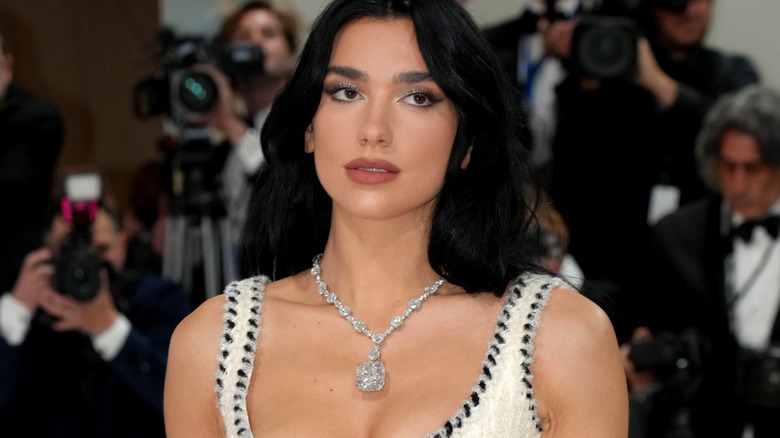 Jeff Kravitz/Getty Images
Controversial yet undeniably talented Karl Lagerfeld was the king of chic fashion. So, it's no surprise that the 2023 Met Gala theme is dedicated to honoring the late designer. Every fashion enthusiast knows that Lagerfeld's looks were typically elegant and sleek rather than over-the-top; Lagerfeld's designs were ultra-fashionable — not extra. But there's a line between classically chic and boring, especially when attending the Met Gala. Sadly, and to our surprise, one of the co-chairs of the event — the talented and gorgeous Dua Lipa — crossed that line.
Of course, expectations were high for the singer, as she typically wows with her striking, stylish ensembles. The 2023 Met Gala co-chair entered the occasion in a Chanel ball gown from 1992 and Tiffany & Co. diamonds, but even Tiffany's sparkle couldn't add enough shine to prevent this outfit from falling flat. Yes, it was beautiful, but even beautiful looks can be boring — and social media can't try to convince us otherwise.
Sorry, Twitter, but this look is dull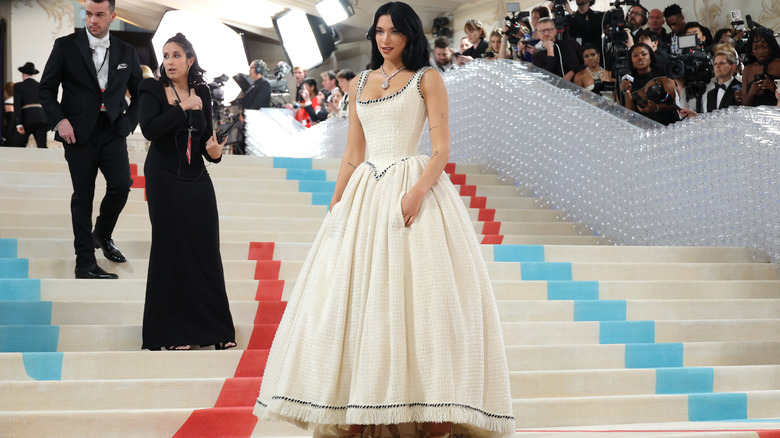 Mike Coppola/Getty Images
With the off-white hue, subtle black details, timeless ballgown silhouette, diamond jewelry, and flowing hair, Dua Lipa's ensemble would've been perfect for a wedding. And the clean, hyper-femininity of the look would make it perfect if there were to be a wedding scene in Greta Gerwig's upcoming "Barbie" film. But a crucial part of any successful outfit is dressing appropriately for the setting, and this is the Met Gala, not a wedding at Barbie's Dream House — thus, it just wasn't the right look for the event. People want to see drama and creativity at the Met Gala, not a beautiful bride.
Twitter seems to disagree, as @saintdemie declared in a Tweet, "The met gala night hasn't fully started yet and dua lipa is already making her way to the top 5 best looks of the night. this chanel 1992 worn by claudia schiffer on runway is beauitful!" This tweet has many retweets and thousands of likes, as no one can argue with the fact that the pop star looks lovely. However, someone noted the look's lack of excitement in a response to the Tweet, writing, "She should have worn the hat w a dramatic blow out curl updo to add drama. The pull is iconic and the dress is beautiful but it looks... boring." If the co-chair's outfit featured a bit more black, a little less white, and more embellishment, it would've been a show-stopper. But the look gives more Barbie-worthy bridal beauty than Met Gala glam.