Banana Yellow: The Bold Color Brightening Summer Manis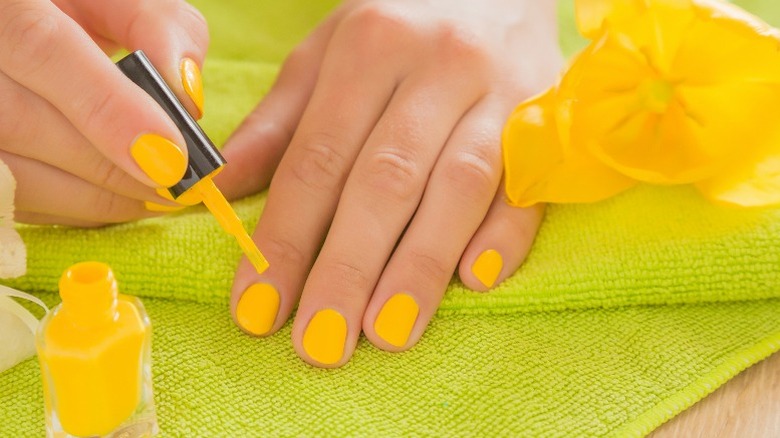 Fotoduets/Getty Images
The color experts at Pantone have given the title of "Banana Yellow" to a rich, slightly golden hue of yellow. Inspired by the fruit itself, banana yellow is a subdued shade of the neon yellow pigments that are trending in the manicure world at the moment. 
Just like actual bananas, the hue has slight variations amongst itself as it can shift from an overly ripe tone to a deeper tint of yellow with darker shadows, just as bananas go from their own shades of green and yellow, then end up with spots as they edge past their optimal ripeness. Obviously, nail polish and manicure styles aren't the same as fruit, but with colors like banana yellow, it's certainly fun to play around and pretend to be on a tropical vacation in an environment as rich and luscious as the banana yellow polish options.
Makeup.com similarly concurs that there's inherent variety within banana yellow as a pigment, as well as in the variety of styles the color can create with its pop of sunny brilliance! To feel the warmth of summer days and tropical getaways, banana yellow is the hue for you. 
Adorn your nails with depictions of bananas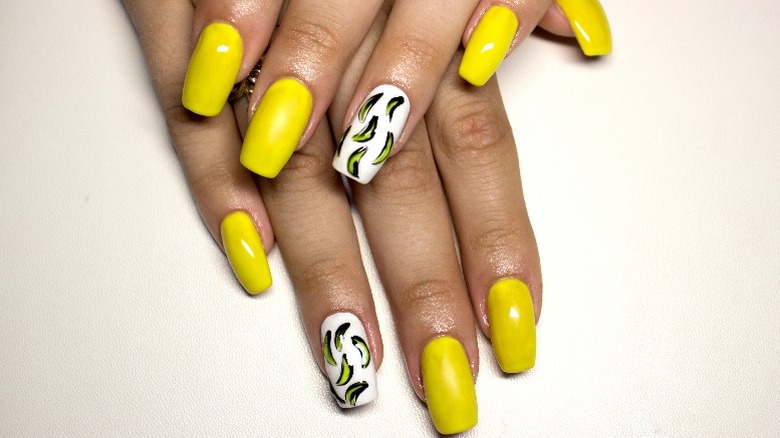 MikhailPopov/Shutterstock
Bananas add sweetness to any dish and even come in the shape of a smile, so there's no denying the spectacle this fruit is capable of making. To enjoy the rich, summery shade of banana yellow nail polish during your next manicure, pay homage to the fruity pigment by selecting a combination of solidly shaded banana yellow, then add artistic works depicting bananas themselves on certain fingers. Alternatively, opt for stick-on designs for easier effects. 
Channel banana pudding with pastel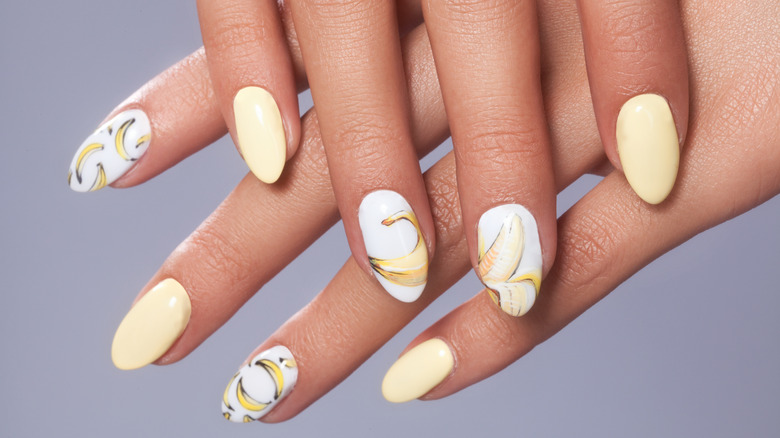 Victoria Rudakova/Shutterstock
The manicure equivalent to mouthwatering banana pudding comes to fruition — pun intended — with pastel polish. This light nail shade isn't traditional banana yellow, but it is as smooth and succulent as actual banana pudding. Recreate the creamy pastel palette on select nails while utilizing white polish to represent whipped topping and artistically drawn bananas for a wearable dessert. 
Fruit salad fusions of color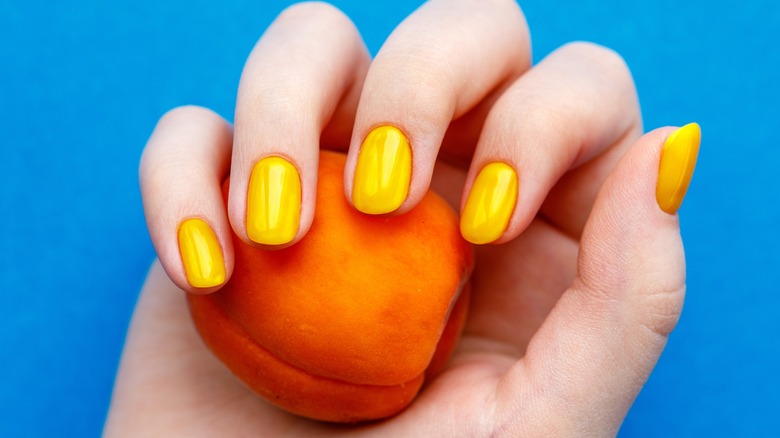 laksena/Shutterstock
To create a nail shade version of fruit salad, banana yellow pairs perfectly with the orange overtones of nectarines, peaches, and other similarly colored fruits. Opt for a darker color, such as orange, around the rim of the nail to create a contrast that delivers a delectable aesthetic on your nails. 
Add banana yellow tips to your French manicure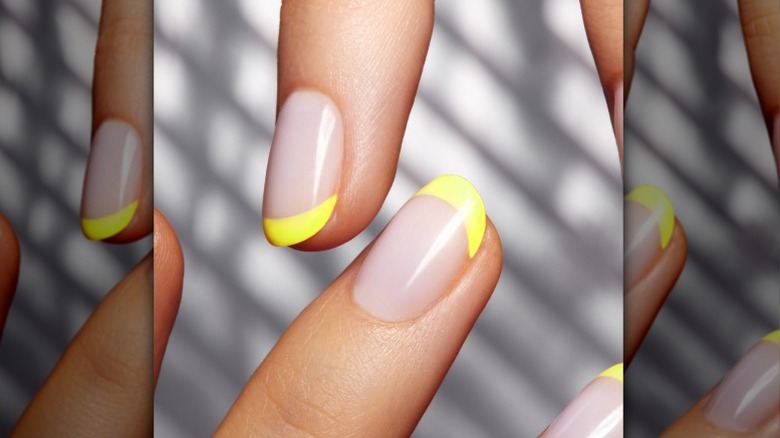 marinafrost/Shutterstock
Translating banana's versatility as a fruit into manicure fashion, banana yellow polish can serve as a pop of fresh color when applied as colorful tips on a classic French manicure. Swap out the style's traditional white for banana yellow to bring a little sunshine to the look.
Turn your French manicure into a banana split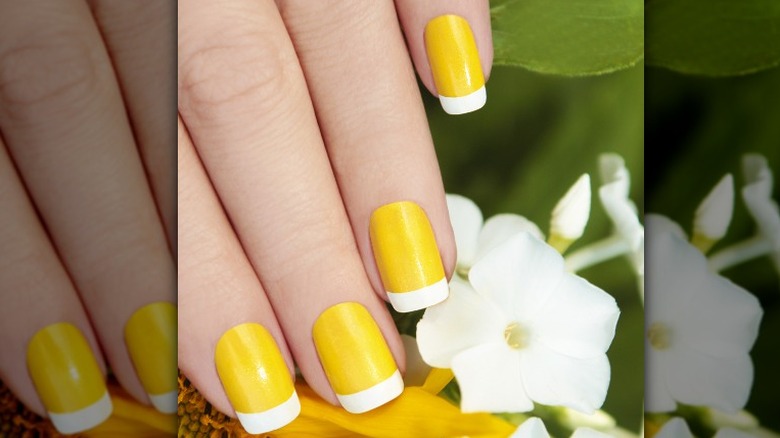 marigo20/Shutterstock
French manicures are versatile enough to transition into an array of styles. Like banana split, you can flip them upside down and turn them around to create something new and delicious. Channel a cream-topped banana split with a yellow base color and white tips.
Incorporate some glimmer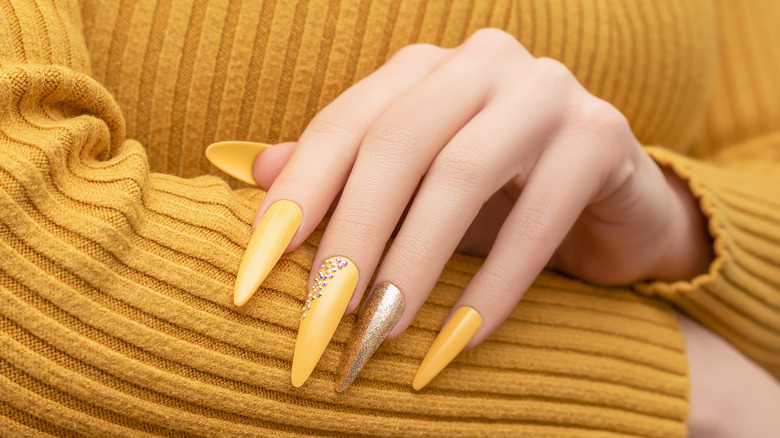 Dev_Maryna/Shutterstock
As you dream of tropical escapes, manifest your ideal tropical sunset by modeling golden glimmer on top of banana yellow nail polish, perhaps adding cuticle embellishments to embrace the pearlescent purview of tropical waters and days spent lounging on white sand. For an even bolder effect, wear this style on long or stiletto nails. 
Model your manicure after ripening bananas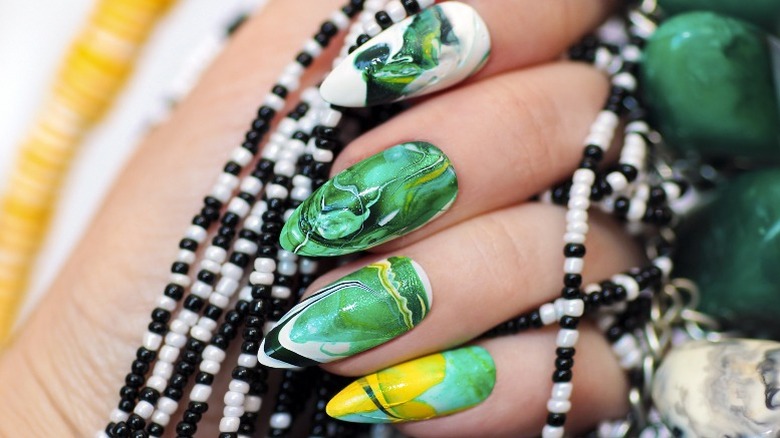 Marigo20/Getty Images
For a unique take on banana yellow nails, incorporate elements of green into your manicure, as an ode to the shade of bananas once they've been picked but haven't yet reached the peak pigment of rich banana yellow. Marbled manicures are marvelous ways to blend the green and yellow of this aesthetic, or to create color selections representing the hyped fruit in its early form.