Steal Barbie's Look On A Budget: The Iconic Chevron Swimsuit
We may receive a commission on purchases made from links.
With all the press surrounding the release of the "Barbie" movie, fans of the iconic fashion doll and the actress who portrays her are clamoring to recreate some of Barbie's most popular looks. When Mattel launched the Barbie doll in 1959, she debuted wearing a hand-stitched strapless black and white chevron swimsuit and sporting a low ponytail with curled bangs. The doll came in blonde or brunette and was accessorized with gold hoops earrings, white sunglasses with blue lenses, and black peep-toe pumps.
In the original teaser trailer for "Barbie", actress Margot Robbie is revealed wearing an exact replica of the most iconic Barbie outfit of all: the original 1959 bathing suit ensemble. The depiction of the look has ignited the interest of fans who are curious about replicating the vintage beach aesthetic for themselves. However, shopping for vintage items can get pretty pricey. But that doesn't mean you can't recreate the look on a budget.
Barbie's iconic chevron swimsuit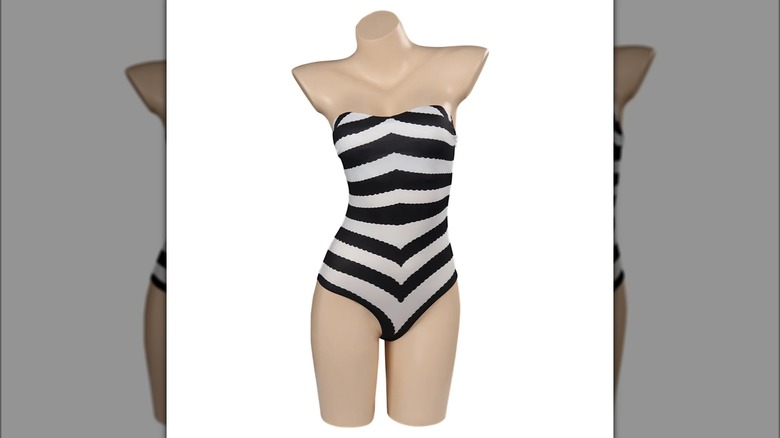 Inswear
The key to nailing the original Barbie outfit is acquiring the perfect strapless black and white chevron bathing suit. While this may have been a tall order just last year, the interest in the "Barbie" movie has inspired several clothing companies to create printed replicas of the hand-stitched suits worn by Barbie and Robbie. You can snag a convincing reproduction for just $17.99 from cosplay costume retailer Inswear.
Reviewers attest that the costume, constructed out of milk protein fiber fabric, is suitable for use as an actual bathing suit. The site offers a 30-day money-back guarantee, free shipping that typically takes eight to 14 business days, and a secure checkout process, Therefore, there is not much to lose by trying it out. On other websites, more expensive replicas are selling for as much as $130, so scoring the suit for less than $18 is quite a steal.
Vintage-inspired accessories
No outfit is complete without its corresponding fashion accessories. The original Barbie doll swimsuit was paired with sassy white cat eye sunglasses, gold hoop earrings, and black peep-toe pumps. If you have the time and patience, you may be able to locate these items for incredibly low prices by visiting the closest thrift store or searching a resale site like ThredUp. However, if you don't have the time or just aren't a fan of secondhand shopping, there are plenty of deals on new items to be had online.
You can find the perfect pair of vintage-inspired cat eye sunglasses, complete with blue lenses, on Amazon for just $14.43. While you're there, pick up a set of gold-plated hoop earrings for only $12.95 and some sexy black peep-toe pumps for $17.49. That's right, with a little budget-conscious online shopping, the legendary original Barbie chevron swimsuit outfit can be yours for less than $65.