Simple Fashion Accessories That Will Still Make A Statement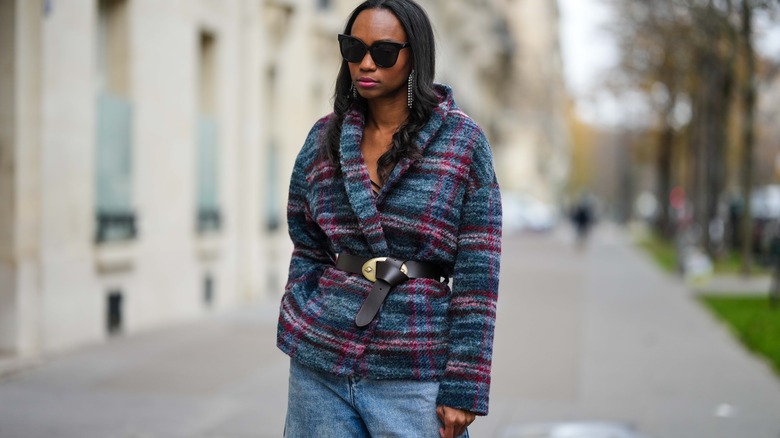 Edward Berthelot/Getty Images
It's a fact that an accessory can make or break an outfit. Unfortunately, picking out the wrong accessory can completely change the course and style of your outfit.
Knowing your way around styling accessories can be challenging, especially when recent trends gravitate towards "the bigger, the better." As Etsy reports, present and future trends revolve around maximalism and layering. With so much going on in the fashion industry this season, it's best to take a step back with your accessories.
Instead of using your accessories to do all the talking, let them play a background role in tying together your entire look. From small and dainty to thick and bold, a simple accessory can be the finishing touch your outfit needs. While there are plenty of accessories to choose from, some of the best fashion accessories are the ones that are so simple and subtle they end up making a loud statement.
Belts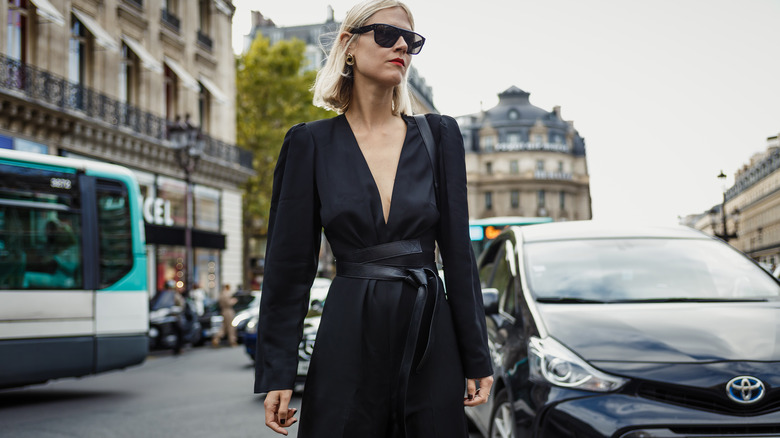 eversummerphoto/Shutterstock
The belt has come a long way from being just a piece that holds up your jeans. Nowadays, the belt plays another role in your wardrobe that has nothing to do with fit. A simple narrow belt can be added to any dress or skirt and create an entirely different vibe to your look. In particular, adding a belt to your outfit is one way you can create a strong contrast between the top and bottom. To expertly style your belt, match the color of your belt with either your shoes, bag, or clothing piece for a chic combination.
Watches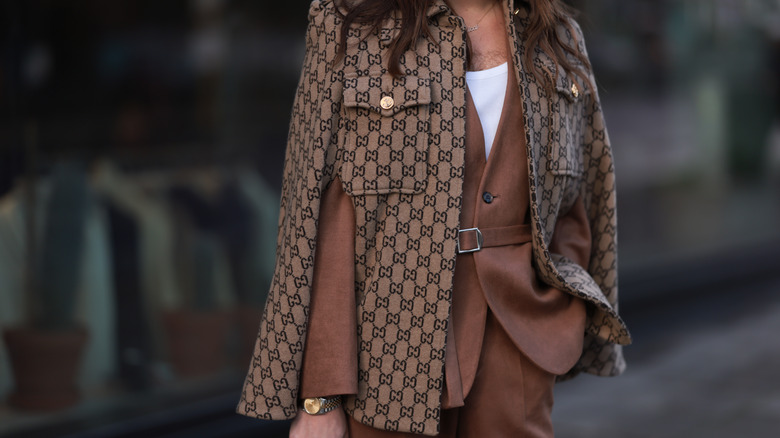 Jeremy Moeller/Getty Images
Long gone are the days of bare arms. Wristwatches are becoming more of a go-to accessory as they provide the perfect subtle touch of metal your outfit needs. Although everyone loves a good smartwatch, more are opting for a classic gold or silver wristwatch. Watch company Movado recently shared their recent collection via Instagram, which showcases how a simple luxury accessory can upgrade even the most casual outfit. Because wristwatches come at a variety of prices, this is one accessory that can be as attainable as you want it to be.
Ballet flats
The fashion industry has already made obvious the love it has for anything related to ballet. The entire ballet experience has become a focal point in fashion, and ballet flats can upgrade any look. Coming in various colors, it's not difficult to find the perfect ballet shoe for you. This shoe differs from others as its simplicity makes it ideal for daily wear. Dress it up or down!
Thick bracelets
Chunky bracelets are simple jewelry pieces that work in almost any scenario. If the idea of having stacked bracelets is too much for you, one thick bracelet is all you need to up your ensemble. Recently, Saint Laurent showcased thick bracelets as part of their Fall/Winter 2022-2023 collection. While the luxury brand stacked them for a more dramatic effect, even one bracelet is more than enough to elevate an outfit.
Loafers
Another accessory made popular by the preppy fashion trend is the loafer shoe. Whether it's a platform or not, loafers are a fun, easy way to make a statement. If you're looking for a shoe that gives you more support than a flat but looks less casual than a sneaker, the loafer is the most subtle way to get both. The loafer can be as casual or professional as you need it to be. Like other footwear, this shoe comes in various prints or colors. 
Pearl jewelry
Nothing says elegance more than a pearl necklace. Although you don't need to stick with just a necklace, pearls are an easy way to make your look stand out. Pearl jewelry is classic and timeless, meaning no matter when you wear it, you can bet it will still be in style. During the Spring 2023 collection, Ralph Lauren shared how you can subtly incorporate pearls into your look. A simple pair of pearl earrings is enough to turn your outfit from simple to statement.