Magenta Is The Trendiest Shoe Color Of Fall 2023, No Matter The Style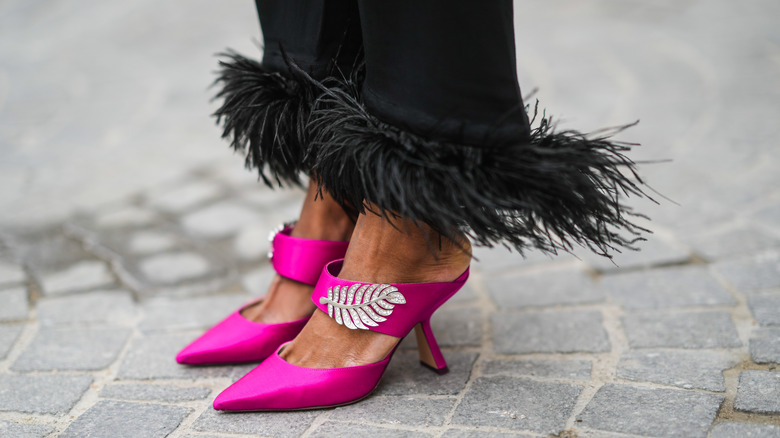 Edward Berthelot/Getty Images
Despite the many color trends that have popped up throughout 2023, there's one that has been setting the tone for the entire year. In 2022, magenta was named the color of the year by Pantone, making it the must-have hue for 2023. Although it's true for the entire year, magenta is going to make a real impact this fall season, even for those neutral color lovers. Magenta can be an overwhelming color to add to your existing wardrobe since it's bright and saturated. A regular shade of magenta is bold and can be spotted a mile away, and many fashionistas are already plotting how they'll add this shade to their fall closet.
Besides accessories, the easiest way to incorporate a bright color like magenta is with your shoes. Although they're a part of your outfit, shoes take up a small amount of visual space in an ensemble. This makes it easier to get away with wearing a bold color, especially if you aren't used to such brightness. Since shoes are a stylish way to rock the magenta trend, it's essential to have options on how to rock this color on your feet.
Vivid magenta sneakers
Thanks to Pantone's Color of the Year pick, we are all on board with vivid magenta. This vivacious color is bright and saturated, and makes for the perfect hue for a pair of street-style sneakers. Mixed with a crisp white or all by itself, the power of magenta counterbalances a chunkier or heavier shoe design. Since chunky sneakers are trending, it only makes good fashion sense to wear them in the trendiest color vs. a neutral shade.
Magenta mules
Mules are an all-around versatile shoe choice that work for a few seasons, including fall. Since you can easily slip them on and off when you need to, mules are stylishly practical. Magenta mules can truly be a statement shoe. Mules are classic and timeless, making them the perfect pick for this bright color. Although bold, magenta pairs well with some other colors, making it an easy color to work with if bright ensembles are your favorites.
Magenta mix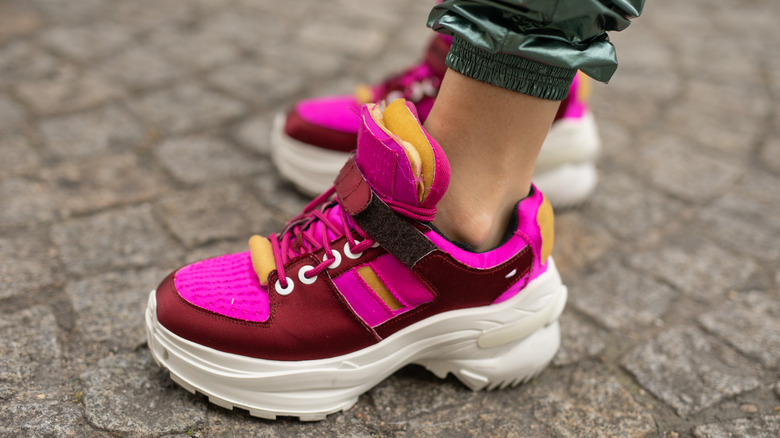 Matthew Sperzel/Getty Images
Do you know what works well with magenta? More magenta. Like other colors, magenta comes in various tones and shades. From dark magenta to a bright magenta and fuchsia mix, there are endless options. This mix of shades is the perfect palette to add to your footwear for something more on-trend. Although it involves multiple colors, having darker and lighter magenta in one piece means it's likely to work from season to season, and year to year. Instead of solid magenta, adding various tones gives you more flexibility in your style.
Bright boots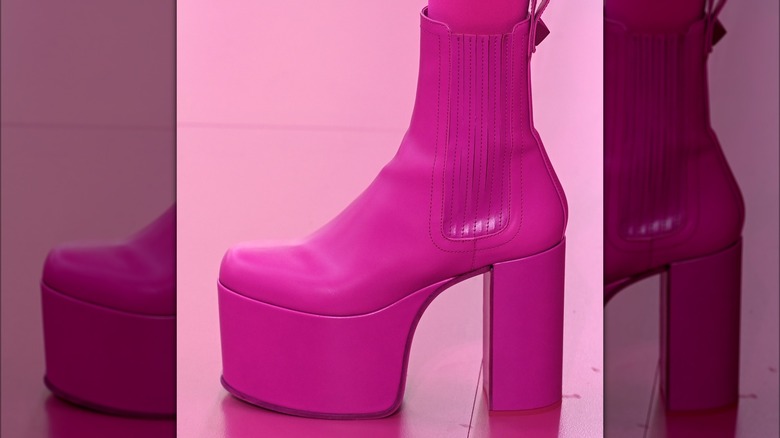 Pascal Le Segretain/Getty Images
Although flats and sneakers are year-round footwear that can easily show off their magenta color, there's nothing quite like boots in the fall. Boots are a fall and winter staple, and most people have at least a few pairs in their seasonal rotation. Magenta boots, whether it's rainboots or regular booties, are the perfect seasonal piece to rock magenta madness. Although boots are typical for cooler seasons, basic colors can become boring. Adding a splash of magenta gives you a unique twist for fall 2023 that'll help your boots stand out.
Moody magenta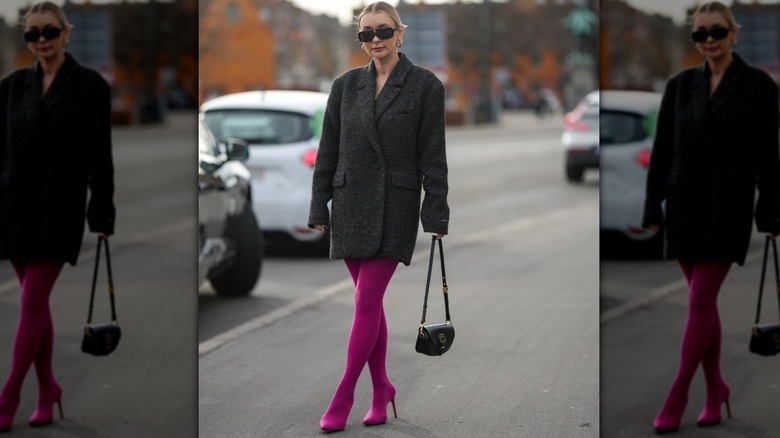 Edward Berthelot/Getty Images
We already know that mixing magenta shades is an easy way of adding this color to your fall wardrobe, but there's one specific shade that can help even minimalists style magenta. Dark magenta is a moodier interpretation of the color, making it easier to assimilate into a darker palette. For those wanting a toned-down look, this darker shade works well with neutrals like black and white. The darker the magenta, the more it will complement other dark hues, making it even easier to style a moody ensemble.
Magenta pumps
No matter the season or your personal style, every closet needs a pair of pumps. Although some people may wear them more than others, it's key to have both neutral and bright heels to complete your collection. These brighter heels will give you a splash of color against neutral color palettes, making for the perfect accent shoe. Magenta pumps are subtle nods to the trend, without having to focus so much on styling or matching. A simple pair of pumps is enough to satisfy your magenta fascination throughout the entire fall season.