The Signature Style Accessory Kate Middleton Has Ditched While Elevating Her Wardrobe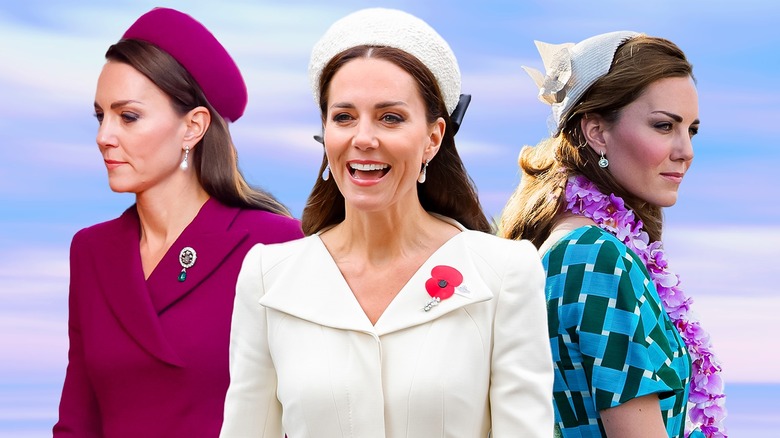 Static Media / Shutterstock / Getty
Hair accessories are part of the regular rotation for women in the British royal family. Whether it's a fascinator, a hat, a tiara, or even a headband, women in the family rarely, if ever, attend official engagements without wearing something on their head.
Our sister site The List explains that the tradition of women wearing hats and similar hair accessories is tied in with the decorum of aristocratic British society in general — a custom that was historically reserved for those with money and status. As an institution that strictly upholds many of its traditions, the royal family unsurprisingly still requires women in the Firm to complete their outfits with these formal hair accessories, and Kate Middleton, officially known as Catherine, Princess of Wales, is of course following suit. In the several years that she's been part of the family, Middleton has rocked everything from hats to tiaras, but headbands seem to have been a particular favorite of hers.
Recently, she wore headbands when christening her son, Prince Louis, and to attend the christening of her nephew, Prince Archie, among several other events and occasions. However, as the wife of the first in line to the British throne and the next Queen Consort of the United Kingdom, Middleton appears to now be ditching her signature headband in favor of even more sophisticated accessories.
Why Kate Middleton is forgoing headbands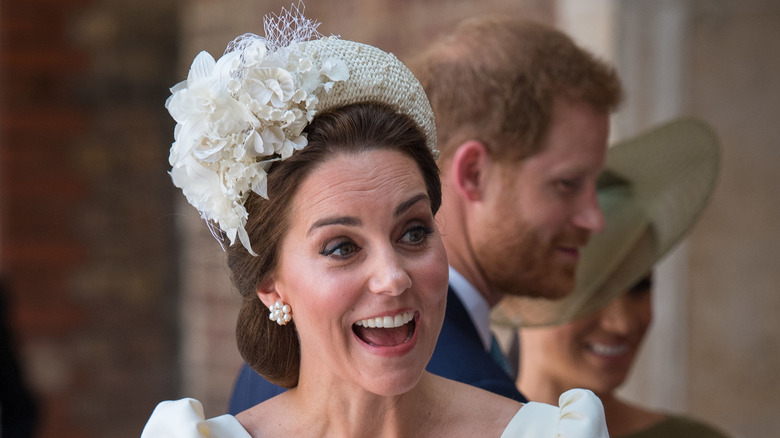 Wpa Pool/Getty Images
Following the death of Queen Elizabeth II in September of 2022, Kate Middleton and her husband Prince William rose through the ranks of the family to become the new Prince and Princess of Wales — a prestigious title that was last bestowed on now-King Charles and his ex-wife, the late Princess Diana. Insiders believe that this change has prompted Middleton to elevate her style to feature accessories that are even more elegant.
"Headbands used to be a regular part of Kate's stylish fashion arsenal, but recently, they seem to have been dropped as a key accessory ..." style expert Miranda Holder told Hello! "... As she takes one step closer to the throne, her wardrobe has reflected this, becoming more regal, to the point of sometimes feeling a little austere."
However, the change in status has far from left Middleton bare-headed. Instead, she now often wears more majestic headpieces that are considered less "feminine" and "girlish." Since inheriting her new title, Middleton has been seen multiple times in berets and wide-brimmed hats, such as those she wore to the funeral of the late queen, and the 2023 Trooping the Colour event.
As Middleton has ascended to a higher role within the Firm, we might also expect her to sport more tiaras, crowns, and metallic headpieces. Notably, to the coronation of her father-in-law King Charles, she wore a silver floral headpiece designed by royal milliner Jess Collett and Sarah Burton at Alexander McQueen.
Are headbands out of style?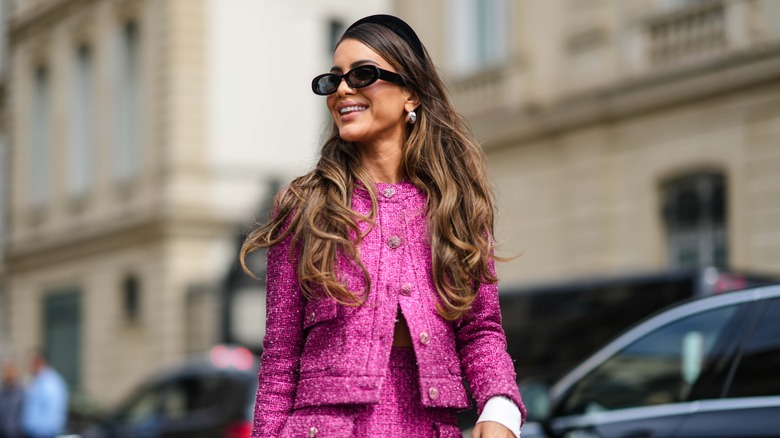 Edward Berthelot/Getty Images
While it's understandable that Kate Middleton is upgrading her wardrobe, given that her husband is the next in line to the throne, headbands are far from out. Unless you too are preparing to become a queen consort, there's no reason why you should ditch this classic accessory.
Chunky headbands, in particular, continue to be on-trend in 2023. This style of headband works with all kinds of hair and adds an eye-catching statement to any neutral outfit. Larger headbands are particularly great for those with thin or fine hair who are looking to add some height and volume.
Naturally, headbands fall into both academia and old money fashion aesthetics, so you could also add this piece to your outfit to bring a touch of refinement. If you are trying to emulate a preppy vibe with a headband, look for thin, simple bands, or those with adornments like pearls. Worn with an updo or free-flowing hair, they're guaranteed to turn up the sophistication of your 'fit.