Why You Want To Pay Attention To Sephora's Digital Events (They're Worth It)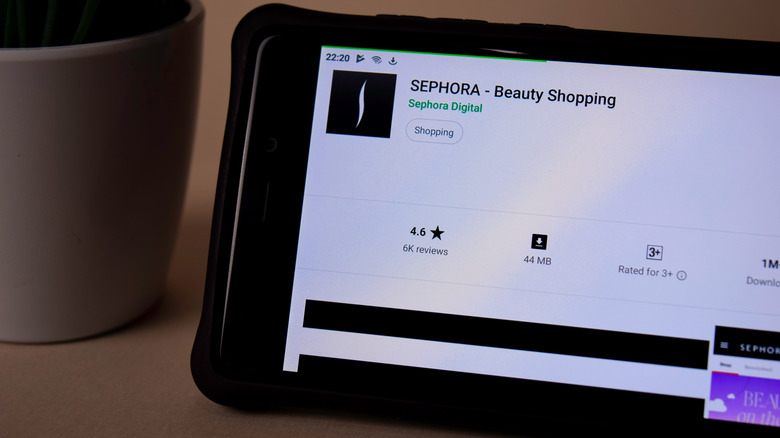 bangoland/Shutterstock
There's a reason why Sephora is one of the most popular beauty retailers in the world. The cosmetics giant offers unparalleled personalization across the shopping experience, especially for those who join its rewards program and shop online. Once you become a Beauty Insider at Sephora, you have the ability to use the points you automatically earn through purchases to shop for rewards in the Rewards Bazaar. What many shoppers don't realize, however, is that there is a better way to put your points to use.
In the Rewards Bazaar, 100 points will get you one free product sample of your choice based on the samples available that month. Attending a Sephora digital event, on the other hand, can score you multiple samples and free gifts for the same 100-point cost. All you have to do is make sure you're signed up for the store's promotional emails and watch for invitations or check the events page on Sephora's website to RSVP. 
What does a Sephora digital event entail?
Each Sephora digital event showcases a particular beauty brand's products through a masterclass or other educational presentation conducted via Zoom. In exchange for attending the event, you'll receive at least one free sample from the featured brand plus a free Sephora branded gift, as described by TikTokker, @catchuponlife. Most events also include a giveaway in which at least one winner is chosen to receive a set of full-size products from the showcased brand.
Since Sephora's digital events offer great value for your rewards points, its limited spots fill up fast. At the beginning of each month, the events for that month are posted on the website and emails containing invites are sent out to subscribers. If you're interested in attending an event, be sure to RSVP as soon as signup becomes available to ensure that you don't miss your opportunity. If you don't make it in, however, there are always more events to come. In the meantime, keep shopping and banking those rewards points. 
What to expect from Sephora digital events
Some examples of past Sephora digital events include a Georgio Armani masterclass on perfecting the application of Armani Luminous Silk products, presented by the brand's renowned "face designer" Beck Morgan and prestigious celebrity makeup artist Melanie Iglessis. Fenty Beauty also hosted a masterclass, breaking down exactly how the brand's makeup artist Priscilla Ono uses Fenty products to create Rihanna's go-to makeup look. 
Too Faced held a Sephora digital event focused on their iconic bestselling mascara, Better Than Sex. It was hosted by the brand's executive director of global beauty and a group of her girlfriends. Sol De Janeiro's masterclass taught viewers how to use Bum Bum Body Firmeza Oil to perform their own lymphatic massage for some combined self-care and healthcare. If you miss the chance to RSVP to a digital event, you can eventually view a replay of the presentation in Sephora's event gallery. However, you won't be eligible to receive any samples, gifts, or giveaway prizes associated with the event unless you attend live.