Sephora Vs. Ulta: How Do The Rewards Programs Stack Up?
Static Media / Shutterstock / Getty
In an attempt to garner loyal customers, makeup giants Sephora and Ulta have both created top-of-the-line rewards programs. Both retailers offer points-per-dollar systems that reward consumers for choosing to shop with their company rather than with the competition, and while the two programs are very similar, there are quite noticeable differences in what they have to offer. Depending on how and why you shop for cosmetics, one program might stand out to you as the most beneficial.
If you've ever tried to compare Sephora and Ulta's rewards programs — only to end up more confused — we have you covered. We took a deep dive into the benefits each program has to offer its members, and we're here to break down all the details. Once you've seen the inner workings of each program, you'll be more equipped to decide whether one is more likely to work best for you or if you're ready to start taking advantage of both.
How does Sephora's rewards program work?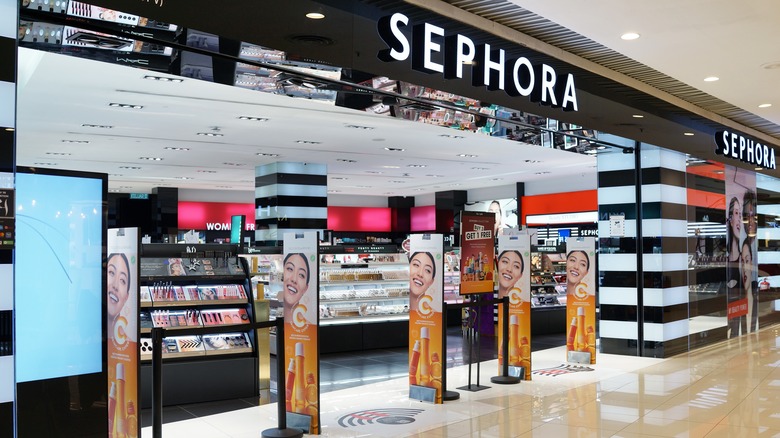 TY Lim/Shutterstock
Sephora's rewards program is called the Beauty Insider Program. The core of the program is a points system wherein every dollar spent equals one point. For every 500 points earned, $10 off your next purchase is offered. Points can also be redeemed for luxury samples and select full-size products offered by Sephora's Rewards Bazaar. These items can be acquired without a merchandise purchase at an in-person store or with a purchase online. If you are redeeming more than 750 points, the online purchase requirement is waived. Also, all Beauty Insiders receive free standard shipping with no purchase minimum.
The Beauty Insider Program also includes a tier system. When you join the program, you become a Beauty Insider. If you spend at least $350 in one year at Sephora, you will be promoted to Very Important Beauty Insider (VIB). If you spend more than $1,000 in one year, you will obtain Rouge status. Once you have reached the Rouge level, you are eligible to receive a $100 Rouge Reward in exchange for 2,500 points. If you don't earn or redeem any points for a 12-month period, your points will expire. All Beauty Insiders are eligible for a free birthday gift during their birthday month, access to bonus points events, and early access to sales. You cannot combine points redemption codes with other discounts. 
How does Ulta's rewards program work?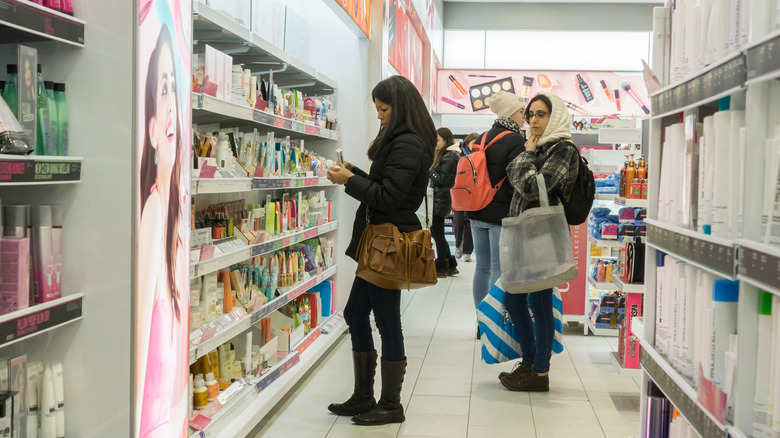 rblfmr/Shutterstock
Ulta's rewards program is known as Ultamate Rewards and operates similarly to Sephora's. The main difference is that Ulta's program offers more points per dollar to its higher-tier members. At Ulta, basic members earn one point per dollar spent. However, Platinum members earn 1.25 points per dollar and Diamond members earn 1.5 points per dollar. In order to become a Platinum member, you must spend at least $500 in one year at Ulta. To receive Diamond status, you'll need to spend $1200 or more in one year. Both elevated levels are eligible for free shipping on orders totaling $25 or more.
At Ulta, 100 points is worth $3 off your next purchase. Redeeming 250 points is worth $8 off, 500 points will get you $17.50 off, 750 points will save you $30, 1,000 points can be redeemed for $50 off, and 2,000 points will snag you $125 in savings. Points can also be applied toward the purchase of any Ulta product or beauty service. Notably different than Sephora's program, redemption codes can be combined with other offers. Another unique perk of Ulta's rewards program is eligibility for a free gift when you reach Platinum or Diamond status. In addition, all members can earn double points for the entire month of their birthday, plus a free birthday gift. Platinum and Diamond members are eligible for additional birthday bonuses as well as a yearly $25 beauty services gift card, early access to sales, and members-only bonus points events. 
Which rewards program is easier to use?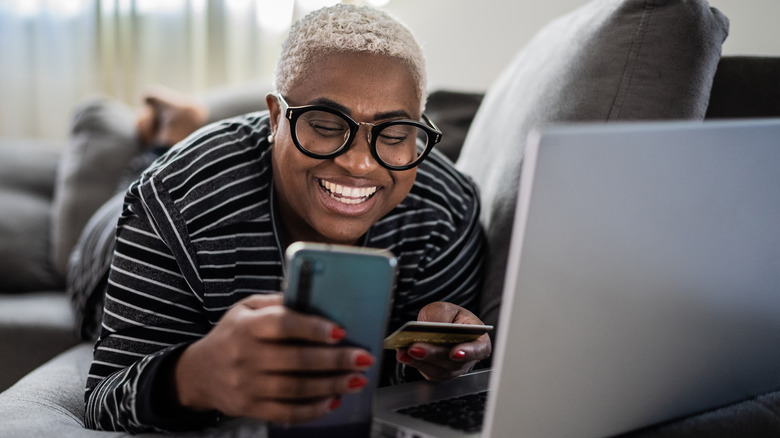 Fg Trade/Getty Images
Both the Beauty Insider Program and Ultamate Rewards are incredibly simple to enroll in and to shop with. Both allow for shoppers to sign up on the retailer's website, at the store, or on the mobile app. Once you've signed up, you will begin to accrue points automatically, as long as you use your rewards card in-store or make sure you're logged in before shopping online. The only time you'll need to engage with your account is when you decide to redeem your points — and for Ultamate Rewards, to activate double points during your birthday month.
The only area where a real difference exists in ease of use between the two programs is when making a purchase without your rewards card or without logging into your rewards account online. If you accidentally make an Ulta purchase without using your rewards account, you can easily use your receipt to add the transaction and earn the missing points using the Ulta app. If you make the same mistake at Sephora, you'll need to contact customer service and wait for the points to be manually added (within three business days). 
Which rewards program offers a better value?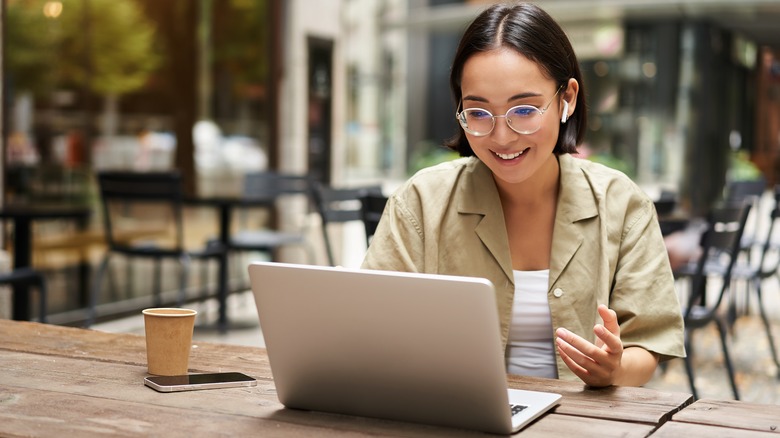 Mix and Match Studio/Shutterstock
Overall, the cosmetics rewards system with the best value depends on which features you personally value the most. If you place small orders frequently, Sephora's free shipping for all members with no minimum purchase required might make the Beauty Insider program prove more valuable. If you're a couponer who likes to stack as many discounts together in one transaction as possible, Ultamate Rewards is probably the winner for you.
In the end, there is nothing stopping you from becoming a member of both rewards programs. Both programs are free and offer only benefits without additional costs. The best value will likely be found in using each one for its unique strengths and combining their powers to benefit you — the consumer — as much as humanly possible. Once you've identified your top priorities as a shopper, you'll know which purchases make sense for taking advantage of each rewards program.
How to make both rewards programs work for you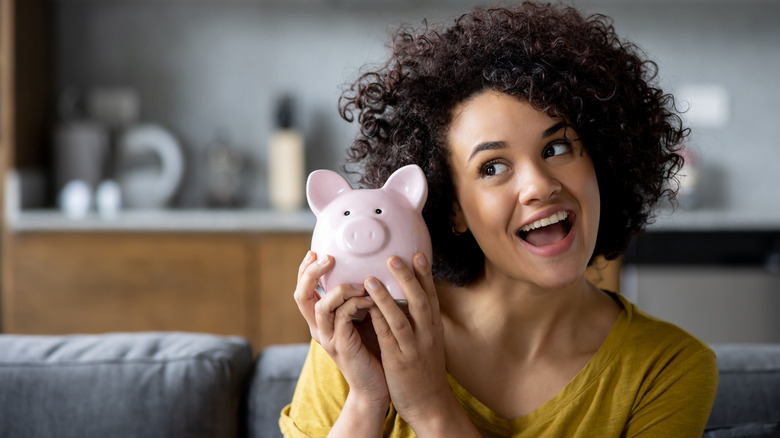 Andresr/Getty Images
Let's be honest — the goal of any rewards program is to entice consumers to buy more. If you find yourself spending money you didn't plan for on purchases you don't really need just to earn rewards, you aren't using your rewards programs in a way that truly benefits you. When you cash in on rewards for making the purchases you already planned on making, then you end up winning.
Large corporations don't automatically deserve your loyalty. Both Ulta and Sephora frequently offer events where you can earn double, triple, and even quadruple points on your purchases in addition to sales where rewards members get early and/or exclusive access. If you want to maximize each of your dollars, track these events and save your purchases for them. When Sephora has an event, make your purchases there. When Ulta offers one, shop there instead. Since both retailers offer many of the same products, it's unlikely that you'll miss out on scoring the items you're looking for in order to create the maximum benefit for yourself. In a post-pandemic economy, it's more than okay to take advantage of every route to savings you can come by.