Beyoncé's Hairstylist Kim Kimble's Best Volumizing & Frizz Fighting Tips - Exclusive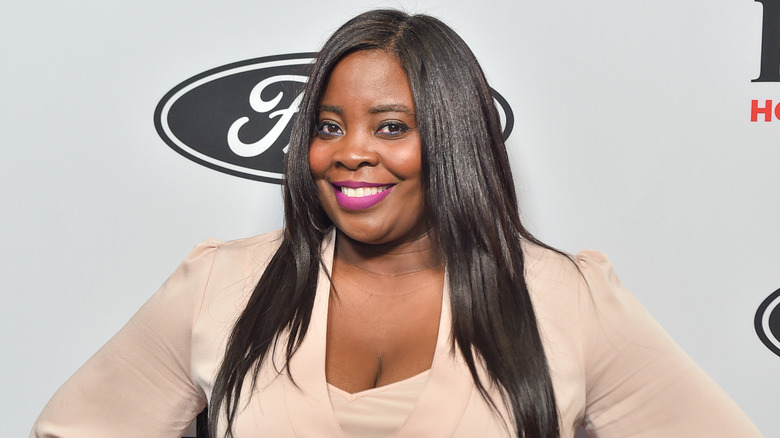 Aaron J. Thornton/Getty Images
Summertime — a time when the livin' might be easy, but styling our hair is a completely different story. From the high humidity the East Coast is experiencing to the harsh UV rays the Southwest is facing, everyone's hair seems to be going through it because of the elements. The good news is that with a little TLC, you can still sport a sleek hairstyle despite the heat and humidity.
Combatting frizziness, reducing hair loss, and keeping your hair voluminous are among some of the top hair struggles people experience during the summer. But it is absolutely possible to have fabulous hair in the extreme summer weather conditions — as long as you follow a few helpful tips, like those from celebrity hairstylist Kim Kimble.
Kimble, who has styled Beyoncé's and Shakira's hair during their respective Superbowl Halftime Show performances, recently partnered with Super 8 by Wyndham for their "Trucking Gorgeous" event — styling truck drivers' hair at the Super 8 in Aberdeen, South Dakota. With experience styling celebrities for high-octane concerts and truck drivers for long drives, Kimble has just the advice you need to let your hair do all the talking. In an exclusive interview with Glam, she shared how to keep your hair looking sleek and smooth in the summer heat.
Kim's number one tip for fresh summer hair is surprisingly simple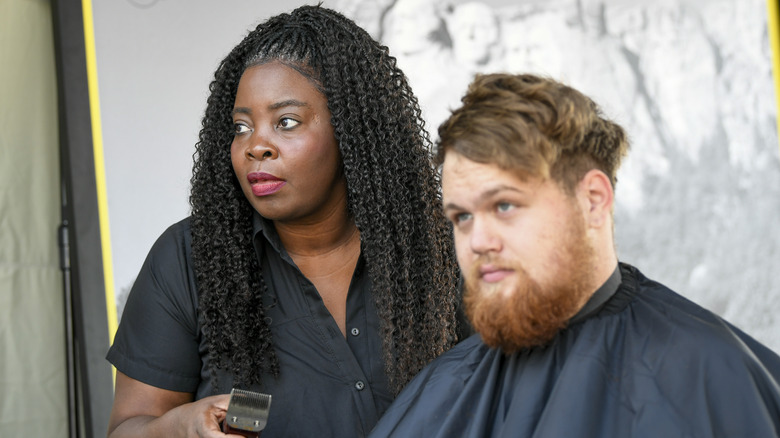 Craig Lassig/AP Images for Super8 by Wyndham
One of the biggest issues Kim Kimble sees is people not washing and conditioning their hair enough. "I never underestimate a good shampoo and conditioner. That's the foundation of your hair." She says that when you don't have a clean scalp and conditioned hair, it can cause so many other problems that can prevent your hairstyle from looking great. Kimble recommends products from her namesake haircare line, Kim Kimble, geared toward defining curls and creating volume.
Per Coveteur, heat-related hair loss is also a major issue during the summer. Dr. Jodi LoGerfo, a nurse practitioner specializing in family medicine and dermatology, told them, "I can corroborate that the majority of our hair loss patients who complain about seasonal shedding seem to shed the most during late summer to fall."
Kimble says implementing positive lifestyle changes can go a long way in growing your hair long. She recommends things like taking biotin, massaging your scalp, exercising, eating nutritious food, and drinking lots of water. Above all, Kimble stresses keeping a clean scalp that's free of build-up and using Toppik Hair Building Fibers to fill in any thinning spots — she calls it "a little movie magic."
Keeping your hair fluffy and frizz-free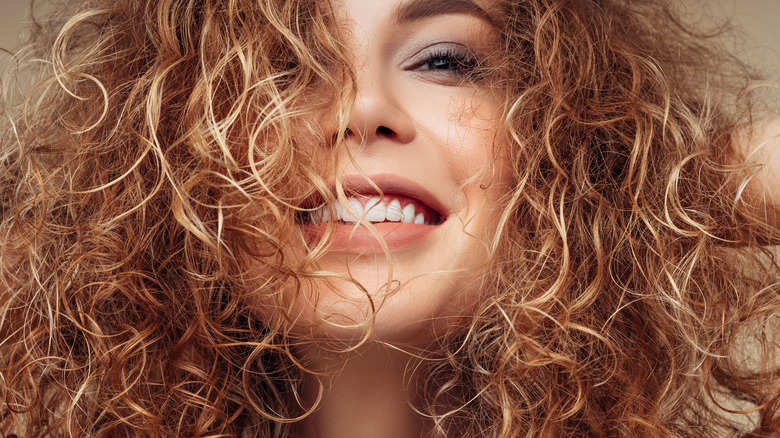 Coffeeandmilk/Getty Images
If you live in a place where humidity is especially a problem, Kim Kimble suggests working with the moisture in the air by keeping your natural hairstyle. If you have wavy or curly hair, she recommends literally going with the flow instead of trying to work against the elements and straighten your hair. "I try to recommend styles that have more texture and volume in them so that you don't see the [frizz], and they combat the hair changing on you, because I've had that happen to me," she said. Keeping an emergency hair kit consisting of shampoo, conditioner, and dry shampoo is also key to keeping your style looking cool in the heat.
Kimble also told us that while she hasn't tried it herself, there is a lot of buzz among the professional hairstylist community regarding the frizz-reducing line of Color Wow Haircare products for its ability to "[lock] out any water or moisture from getting into your hair." To add volume to the roots that won't go flat when you sweat, Kimble's number one tip is applying dry shampoo. Working in volumizing mousses and sprays when styling your hair can also go a long way in adding that "magic volume," as well as using hot rollers to help set curls and create lift.
For more information on the "Trucking Gorgeous" event, visit the Super 8 event website.