Beyoncé's Hairstylist Kim Kimble Hits The Road To Give Truck Drivers Free Makeovers - Exclusive Interview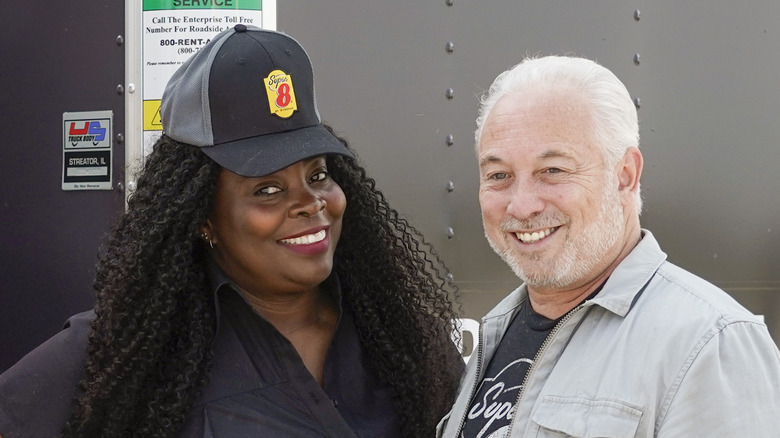 Craig Lassig/AP Images for Super 8 by Wyndham
If you've ever looked at Shakira's hair and wondered how you can get voluminous locks like hers that stay in place after a night of dancing to "Hips Don't Lie," look no further than celebrity hairstylist Kim Kimble. For Kimble, hairstyling was a family business that passed on through generations. Starting out as the "shampoo girl" at her family's salon in Los Angeles, she went on to receive professional training at Vidal Sassoon Academy and Dudley Cosmetology University. Since then, she has worked with Hollywood stars such as Beyoncé, Halle Berry, Shakira, Lady Gaga, Kerry Washington, and more. She is also the head hairstylist on the set of the hit TV show "Euphoria" and has her own line of hair products called K2 Beauty.
Now, Kimble wants to give back to the community by giving hardworking everyday people a well-deserved hair makeover. Partnering with Super 8 by Wyndham for their "Trucking Gorgeous" event, Kimble will be styling truck drivers' hair at various Super 8 locations. Truck drivers often stay at hotels when they make long cross-country journeys, which is why the pop-up hair salon will be available at various Super 8 hotels throughout the Midwest.
The hotel chain recently spent $100 million renovating their rooms and wanted to treat some of their most loyal customers — truck drivers — to a pampering experience as well. Before the event kick-off on August 8 in Aberdeen, South Dakota, Glam spoke exclusively to Kim Kimble about the partnership and the tips she has for hardworking people who don't always have time to take care of their hair.
Kim Kimble has a wealth of experience as a hairstylist for Hollywood A-listers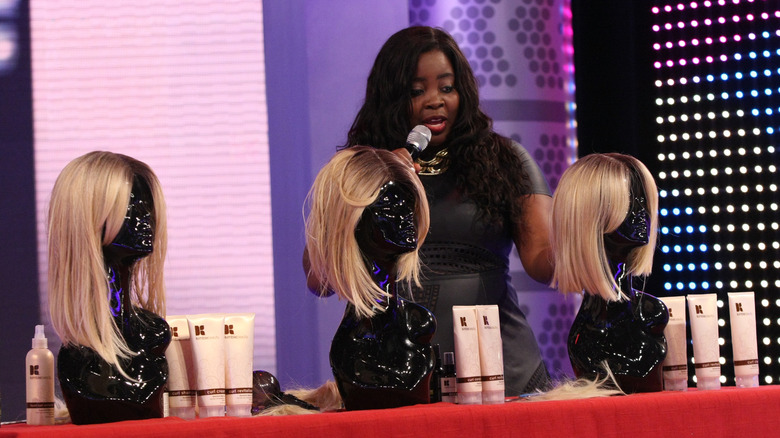 Bennett Raglin/bet/Getty Images
Kim, you have a star-studded list of clients. You've styled Shakira's hair and Beyoncé's hair at their respective Super Bowl halftime shows. How can people at home replicate their voluminous hairstyles that won't fall flat?
A great tip for doing that is dry shampoo. You can also set your hair with hot rollers because it makes your hair very voluminous when you set it with those. It has a lot of curls. There's a couple of little tips for that. You can use volumizing mousses and sprays; that also helps create that magic volume. It also doesn't hurt to add a little extra hair in there. That gives a little volume to the hair, so that's instant gratification.
You have a new hair care line. Can you tell me more about the products?
I have hair care products that are great for natural hair, curly hair, and for styling hair. I've been working in the industry for a while, so I have all kinds of tips and products that I like to use on my clients. I created products for that because I felt like they need that, which is why I'm excited to be actually also giving makeovers to truck drivers on the road who need that special attention. They want to look like celebrities too.
Even though they're driving down the road, they want to look fabulous doing it. Being able to lend my time for them, celebrating them ... Super 8 has launched a makeover for their hotels, so why not give makeovers to some of these truck drivers and people who are dedicated to this brand and loyal customers to it so they can have a chance to be a star? I'm super excited about not only working with celebs, but being able to share that and give that back to everyday people. The products also help everyday people look like celebs.
Kimble wants to give a pampering experience to busy workers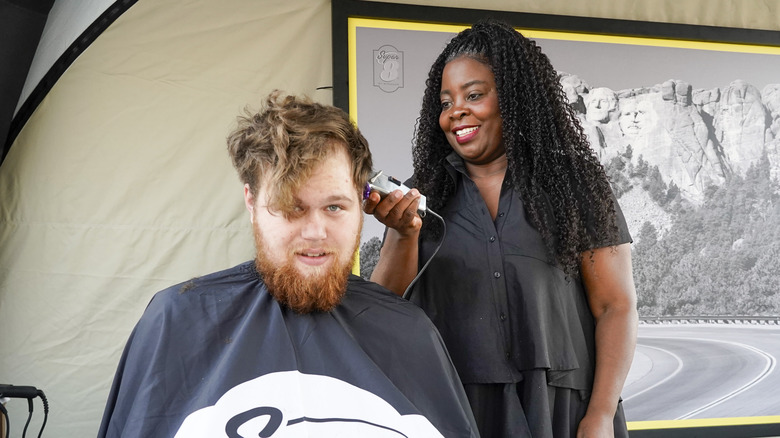 Craig Lassig/AP Images for Super 8 by Wyndham
Regarding your partnership with Super 8 by Wyndham, the event is called "Trucking Gorgeous," where truck drivers get makeovers. Can you tell me more about this partnership? How can people participate? Why did you decide to join?
I decided to join because first of all, I have a love for truck stops. I've worked with celebrities, been on the road with them on tour; I have stopped in truck stops. I have a love for that lifestyle because it's a little different. We're on the road and we're traveling in tour buses and things like that, and there's trucks that are also on the road with us. It made sense because I live on the road as a hairstylist, a celebrity hairstylist. I travel from place to place, so being able to have a nice place to stay that's affordable but gives you that [comfort] ... It was a good collaboration when I got the message that they wanted to collaborate to do this.
I'm kicking off the first day of the tour, which is cool, and they're going to be going around to different places to make people over. I love also having the opportunity to make people over and make them feel good because [that's] what I'm about. Yes, I work with celebrities, but also my brand is also about being able to ... That's why I make hair care products. That's why I do makeover opportunities when I can, because I like to be able to make over the everyday person or the hardworking person, because everybody deserves to look like a star.
I love that — making beauty accessible ... Truck drivers are notoriously required to drive for long hours at a time, and there are so many professions where people are constantly on the go. What tips might you give people in this position so that they can still look and feel their best even when working those long days?
That's something people need too — people need to feel and look their best. You're working such long hours. I have a very similar lifestyle, even though it looks glamorous — but we are traveling, working long hours, so I always love to treat myself. [It's about] them being able to treat themselves while they're traveling. You look good, you feel good.
They should have a nice little kit of dry shampoo, because even though they do have showers at truck stops, they can shampoo their hair. Keep a nice little kit in the car — shampoo and conditioner and dry shampoo in case they can't or don't have the time to wash their hair. That revives it back up and gives it a little bit of volume. And it's being able to maybe have some grooming products. In between, they're going to have to get their hair cut and styled, which is why I'll be there. In between, they can get a little cut, but once you get a great cut, it'll be much easier to keep your hair looking good and styled.
Washing your hair regularly is key to growing healthy hair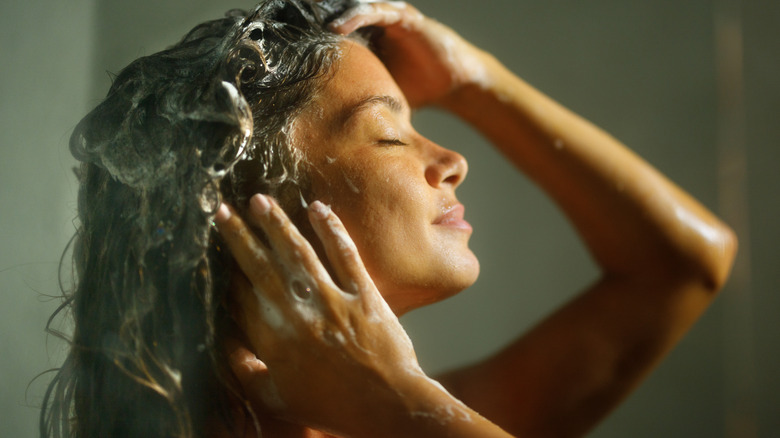 Skynesher/Getty Images
You kick off the tour in South Dakota, right?
South Dakota, where the first Super 8 was born, which is exciting. That is really cool because I've never been to South Dakota. I may have passed by on tour somewhere, but to actually be in South Dakota, that's going to be cool.
What is the number one hair-related issue you think people should pay more attention to?
Keeping your hair clean is super important — washing. I never underestimate a good shampoo and conditioner. That's the foundation of your hair. You don't have that, you don't have good-conditioned hair. If you don't keep it clean, you're going to have other problems that you don't want to deal with, as well as it's going to not keep your style looking great.
But also, like I said before, it's important to have a great haircut, because that's an easy way to look good. Once you've got that cut, the style is there, so it's going to be easy for you to maintain that style. Also, whoever your stylist is, consult with them about what you can do based on whatever hairstyle and cut that you get to maintain and keep it up. Those are basics, but they're super important to remember when you are looking for that look. Try to get something that's going to last, because you know you're going to be on the road for 20 hours, so you definitely want to get something that's going to maintain and last for a minute.
Kimble prioritizes diversity in hair care products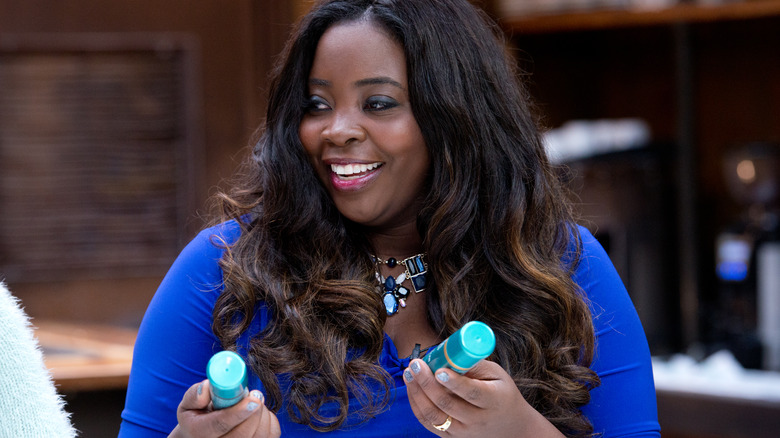 Noam Galai/Getty Images
As a stylist who is a woman of color and often has clients who are women of color, do you think there's still room for improvement in hair care brands being inclusive to all hair types? Why or why not?
There definitely are a lot more that are [inclusive], but we're just starting to touch the surface. There's a lot of hair care needs out there for women of color who have curly hair or men of color who have curly [hair], because men are starting to grow their hair out and wear more natural hairstyles and longer hairstyles ... For that particular hair, you need specific types of shampoos, specific types of conditioners, and specific types of hair care products, because curly hair acts different than straight hair. Straight hair has a tendency to get oily. For curly hair, the oil doesn't travel down the hair shaft the same. You have to have products that work and help to maintain that hair and keep that hair together.
That is definitely a long-term project that I have been working on — to develop things that help, because they have specific issues like low-porosity hair, hair that doesn't absorb things. There's a whole other animal there — not just that it's curly, but now it's not absorbing product, so you have to make sure ... again, maintenance is important, conditioning, making this a regular thing.
People think, "Oh, I want to be quick." We are living in the microwave age. "Let's throw something on there and just go." But until they develop something that you can throw on and it is going to give you that conditioning you need, people need to take that time for themselves. Self-care and wellness is important for every profession. Whether you're a hairdresser, a trucker, or an executive, spending that time on you and taking care of not only your body but your hair — all of it — is a part of it.
Kimble's ultimate tips and tricks for women with thinning hair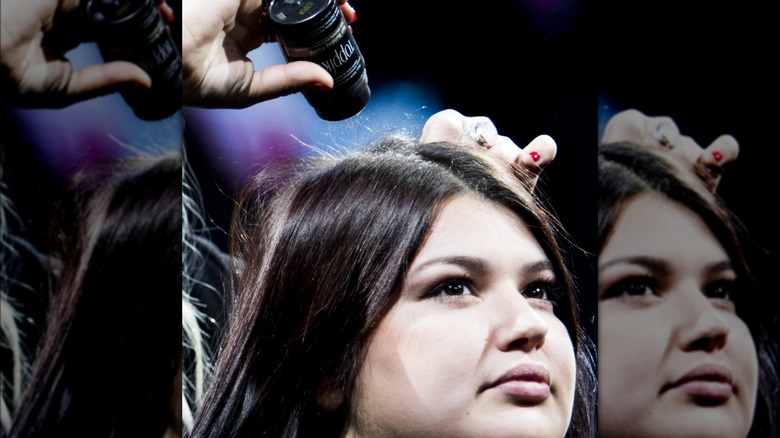 Rosdiana Ciaravolo/Getty Images
For women with thinning hair, what are some styling tips and tricks they could use to lift the roots or hide any thinning spots? Are there any hair growth products you recommend?
Taking biotin. Massaging your scalp. Surprisingly enough, exercise — good for stimulation because you want to keep the blood flowing. Take vitamins, eat healthy, and drink plenty of water, because sometimes your hair can be dry because you're not drinking enough water. The older we get, the more we lack certain nutrients and things like that — so incorporate that kind of stuff into your diet and into your lifestyle.
What about any thinning spots? How do you cover them?
I call it a little movie magic. There's things like Toppik [Hair Building Fibers] or sprays that you can put in there to fill it in, because sometimes, it's medical. A lot of times, I'll have people go see a doctor first to see what is the cause, because there's many causes of hair loss. It can be from bad extensions, bad braids ... Bad wig attachments could be causing hair loss. It could be stress, it could be what you eat, your diet. It could be medication. It could be some bacteria.
That's why it's important to keep your hair clean. You want to keep your scalp and hair clean because bacteria can get into your scalp and cause other problems. That's why I say shampooing is a must. You need to do it as regularly as you can without drying your hair. [Use] moisturizing shampoos, especially in between to keep your hair clean, but also not to dry your hair out, and condition it after you wash it. That leads to more of a healthy scalp and healthy hair.
Again, those fundamental things sound basic, but they are important. But consult a doctor first to see what's causing it. Then we can figure out what the solution is. But biotin is good to always take for hair growth and thickening your hair.
I love Toppik — I used it today. It's my secret.
Instant gratification. We must have those things in our kit.
Kimble recommends choosing low-maintenance styles to keep your hairstyle fresh on-the-go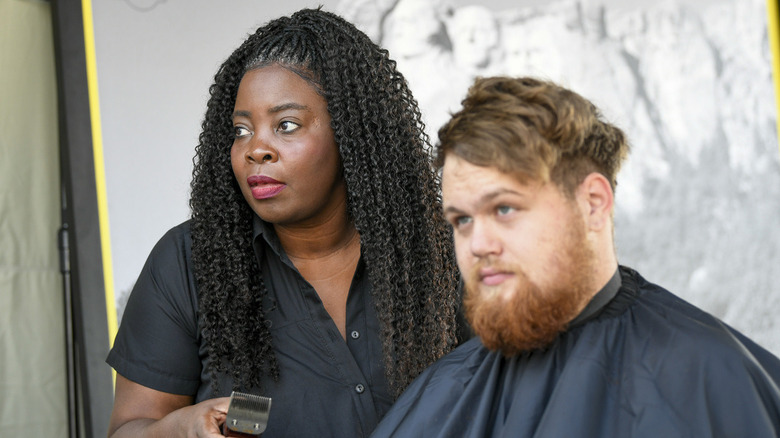 Craig Lassig/AP Images for Super 8 by Wyndham
It has been especially humid on the East Coast. What tips do you have to reduce frizziness that comes from humidity?
There are products that are anti-humidity products. There's some that are probably really good on the market now that you can use. I always also say I have hairstyles based on seasons. I'm wearing curly hair in this heat because it's easier to maintain, because LA is not as humid as other parts of the country.
Where it's humid, it's basically water in the air. If you don't have products that can help shield against those things, I would recommend trying some styles that may, so you don't cause damage to your hair by trying to keep it straight and over-straightening it and over-putting products or chemicals in it to try to alter the hair. The less you do ... Some people have to wear color, so it's difficult to wear color and to try to straighten your hair. It's going to be really tough on your hair.
I try to recommend styles that have more texture and volume in them so that you don't see the [frizz], and they combat the hair changing on you, because I've had that happen to me. It went from beautifully silky straight to afro. I'm from Chicago and it's very humid in the summertime, and I got off the plane coming from Los Angeles — because LA doesn't have that problem — and my hair blew up.
There are some products out there that are anti-humidity. There's a company called Wow that makes a product that's supposed to be good for keeping your hair from locking out any water or moisture from getting onto your hair and reverting it. I'll be honest with you — I haven't tried it myself, but I've been hearing the buzz about it. That could be the answer to some people's problems. But if all else fails, there's always go natural, go curly, and you don't have to worry about it.
With the truck drivers that you get to do free makeovers on, what do you hope they take away from this?
Hopefully, first of all, they feel good, because everybody needs to feel good. One of my mottos is, "Great hair equals confidence." When you look good, you feel good. I know that they work hard and they work long hours. They have to sometimes sleep in the truck or sleep on the road and stop off at truck stops. They have to live on the road, which I understand because I've done that myself in the business that I'm in — traveling — and it is tough.
I want them to learn how to maintain and take care of themselves while they're doing this and also help celebrate that. I love the fact that Super 8 has done a makeover on their hotels, because for me, there's nothing more important than traveling and having a wonderful, comfortable bed to sleep in and a nice, clean, beautiful space to do that in. I hope that this collaboration helps improve the lifestyle of our hardworking people, traveling people — and not just truckers; people that travel like me as well.
For more information on the "Trucking Gorgeous" event, visit the Super 8 event website. 
This interview has been edited for clarity.