How To Use Dry Shampoo The Right Way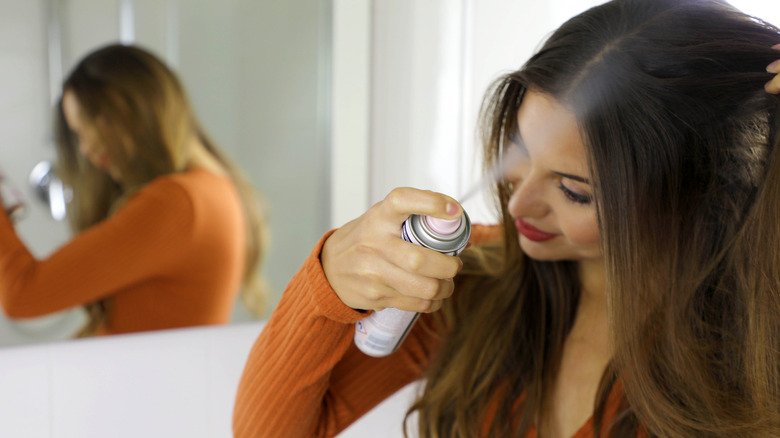 Zigres/Shutterstock
Dry shampoo is one of those products that can truly do it all. Apart from helping refresh your hair and taking away extra oil, dry shampoo can also be used in styling to help create volume and body. However, you only get these bonuses if you use dry shampoo the correct way. With so many different types of dry shampoo and different hair types, it's very easy for it to be used incorrectly (via Good Housekeeping).
Advertisement
According to Pureology, dry shampoo includes corn or aluminum starch which soaks up the oil that accumulates in the roots. That is why it's a crowd favorite for those who don't wash their hair every day or are on the go. It's important to note that washing your hair every day is not recommended by hairstylists as it can strip your hair of nutrients. Because of that, dry shampoo is a key product in many people's hair routines. Of course, if used correctly.
How to use dry shampoo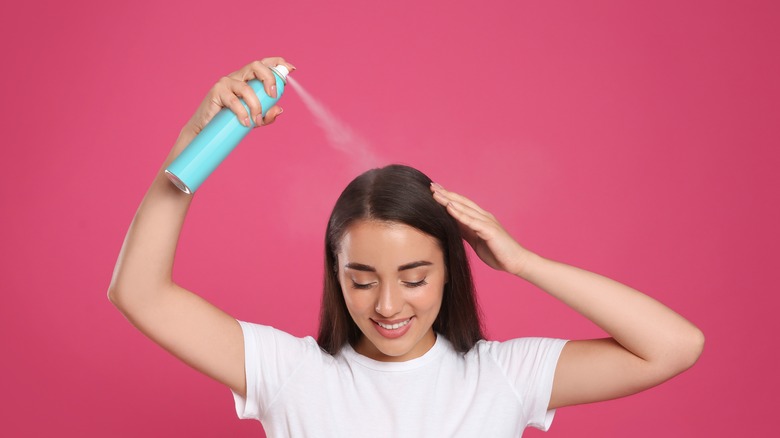 New Africa/Shutterstock
Before you apply dry shampoo, you have to make sure you are using the correct product. This comes down to your hair color and hair type. Those with finer hairs will need something lighter, such as sprays, to not weigh down their hair. For thick or oily hair, powders may be best to soak up any unnecessary oil. As well, you need to be certain about what dry shampoo you will be buying as many serve different purposes. Certain dry shampoos will serve strictly to soak up oil while others will also work to texturize and stylize hair (via Allure).
Advertisement
As hairdresser Patrick Wilson suggests, you want to be careful how close you are to applying dry shampoo. If you're spraying too close to the hair, you will be left with white marks or wet sections that will defeat the purpose of what you're doing. Before applying, be sure to section your hair to target the roots as much as possible. After spraying from around six to ten inches away, let the dry shampoo absorb for around 30 seconds to give it time to start doing its thing. Using your hands or a brush, go ahead and brush out any excess dry shampoo. Be sure to only use dry shampoo for a max of one to two days in a row. After two days the dry shampoo starts to become an extra ingredient in clogging your roots (via Living Proof).
Advertisement