Stockholm Style: The Swedish Fashion Aesthetic All About Clean Lines And Chic Minimalism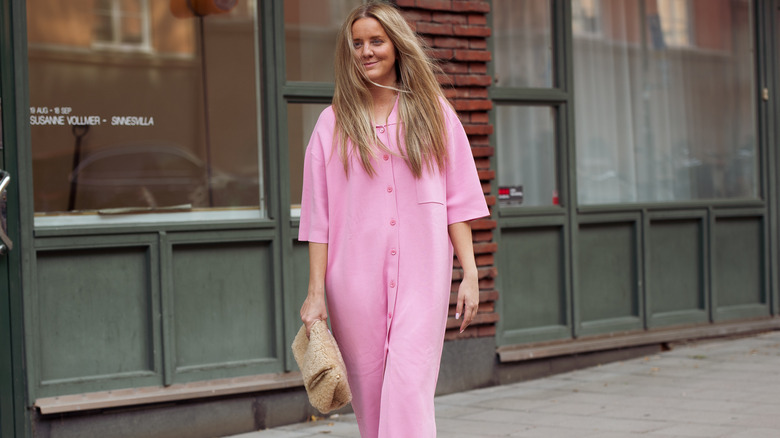 Raimonda Kulikauskiene/Getty Images
It's high time we credit the Swedes with the popularity of chic minimalism. Where would the rise of blazers and trousers be without the influence of Swedish trendsetters? Being the home of top brands like H&M and Ganni, it's no wonder why plenty of fashion trends are coming out of this part of the world. If we've learned anything about these trends, it's that comfort can intersect with style. Unlike many fashion trends that have come and gone, much of the Stockholm style is all about making the outfit work for you. Besides looking chic, the outfit has to protect the user from the cold Swedish weather.
Practicality is only one part of the Stockholm style. To obtain this look, you'll need to deter from trendy pieces that are only good for one or two seasons. Being fans of organic materials and living as green as possible, the Swedes are pros at building the perfect capsule wardrobe that serves them year after year. However, there's no need to fly to Stockholm to copy their style. By looking at the ethos behind their dress, you'll get closer to the perfect chic minimalist look.
Pure minimalism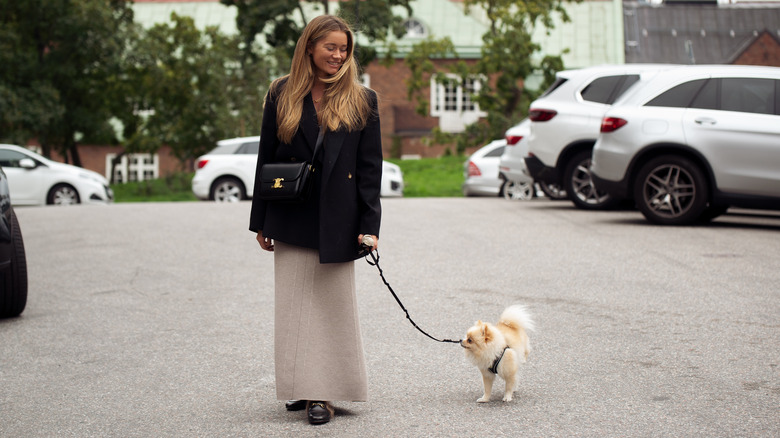 Raimonda Kulikauskiene/Getty Images
Stockholm-style enthusiasts are masters of minimalist dressing. While there are some Scandi-girls known for their maximalist approach, Stockholm style is full of clothing items that are timeless. Straight silhouette pieces without frills or accents are the norm, and structured tops and dresses accompanied by streamlined "on-the-body" items like cross-body bags or fanny packs are the go-to formula. There's no need to add unnecessary trendy aspects to an ensemble because, sometimes, simplicity is best.
Use of quality fabrics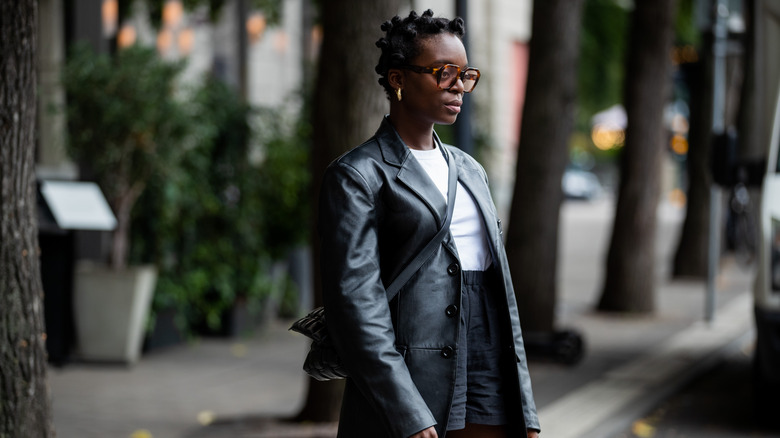 Christian Vierig/Getty Images
When building your Swede-inspired style, ensure your pieces are of the highest quality. Since Stockholm style is about wearing the same items in different variations, you need them to last more than one season. Although the fast fashion brand, H&M, is a Swedish company, it doesn't mean the Swedes are known for their consumption. Authentic and organic materials are sturdier and long-lasting, ideal for capsule wardrobes that'll last ages.
Layers all over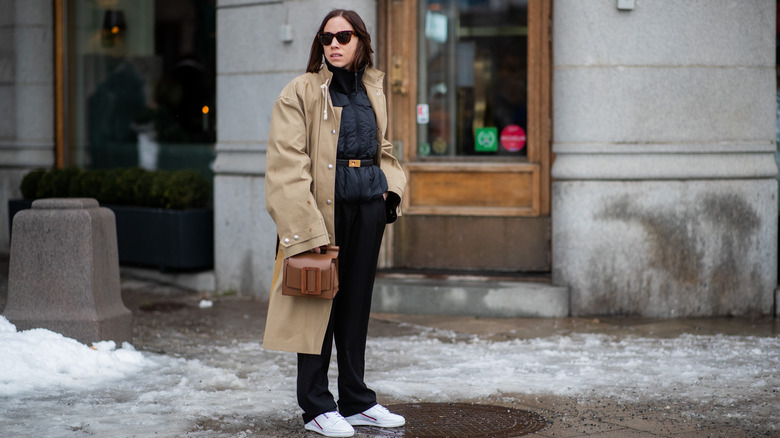 Christian Vierig/Getty Images
Beyond its fashion, Sweden is also known for its weather: Cold and rainy days are just another aspect of regular Scandinavian life. To combat this, Swedish trendsetters and style influencers have mastered the concept of layering. There's no such thing as over-the-top layering because keeping warm is vital. From layering puffer jackets with coats to wearing sweaters underneath dresses, there's no need to hold back on doubling (or even tripling) up.
Power of basics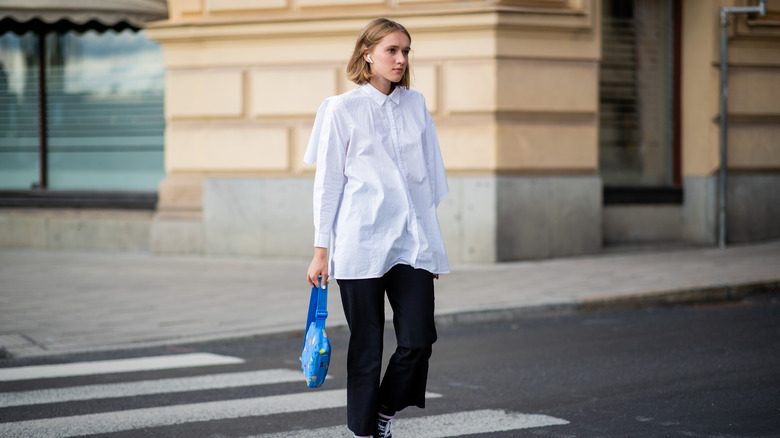 Christian Vierig/Getty Images
To achieve a minimalist wardrobe, you'll need to fill it with plenty of basics. Basics are must-have pieces in most, if not all, wardrobes, providing a foundation for any comprehensive closet. Invest in quality basics that serve you in each and every ensemble. From denim blue jeans to white button-ups and black trousers, these are just some of the items that are crucial for developing a complete Stockholm-style wardrobe.
Adding accents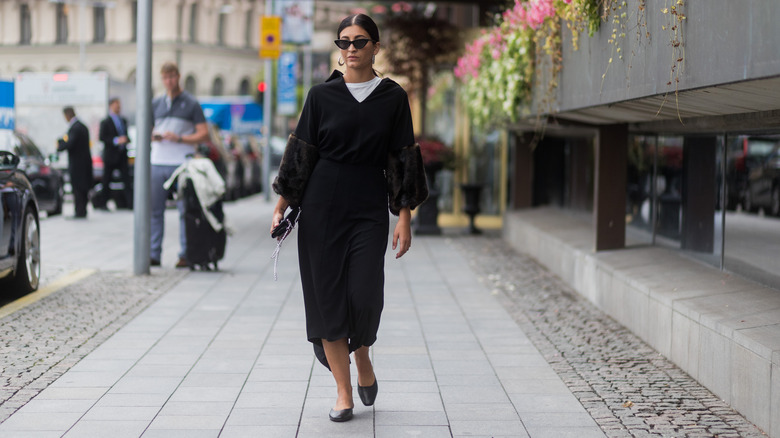 Christian Vierig/Getty Images
Stockholm style isn't just about being plain, as you can find moments for tastefully adding your own personal touches. Add subtle accents — like leather, fur, or shearling — that match your minimalist style. These accents aren't supposed to take over or overwhelm — they'll complement your look while still creating a cohesive vibe. These tiny touches are perfect for adding texture or a pop of color.
Fixed color palettes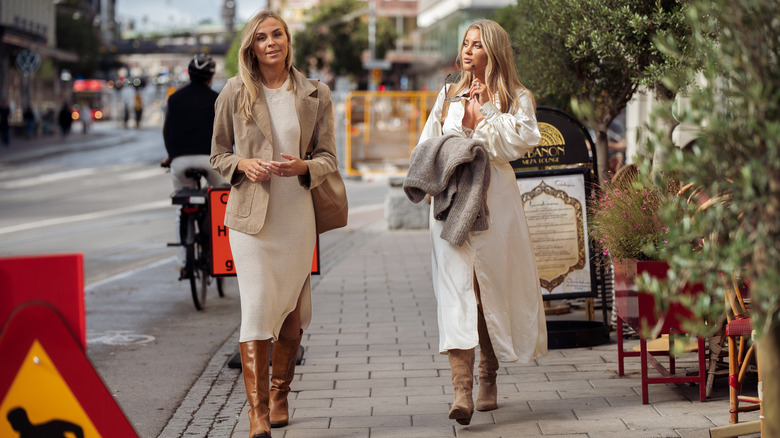 Raimonda Kulikauskiene/Getty Images
When discussing minimalism, it's natural to bring up neutral color palettes. The Stockholm style is all about being practical, and the most practical styling tip involves restricting the number of colors you use. A fixed number of colors in your closet will make it easier to match different clothing pieces. Without the struggle of knowing which colors go with which, getting ready has never been easier. Efficiency is one benefit of a neutral color palette — looking chic and elegant is another.
Don't discount denim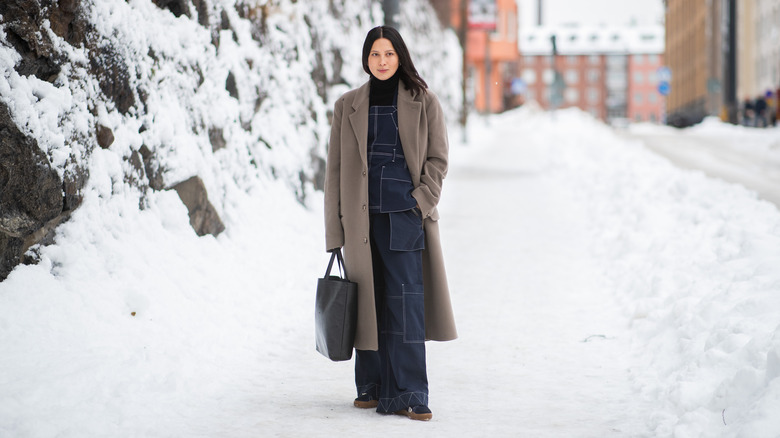 Christian Vierig/Getty Images
Denim is one of the most versatile and iconic materials available in fashion. The Swedish fashion influencers know this, and that's why you'll always find denim in their outfits. Besides being a sturdy material that shields, denim is highly adaptable. From jeans to jackets and everything in between, it's hard to find a piece of clothing that hasn't been done up in denim at least once. You can utilize denim to its fullest potential by opting for varying washes or designs.