Dusty Blue Is The 2023 Color Trend That Screams Luxury - How To Style It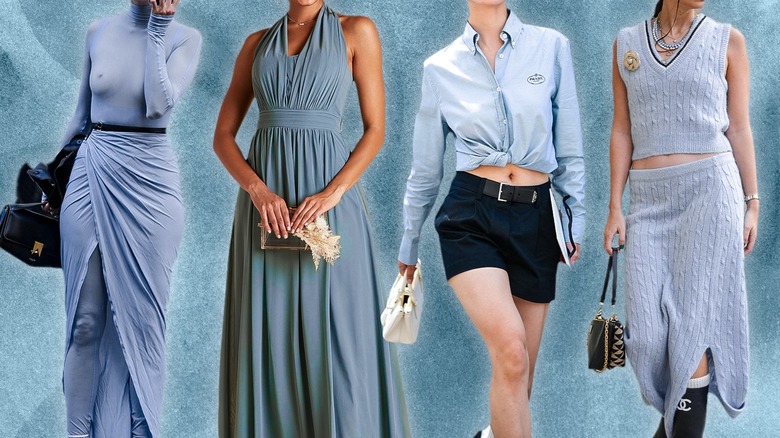 Static Media / Shutterstock / Getty
Everyone is currently adoring the quiet luxury trend. Ever since the aesthetic first appeared on our social media feeds, it seems as if you can't escape the luxurious feel of neutral color palettes. Unfortunately, these simple color palettes can sometimes seem too plain and boring for those keen on more color. Thankfully, there are many ways to look wealthy without sacrificing your love of color. One of the ways you can incorporate color into your luxury-inspired outfits is by opting for a rich-feeling color like dusty blue. While you can find blue in your denim jeans and navy blue staples, the dusty blue color resembles its pastel counterparts, adding more character to your look.
Dusty blue is a combination of pale blue with hints of gray. This gloomier shade is soft and subtle but still adds a hint of color to your wardrobe. While some quiet luxury experts insist that you must wear neutrals for an expensive look, a few pops of dusty blue will still give you a luxurious look with more color and fun.
Blue-ish accessories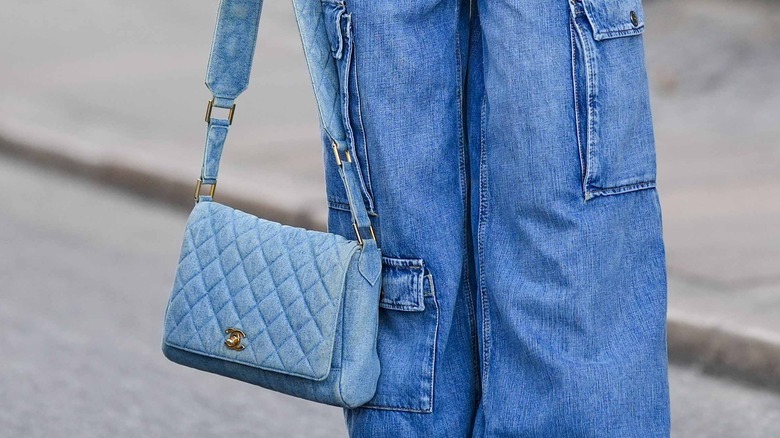 Edward Berthelot/Getty Images
Although many opt for pops of color when it comes to their accessories, you can't deny that soft color can make a huge statement. Dusty blue accessories are subtle but add a dreamy effect to your ensembles. Lighten up darker looks with this airier hue that will contrast well against blacks. Avoid the classic combination of black clothing and white accessories by switching out the latter for dusty blue pieces and handbags that whisper quiet luxury.
Polished pants and trousers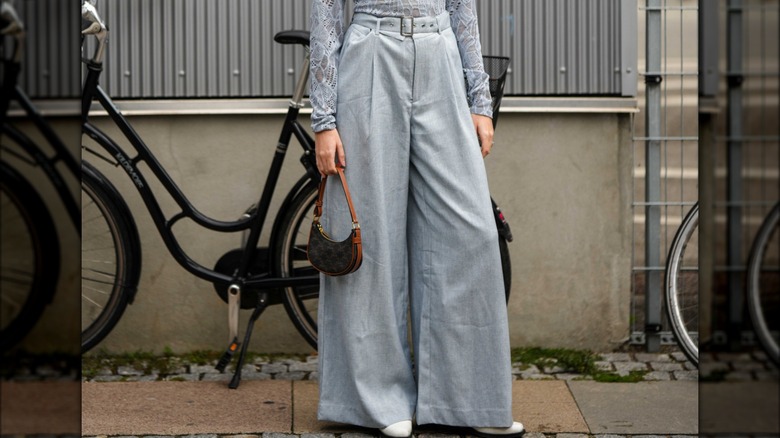 Edward Berthelot/Getty Images
Regarding bottoms, there's nothing more classic than a pair of trousers or pants. Sleek, tailored trousers will give your outfits more structure, as well as the illusion of more height. Instead of black or navy blue bottoms, go light with dusty blue. Try an inverse outfit formula with light dusty blue pants styled with a black or dark blue top. This simple switch keeps your outfit modern but remains elegant.
Luxurious dresses
Summer or winter, dresses are always welcome in the quiet luxury trend. When styled correctly and appropriately for the season, a dusty blue dress can bring a whimsical touch to your wardrobe. Ellie Saab's Spring 2023 Couture gave us a glimpse as to how this color, in extreme design, can help invoke a royal and fairytale feel to your wardrobe. This color can help give you that dreamlike aesthetic every day once it's translated into dresses that fit your daily activities.
Classic tops
We already know that white button-downs have become a staple in almost every closet, but the dusty blue button-down might be a chic alternative. Although it doesn't have a crisp white tone, dusty blue button-downs can give you a structured design in a more vivid color. Still showcasing a luxurious look, these tops can help provide you with a different tone to your outfits without having to reach for an out-of-the-box color.
Gloomy sweaters
Unlike some other colors or tones, dusty blue gives off dream-like vibes. Its mixture with gray offers a colder hue that seems optimal for fall and winter weather. When paired with textured sweaters, this color can be comfortable and cozy. It will carry you through cooler seasons without appearing too casual. A dusty blue sweater will be the perfect piece that keeps you dreaming.
Blue outerwear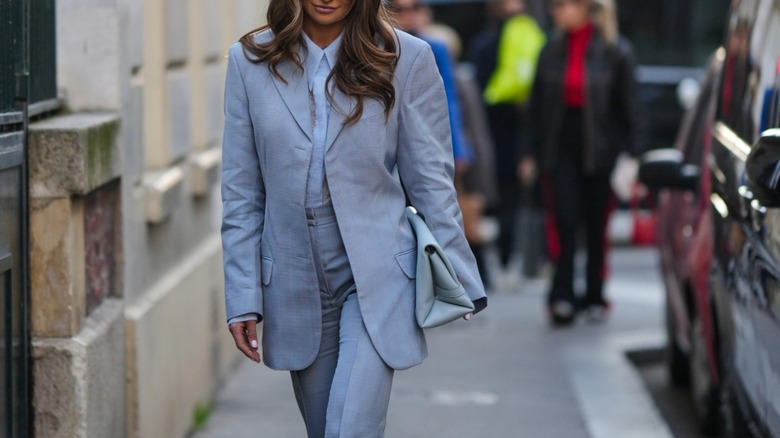 Edward Berthelot/Getty Images
A polished and chic blazer is enough to dress up any outfit. Regardless of what you're wearing underneath, a blazer is the epitome of the quiet luxury trend. Mixing it with the softer dusty blue color will add a feminine touch to a typically masculine silhouette. The juxtaposition between these two creates a sophisticated outerwear piece that pairs well in any season with any look.