Swap Out Your Bomber Jacket For A Cozier Option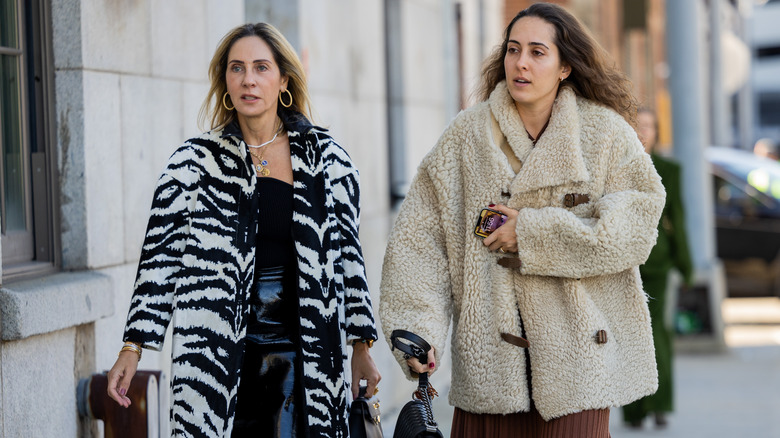 Christian Vierig/Getty Images
You may have a bomber jacket lying around that's been your tried and true fall go-to for years. However, it's time to update your aesthetic for autumn and ditch jacket trends that are totally outdated. You can do that by simply swapping out your bomber jacket for a cozier option. Of course, you don't want to grab just any ol' item. You may want to consider a retro but oh-so-cute fleece jacket that elevates your comfy chic style.
There are a few obvious benefits to opting for a fleece piece. For instance, they're wonderfully soft to the touch and can keep you warm when the weather starts to turn colder. It's also a breathable material, which means you won't overheat either. That's not to mention the fact that the synthetic fabric is available in a wide range of colors, patterns, and designs or that the style can be casual, professional, and even a little dressy. This is, of course, if you know which options to choose and how to style each one.
Granted, those aren't the only reasons people are opting for a fleece jacket or two this season. They also happen to be a fabulously retro choice that captures the stylish vibe of the '90s in a super-comfy way. If this has piqued your fashion-loving and comfort-appreciating interest, you'll surely be eager to pick out your own fleece jacket and wear it outside to impress your friends A.S.A.P.
1. Basic zip-up fleece jacket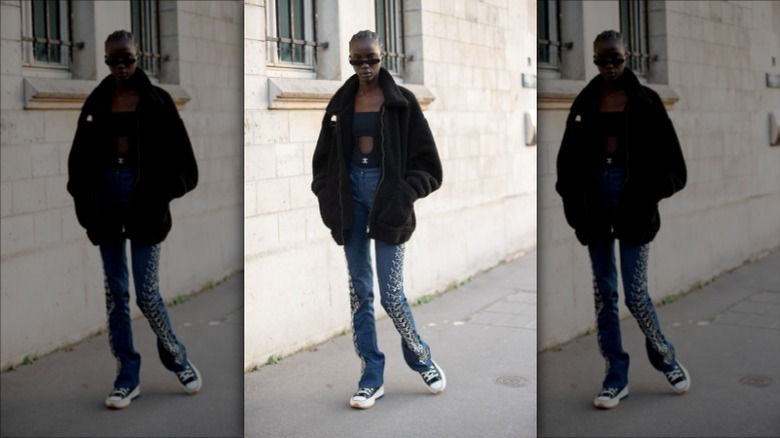 Melodie Jeng/Getty Images
Fleece jackets don't have to boast a bunch of frills in order to be fabulous. Instead, you may want to opt for a basic zip-up fleece in a monotone color that will go with pretty much every outfit and just as many styles, including everything from jeans and a T-shirt to a maxi skirt and blouse. Think along the lines of a safe shade like black, white, or gray. Although a smaller option could be nice, you can increase the comfy factor by choosing a jacket that's slightly oversized in just the right way.
2. Pullover fleece jacket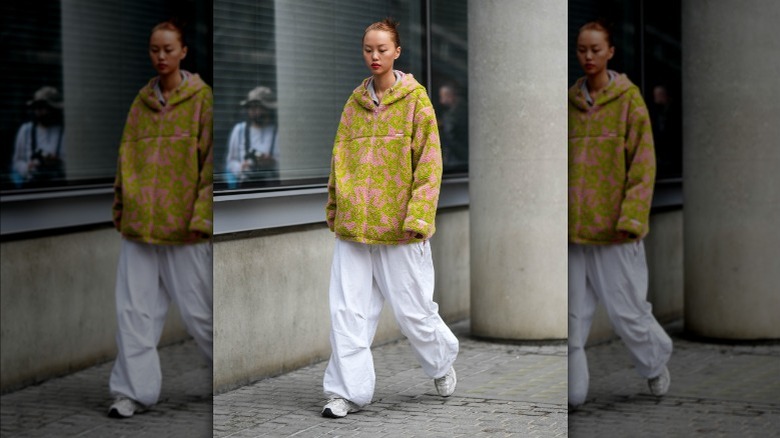 Edward Berthelot/Getty Images
Add a little fun to your fashion with a pullover fleece jacket. As chic as it is cozy, it will feel like a warm hug every time you put it on. Another option you'll likely want is a size that seems just a touch too big. You may also want to look for one with loose sleeves and a large hood. While a fleece pullover would look great in a single color, it would look just as stylish with a pretty pattern or a dynamic design that makes your piece both comfy and eye-catching.
3. Collared fleece jacket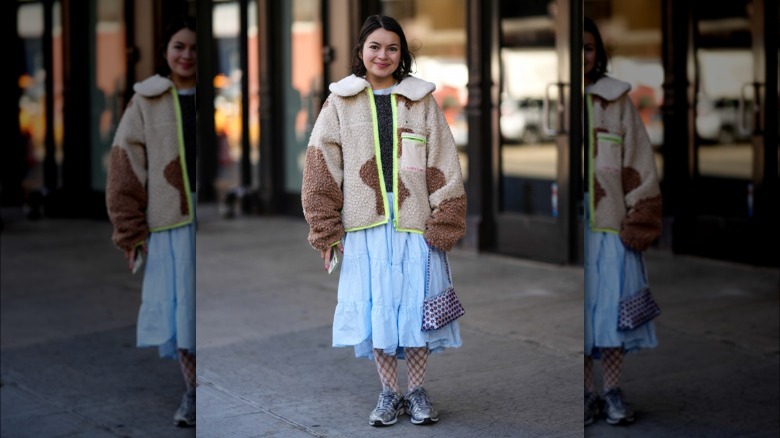 Edward Berthelot/Getty Images
Although you can wear a fleece jacket any time, you'll usually slip one on when it's a little cooler outside. That's why picking out a piece with a sizable collar can be such a great choice. Not only will it add to the cozy look of the item, but it will also keep your neck, chest, and shoulders nice and warm. Beyond that, you can switch things up by wearing your collar folded down from day to day and then pop it up like the Fonz when you want to protect yourself from an icy breeze.
4. Animal print fleece jacket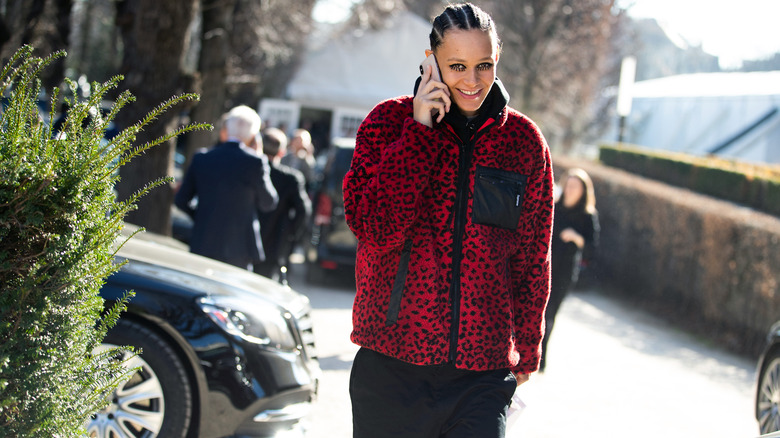 Melodie Jeng/Getty Images
Thanks to the fuzzy nature of fleece jackets, they're the perfect material to mimic the fur of a captivatingly wild and naturally fashionable creature. That's why they look so incredibly good with animal print designs. Whether you prefer a jaguar print or a cheetah pattern — not to mention something that looks like it should be covering a tiger, giraffe, zebra, or cow — the look also suits the nostalgic animal-like prints that were popular in the '90s. Although snakeskin and crocodile skin materials aren't usually fuzzy, they still might look intriguing when done in fleece.
5. Structured and fitted fleece jacket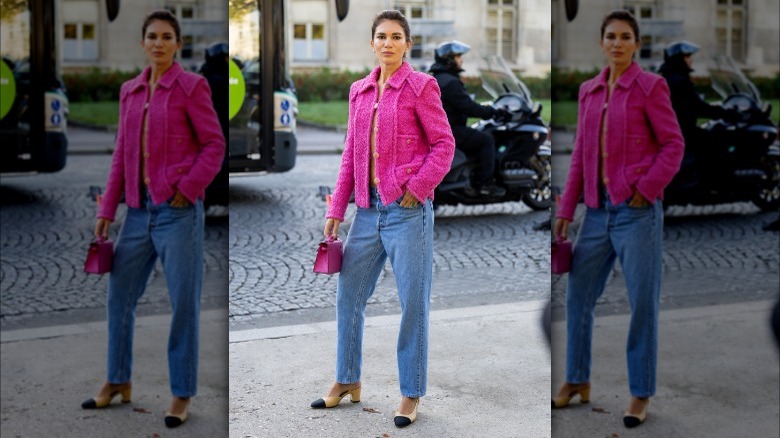 Christian Vierig/Getty Images
Fleece jackets tend to be on the bigger side, which certainly works with their super-cozy feel and trendy aesthetic that's just as comfy-looking. However, that doesn't mean they all have to be loose. Instead, you should definitely give a fitted fleece jacket a try. A style that's more structured than other options, you'll surely appreciate the straight lines and sharp corners. Any additions will surely only accentuate the look, such as a tight collar, angled shoulder cuts, and folded cuffs. That's not to mention covered pockets and a lovely full-length lapel.