Sleek Midis Are The Anti-Circle Skirt Trend Of Fall 2023 - The Best Ways To Style Them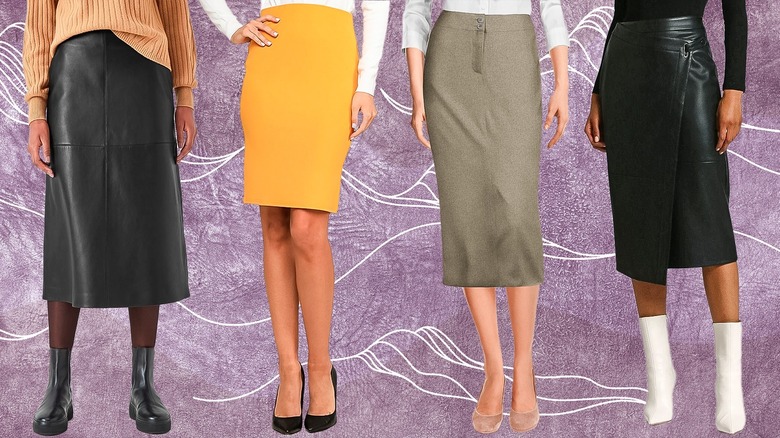 Static Media / Shutterstock / Getty
It wasn't long ago when circle skirts ruled the runways, with brands like Prada showcasing exciting options. While they're classic pieces that will always come back into style, a brewing new skirt trend is looking to take away some of that volume in favor of a sleeker, form-fitting look. The midi skirt is a popular option for those who want an elegant hemline without committing to the overwhelming length of a maxi skirt. One common iteration of the midi skirt, the pencil skirt, is the inspiration behind this trend for fall 2023.
What was once a popular officewear piece is the blueprint for a chic autumn season. You can choose between vibrant prints, colors, and textured fabrics that add a different visual component to your fall looks. However, these sleek midi skirts add an elegant, and even sultry, touch to all of your seasonal 'fits. To style these pieces, you'll need to remember their form-fitting shape and their mid-length hem to create a look that'll have you forgetting all about your circle skirts.
Matching midis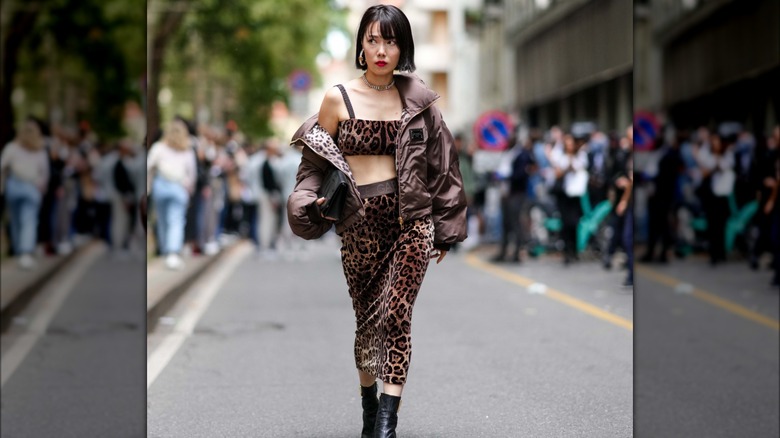 Edward Berthelot/Getty Images
If you want to take the struggle out of styling your midi skirt, opting for a matching set is the best option. A matching top and midi skirt lets you enjoy a cohesive outfit every time and even gives you various combinations when paired separately, making it a wise investment. Midi skirt sets are easy to wear and can be statement pieces if you opt for a bold print or color.
Trendy metallics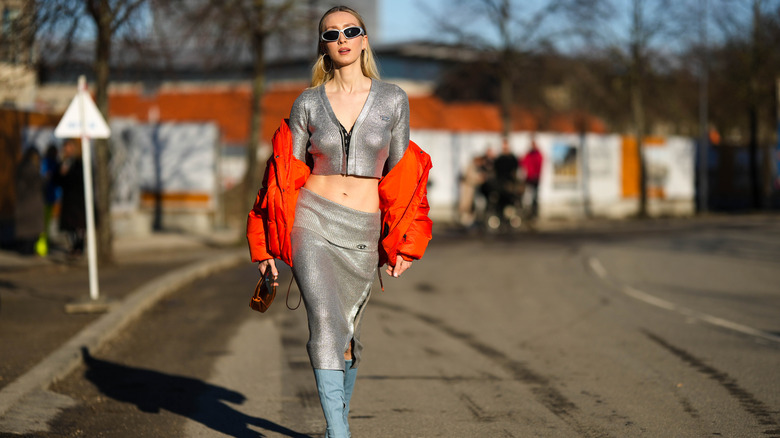 Edward Berthelot/Getty Images
While it can seem like there are too many fashion trends to count, one of the most prominent of the year has been metallics. Infuse a bit of metallic into your midi skirt for an all-around modern look that fits the moment. Besides adding glam to your day-to-day, a metallic midi skirt will ensure you are always on-trend.
Classic denim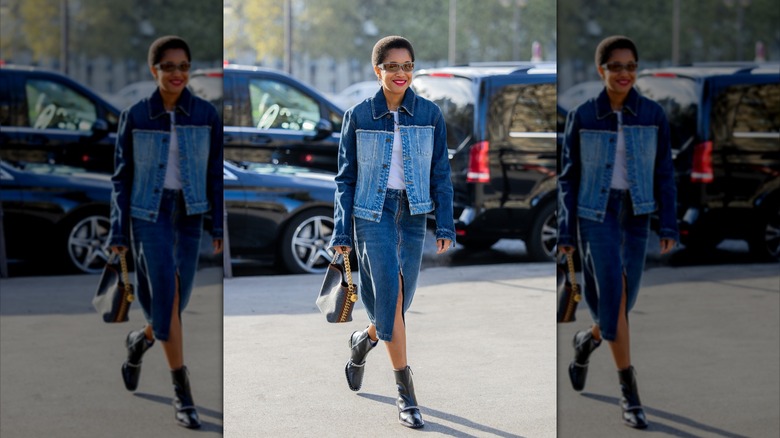 Christian Vierig/Getty Images
We can't talk about midi skirts without mentioning the timeless denim midi. This retro piece is once again a must-have item in any wardrobe. Apart from being versatile, the denim midi skirt gives you a form-fitting silhouette with the cool factor of the casual fabric. If you want to try this sleek midi trend for the first time, you should start with a denim piece that offers endless outfit possibilities.
Satin midi skirts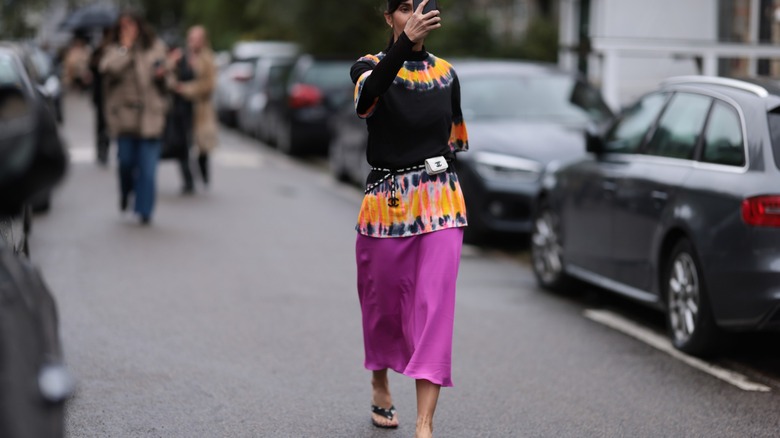 Jeremy Moeller/Getty Images
The satin midi skirt is a classic '90s piece that never seems to go out of style. While certain '90s trends have come and gone, the satin midi skirt remains an easy way to add luxury to your looks. Take it from the Adeam Fall Winter 2023 collection, which showcased soft and elegant satin midi skirts paired with Y2K-inspired pieces for an exciting contrast.
Asymmetrical hem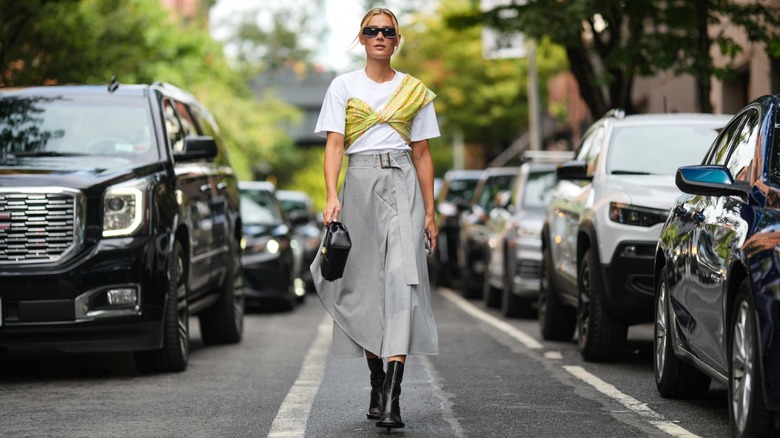 Edward Berthelot/Getty Images
While the polished and dressed-up midi length is trending for fall, there's no reason you can't add an edgy touch to your piece. One way to stand out from the pencil skirts is by opting for asymmetrical hemlines that add some illusion of movement to your look. Asymmetrical hems are fun while still only being a small detail that won't detract from your elegance.
Printed pieces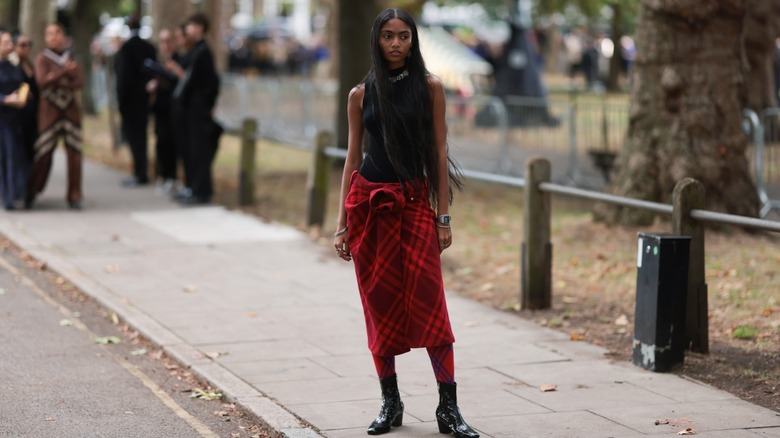 Jeremy Moeller/Getty Images
Fall allows us to play with various prints that we associate with the season. Plaid, stripes, and houndstooth are just some patterns that'll usually see an uptick during the season. Add these patterns to your midi skirt for a quintessential fall look that is still lively. Add a pair of tights underneath to tone down the print and give you extra warmth.