Circle Skirts Will Be Everywhere This Fall - How To Pull Off The Silhouette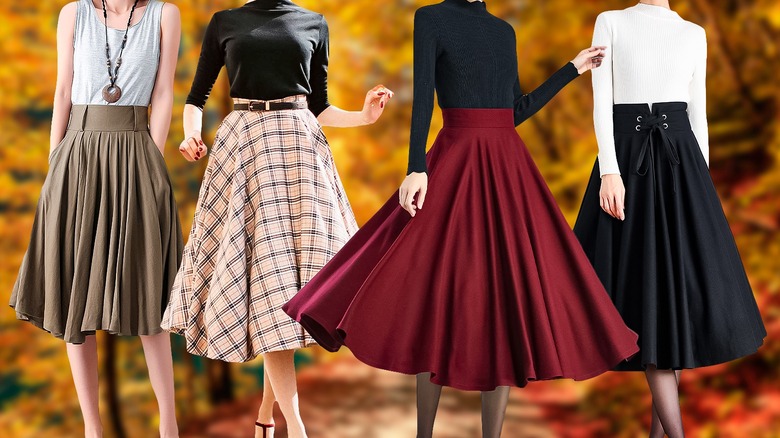 Static Media / Shutterstock / Getty
You'll love the ultra-volumized maxi skirt trend this fall, and knee-length skirts are coming back in style in 2023. But we can't forget about stylish circle skirts. Chances are, you already own some circle skirts and just didn't know there was an official name for them. According to the Merriam-Webster Online Dictionary, this specific garment is "a skirt made from a circle of fabric with an opening in the center for the waist." But you might think of your circle skirts by their other name: skater skirts. Whichever name you want to call them, these skirts are super fun to style and perfect for the cozy fall season.
You can already find TikTokers styling these skirts. For instance, TikToker @kawthornee posted a video of a cute circle skirt she made, and she styled it with a white blouse for a gorgeous girly black-and-white outfit. Now we don't expect you to sew your own circle skirts, but once you buy some, you should have fun styling them!
Rock a circle skirt with bold colors or patterns
Just because the idea behind circle skirts is pretty simple, that doesn't mean these garments have to look dull! If you prefer lively, maximalist looks, opt for a circle skirt with a bold, fun pattern and a lot of color instead of a more basic style.
Add tights or leggings
We all know the fall weather can get chilly and windy, but that doesn't mean you can only wear longer skirts. If you like the circle skirt look and want to make shorter skater skirts more appropriate for fall weather, wear tights or leggings under the skirt to keep your legs warm and comfortable, while still looking chic.
Flaunt a cute belt to dress the skirt up or help it stand out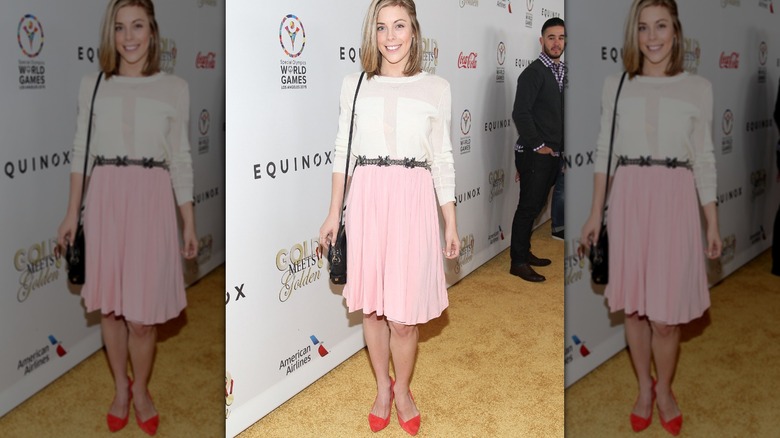 Rachel Murray/Getty Images
Do you want to make your circle skirt look more intriguing, fun, and playful? Add a cute belt! For example, an adorable belt with fun embellishments like bows or sparkles will instantly elevate plain black, pastel, or white skater skirts.
Pair a short circle skirt and a going-out top for a sexy look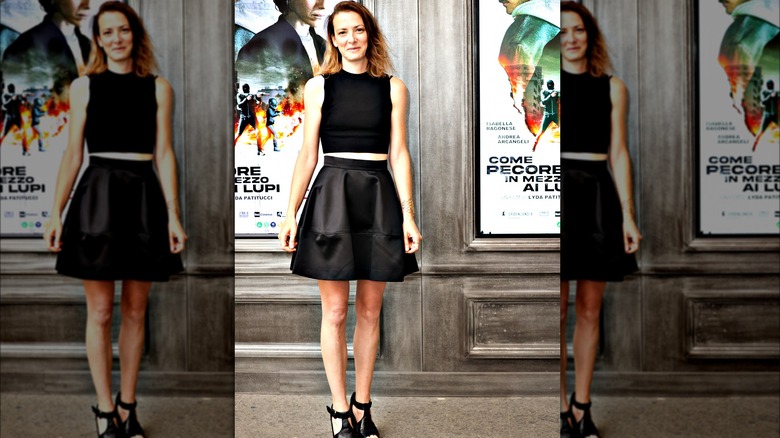 Franco Origlia/Getty Images
Not all circle skirts have to look wholesome and cutesy if that's not the energy you want to exude. If you want a sexier, night out-ready look, find a shorter skater skirt and pair it with your most show-stopping crop top or figure-hugging shirt featuring cutouts or a low neckline.
Dress the circle skirt down with casual styling
Circle skirts are great for laid-back looks, as they don't appear as dressy as long maxi skirts or formfitting pencil skirts. If you want to dress your skater skirt down, wear it with a T-shirt and sneakers for fun, easygoing vibes and an ultra-chill-looking ensemble.