Ultra-Volumized Maxi Skirts Are The Number 1 Trend You Need This Fall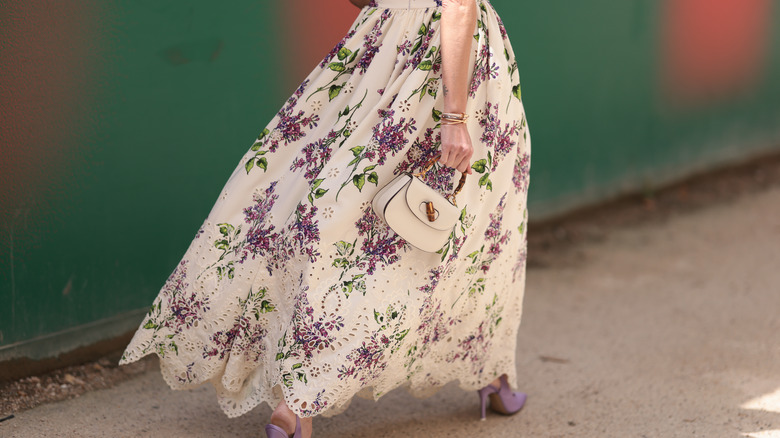 Jeremy Moeller/Getty Images
When it comes to fall trends, you probably automatically think of longer and thicker layers. Although keeping warm is always essential, there's one clothing item that is set to change the way you think about fall clothing. Maxi skirts are typically thought of as breezy and flowy summer pieces that add movement to your look, however, they can also be adapted to suit our cozy fall wardrobes. Not just any maxi skirt will do this season, though; as we've seen on many runways, ultra-volumized maxi skirts are the key to a fun and dramatic autumn closet.
These large and oversized maxi skirts might seem like part of a costume, but they're an easy way of bringing the runway into your real life. If you've ever wondered what it's like to wear a gown, this might be the easiest way of finding out. With plenty of movement and drama as you walk, these volumized maxi skirts are going to be fun to pair with our form-fitting sweaters and thermals. And there's no need to save these special pieces for a formal occasion, since there are plenty of ways we can introduce them into our day-to-day wardrobes.
Tiered maxi skirts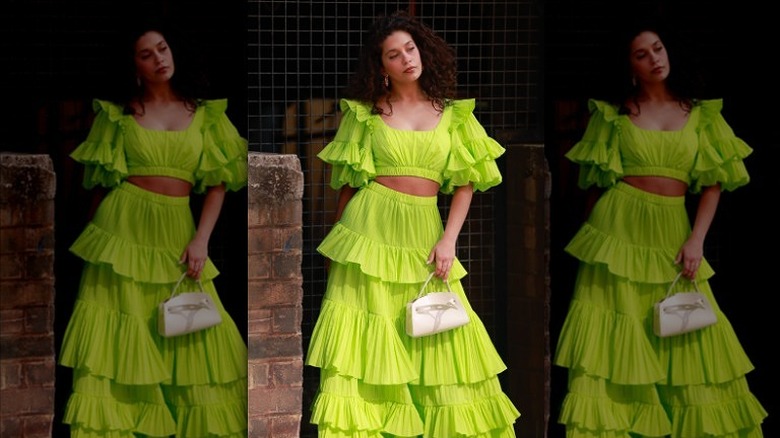 Hanna Lassen/Getty Images
Those looking to wear this trend can be overwhelmed by the idea of wearing one volumized maxi skirt. An easy way to rock this style is by going with a design that breaks up the volume into many tiers. These tiered layers turn your full maxi skirt into a flowy piece that sways as you walk. A fun way of bringing resort wear to your fall closet, tiered maxis are bound to become your favorite trend.
Volumized skirts with flair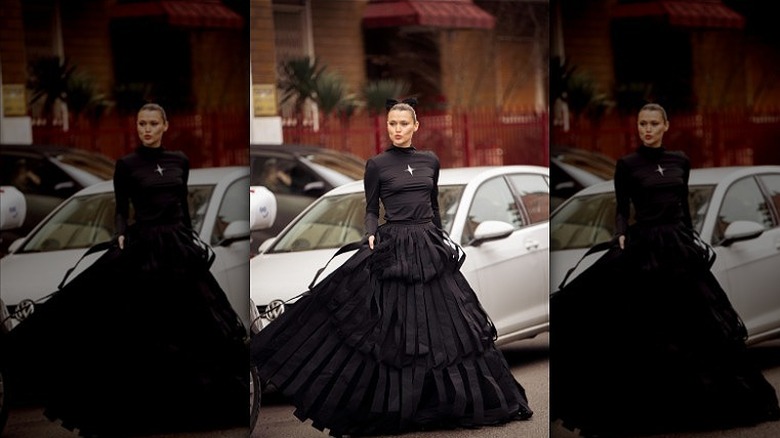 Raimonda Kulikauskiene/Getty Images
Simple and uninteresting designs or prints can make a volumized maxi skirt fall flat. Drum up the interest in your piece by opting for maxi skirts that add flair with accents, embellishments, fringes, or 3D details. With plenty of volume and added details, you can make the street your runway.
Lace maxi skirts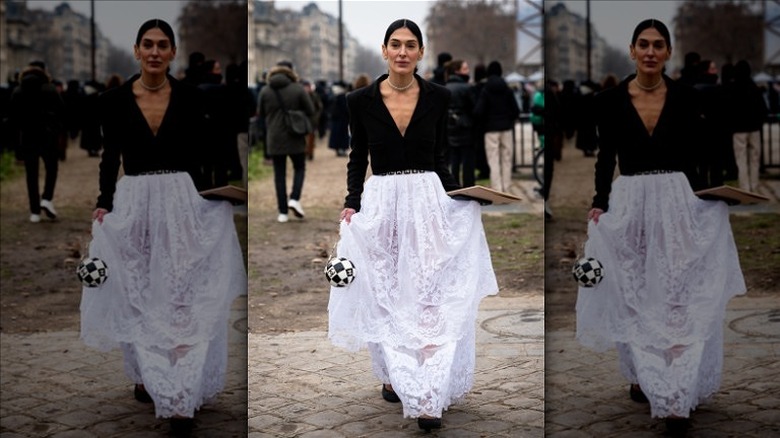 Claudio Lavenia/Getty Images
Lace is a trend that isn't disappearing anytime soon. A lace maxi skirt gives you all of the frills with plenty of elegant style. Reminiscent of a skirt fit for royalty, a lace maxi is the perfect mix of chic and romanticism that everyone will adore. It will also create plenty of volume yet still seem soft and delicate.
Mix and match your prints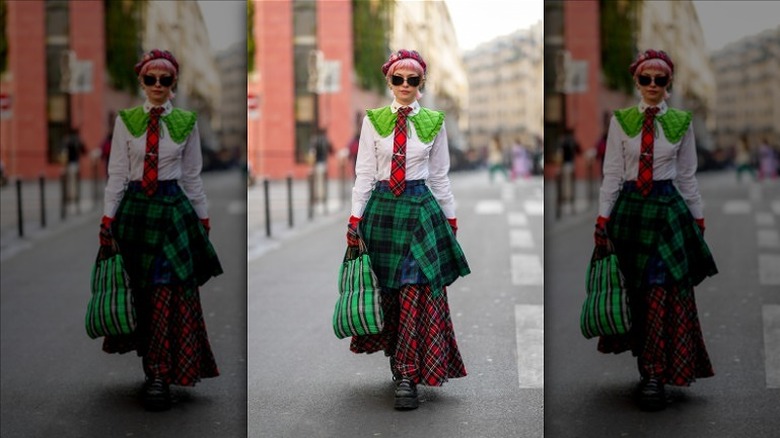 Edward Berthelot/Getty Images
Fall is all about layers, and you can incorporate them into the volumized maxi skirt trend by pairing two or more bold-colored prints. Whether this is an attached piece or another fabric layer you add on top, adding a double layer to a maxi skirt is unique and unexpected, especially when it features multiple colors and prints. For a cohesive look, make sure that the varying prints are still part of the same family (such as tartan).
Full denim maxi skirt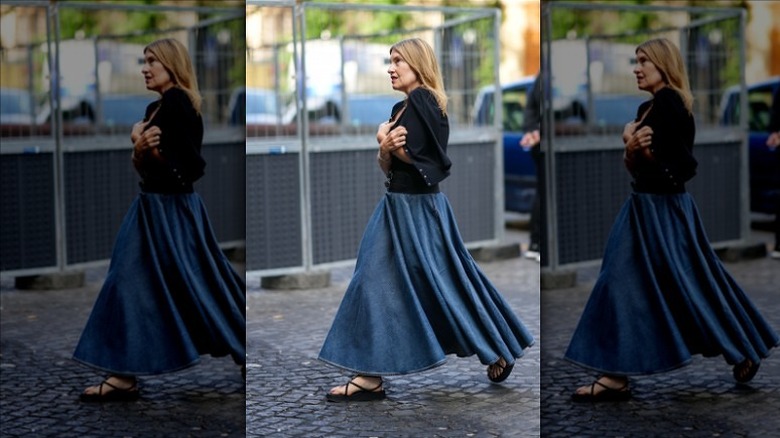 Edward Berthelot/Getty Images
Denim maxi skirts have been around for a while, but with newer changes, they'll become much more modern. Full denim skirts give you all of the texture and balance of denim but with a touch of added volume. The best part of opting for a volumized maxi denim skirt is that you can easily pair it with any top or blouse you would normally wear with denim jeans or shorts.
Colorful maxi skirts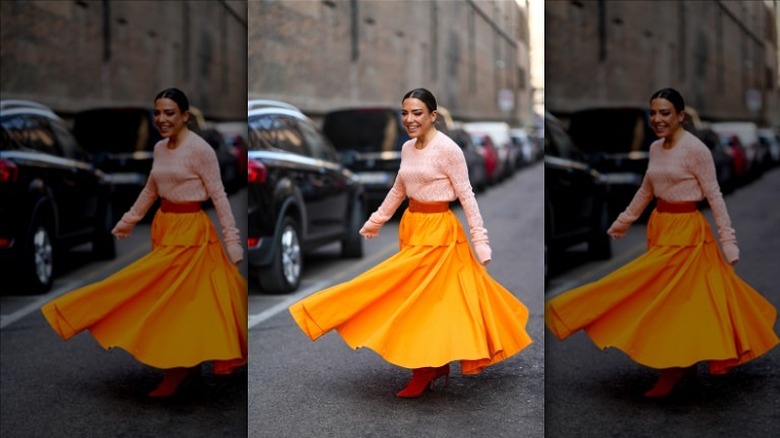 Edward Berthelot/Getty Images
The dopamine dressing trend introduced us to new fun ways of incorporating different shades into our wardrobes, and there's no turning back now. With bold looks becoming the norm, it's no surprise that maxi skirts are getting the color treatment, too. Strong pops of color or multi-colored maxi skirts are some of the brightest ways you can rock both trends at once. This combination will ensure that the eyes of the room will be drawn to your outfit. 
Tulle maxi skirts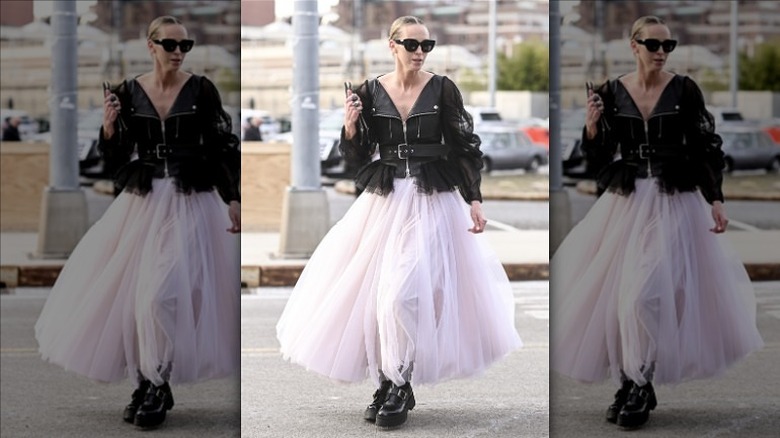 Daniel Zuchnik/Getty Images
Anyone who watched Sarah Jessica Parker in "Sex and the City" knows that the tulle skirt is more than just a fun piece; now it's iconic. These garments may resemble a child's ballerina costume, but they give serious drama and add an interesting texture that's fun to style and play with. Prance around the streets as if you were starring in your very own sitcom with a tulle maxi skirt that'll always be on-trend.