Lace: The Crochet Trend's Chic Older Sister This Summer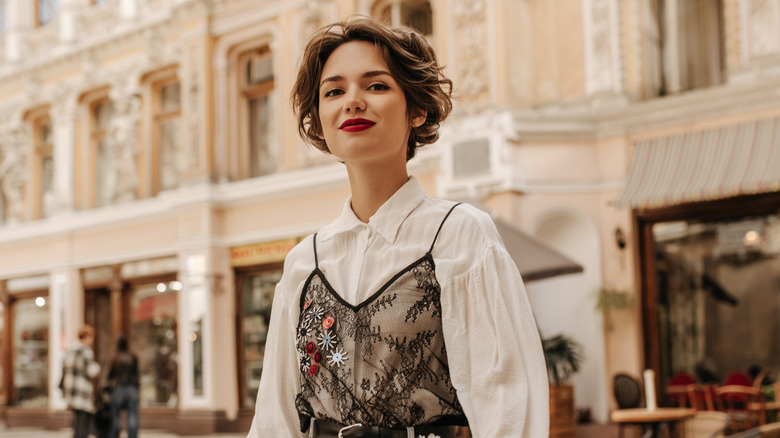 Sun Shock/Shutterstock
Lace was introduced to the European fashion landscape in the sixteenth century, where it soon became a status symbol embraced by palaces and their courts. However, the French Revolution saw the demise of this intricate threadwork as demand for handmade lace declined. A new invention that led to the creation of machine-made lace during the Industrial Revolution revived the fabric's popularity, raising it from obscurity to stardom. By the mid-1800s, the combination of machine and handmade laces resulted in the extraordinary lace patterns we know today (per SFO Museum).
Lace has had an impressive journey through the centuries. Initially worn by both male and female courtiers, it eventually became associated with female underwear during the conservative Victorian era. Considered scandalously erotic, lace was featured in the provocative 19th-century Cancan dance, where women lifted their legs to reveal lace lingerie (via L'Officiel USA). However, lace stood the test of time and became a hot trend in the 20th century,  associated with iconic styles like Madonna's "Like A Virgin" lace bustier.
In the modern era, lace has found its way onto catwalks and into mainstream fashion. From Zara's latest collection to legendary designers like Alexander MacQueen, lace has been a prominent and prolific element of vogue trends. Whether it appears as subtle details on simple T-shirts or stylish ensembles for social events, lace has stolen our hearts, establishing itself as the crochet trend's chic older sister for the summer months.
Chic and sexy lace pants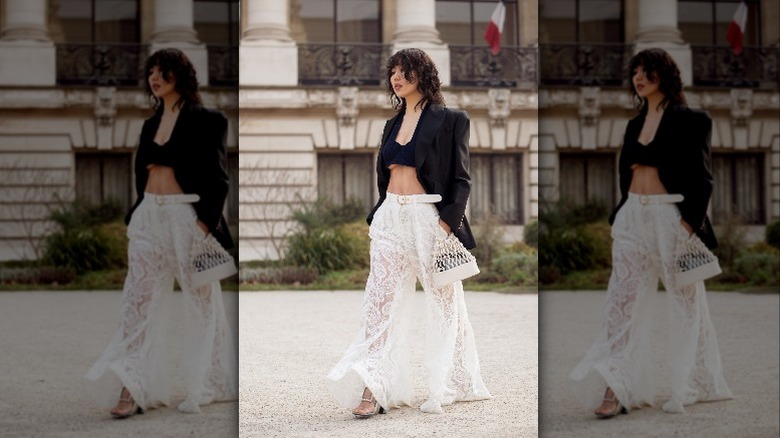 Raimonda Kulikauskiene/Getty Images
Sheer, white lace pants are the season's stunning look. Dress them down with flat espadrilles and a plain top for a casual vibe. Dress them up with high-heeled strappy sandals and a vibrant bustier for a night out. Adorn yourself with bangles and metallic accessories for the club scene, along with a cute clutch bag. For a daytime affair, accessorize with long pendant necklaces and ocean-inspired jewelry. These versatile and chic lace pants are perfect for sizzling hot appearances day and night.
The sultry and dramatic black lace dress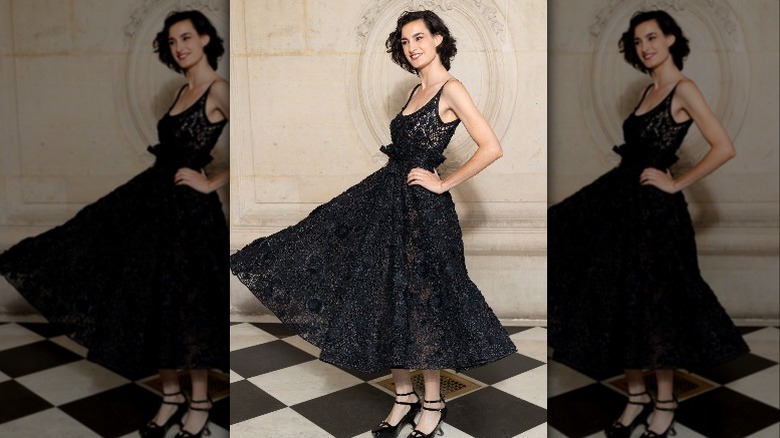 Marc Piasecki/Getty Images
Nina d' Urso embraced the lace trend during Paris Fashion Week, sporting a black lace cut-out pattern tank-top midi dress from Dior. The black lace dress is a timeless fashion choice, striking the perfect balance between femininity and mystique, and offering a sophisticated, chic, and alluring ensemble with a touch of drama. Whether in the form of a sleek midi dress, a sultry cocktail number, or an enchanting evening gown, black lace dresses are sure to become a staple for high-profile fashion moments in the summer season. 
Lace details take the camisole to new heights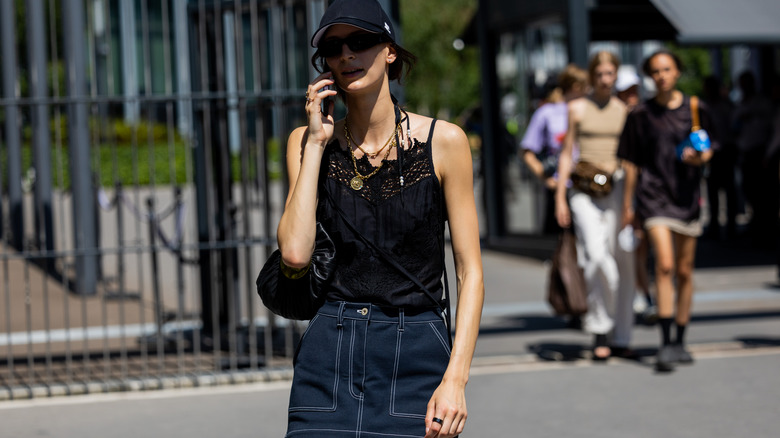 Christian Vierig/Getty Images
Camisoles are the unsung heroes of the summer season. They can be paired with anything and everything, from sexy shorts and wide breezy pants to flowy, sheer skirts and classy skirt suits. Camisoles rise to the occasion and complete any look! Imagine the power of pairing lace details with the versatile camisole; the possibilities are endless. Whether it's subtle details at the neckline or intricate patterns on the body, a camisole adorned with lace is sure to turn heads.
The seductively elegant all-lace top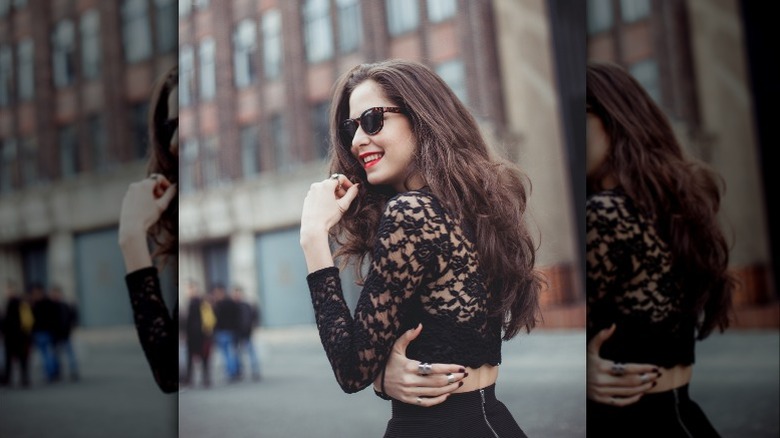 South_agency/Getty Images
Lace has a seductive and sensual allure that is intricately woven into our minds. From the naked dress to a lace bra under a sheer bodysuit, this fabric is synonymous with sultriness and femininity. Harness the bewitching power of lace with an all-lace top with sheer sleeves to embellish your ensemble. This blouse speaks volumes without being too loud, and is perfect for a night out, keeping you looking classy and tantalizing. Pair the top with high heels and a pencil skirt that caresses and accentuates your natural curves. Can summer get any sexier?
The ethereal off-the-shoulders top and skirt combo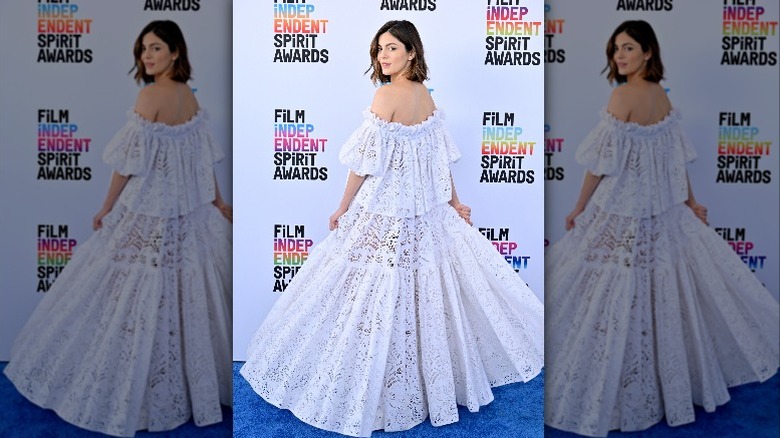 Axelle/bauer-griffin
During the 2023 Film Independent Spirit Awards, Monica Barbaro rocked an all-lace outfit, proving that the trend is sticking around. To emulate this look, choose a matching top and skirt made of lace or embellished with intricate lace patterns. The loose off-the-shoulder top with puffed sleeves perfectly compliments the flowy skirt, creating an ethereal ensemble. You can also match the skirt with a simple camisole for a different look or wear the top with jean shorts for a more casual allure. Wearing them together will make you look stunning and memorable.
Add romantic flair with a lace bag
The lace bag exudes romance and embraces the vintage glory of bygone eras, which is hard to resist. Its neutral colors make it the perfect choice to accompany any outfit, saving you the hassle of switching bags to match each ensemble. The tote lace bag is not only practical but also adds an extra flair to your look, showing that lace is the hero of our summer wardrobe. 
The basic t-shirt re-imagined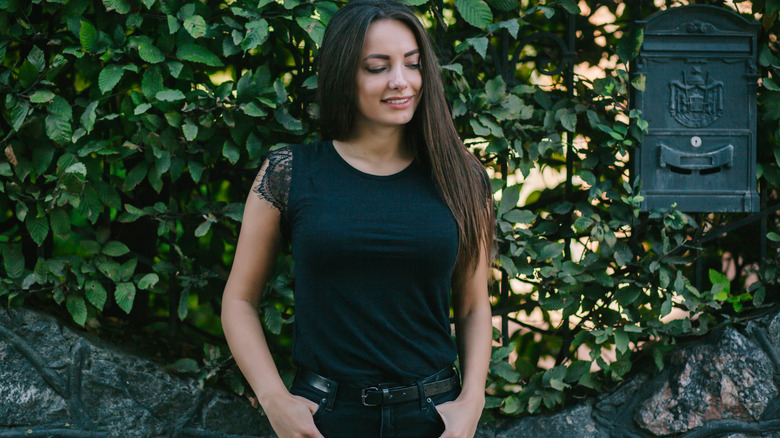 Andrewshots/Shutterstock
A basic t-shirt plus a trendy pencil skirt is an elevated outfit combo we love. However, during the summer season, we adore the classic tee with cute lace details barely touching the shoulders. It is versatile, easy to wear, and can be matched with practically everything, such as pencil skirts, jeans, shorts, and wide pants. Black is the perfect color to complement any look, and the lace adds a whimsical touch. When you feel like dressing casually but want that little extra pop, opt for a basic t-shirt with lace cap sleeve-like details.