Metallic Accessories Are The Simplest Way To Indulge In The Shiny Trend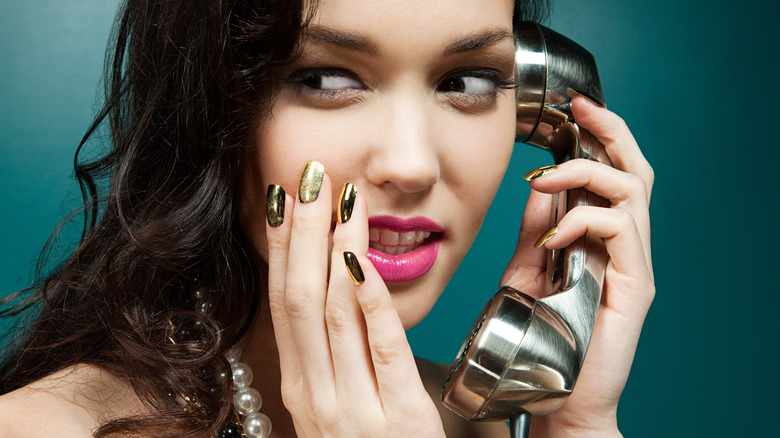 Image Source/Getty Images
Metallics, in all of their glitzy, shiny glory, are a great way to add oomph to any outfit. The problem is that it's frighteningly easy to overdo it and end up looking like the next coming of the Terminator. Typically, metallic fashion is a "less is more" situation, so if your plan is to don one of the many metallic tanks, miniskirts, or wrap dresses that have dominated recent runways, it's probably best to keep the accessories on the minimal side. If you're looking to glam up an otherwise staid outfit, however, accessorizing with metallics is the ideal way to strike a balance that is equal parts fun and glamorous.
Although they are classic shades, the metallic look isn't limited to standard gold, silver, or copper. Anyone who wants to pop off a little extra can easily choose accessories that are metallicized in other hues, such as pink or green, both very on trend right now with all of the mermaidcore and Barbiecore enthusiasm. And, although many people associate metallics with heavy jewelry that turns sticky and sweaty in the summer, many other options can pull off this look without being all kinds of uncomfortable.
Shiny shoes
Well-chosen shoes are simultaneously the sexiest and most practical way to add a little extra to any outfit. Metallic heels, for example, can be paired with a ton of outfit options, from pants to dresses, and they go with almost anything. Hot pink pumps simply can't say the same, as they are more of a niche, situational shoe. 
Metallic nails
Manicures, by their very nature, tend to be somewhat metallic. Make them even more so by choosing a shade of silver, gold, copper (or a mix of all three) to achieve natural metallic elements. Such a set will really stand out and pair well with any outfit or occasion. Or, go a little wild and opt for brighter shades. Metallic blues, greens, and purples are especially hot right now. 
Statement earrings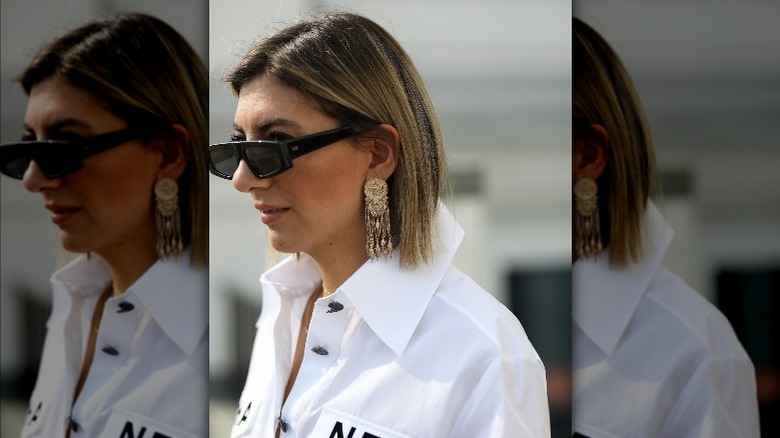 Jeremy Moeller/Getty Images
Statement earrings are a tried-and-true way to amp up any style. They are often paired with minimalistic hair and makeup to really stand out. There are few, if any, limits on the potential for metallic earrings, as they can come in all forms, from sleek and shiny metals to the textured/hammered look. Metallic leather earrings are even a thing now! Considering style, they also can be worn as hoops, chandeliers, or even metallic fringe. If you're choosing earrings to make a metallic splash, however, bear in mind that this is one case where bigger is better. 
Bold bags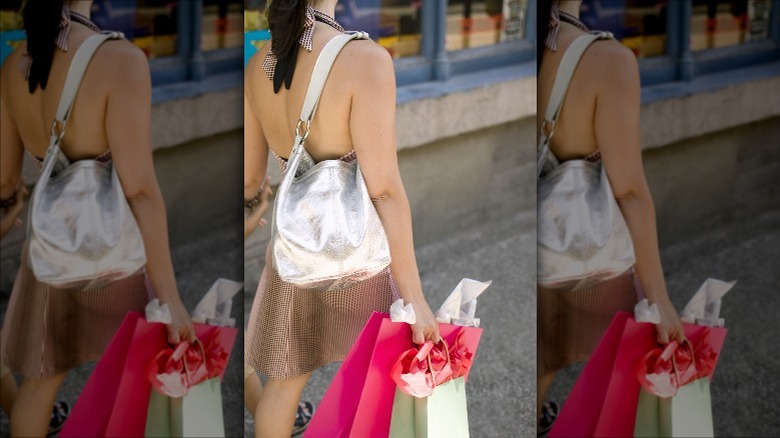 Jupiterimages/Getty Images
Metallic bags are a great investment because they can go from day to evening-worthy and back again with ease. They also transition from season to season seamlessly, so they won't be a summer-specific accessory like so many other handbags (unless it's one of the very popular rainbow metallics that many designers have released — maybe save those for warmer months).
Chic sunglasses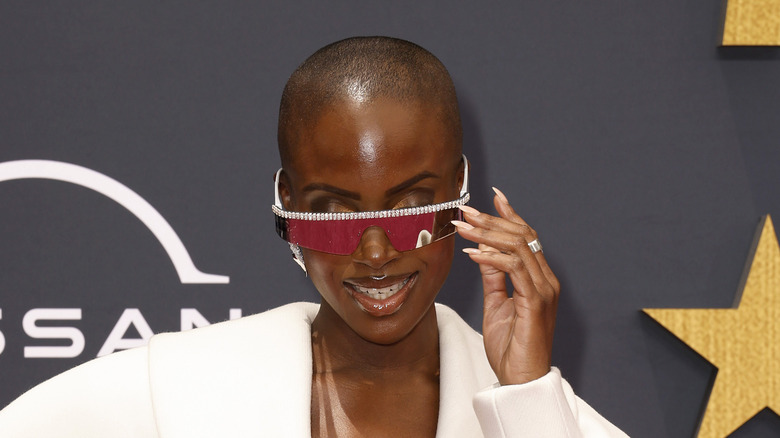 Frazer Harrison/Getty Images
The easiest way to get your shine on is probably through sunglasses. This can be achieved with metallic frames, embellishments, or oh-so-shiny reflective lenses. Metallic sunglasses are popping up all over in all types of frames but especially in those aviator or '70s-inspired round lens options. Bonus points for picking frames that sport polarized lenses. It's always smart and fashionable to protect those peepers from the sun's harmful rays.
Blingy belts
A well-chosen metallic belt can sass up even the most tired pieces in your closet. Such a piece is easy to pair with virtually anything, whether a plain black shift dress, a patterned maxi dress, or a shorts-and-blouse ensemble. If it feels a little too risky to try a fully metallic belt, opt instead for a leather belt with a statement metallic buckle, a look that's always chic.
Jewelry for days
Back in the day, matchy-matchy jewelry was the norm, and metals were never mixed — but here's how it can be done. Now, it's totally on point to not only mix metals and layer them (especially chains) but also to select pieces that feature multiple metals in their design. Thanks to this, the potential is very real for mixed-metal bracelets and bangles, necklaces, rings, hair clips, and more. So, raid those jewelry boxes for vintage pieces and see what sort of modern metallic magic you can pull off.