Basic Tee + Trendy Pencil Skirt = An Elevated Outfit Combo We Love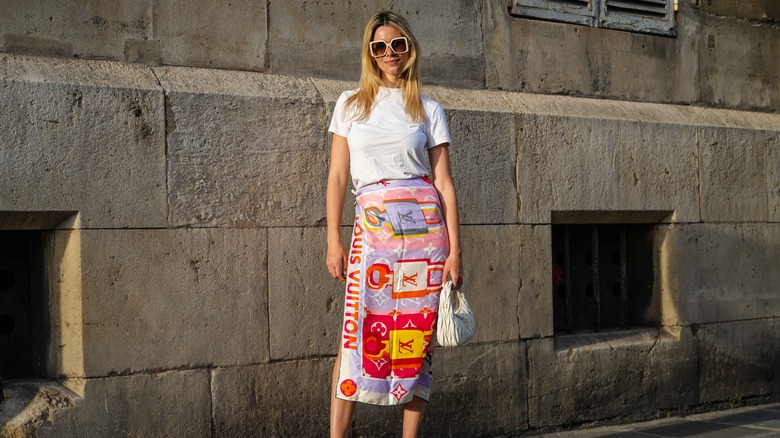 Edward Berthelot/Getty Images
The next time you're in the mood to wear a pencil skirt, consider throwing on a basic t-shirt to complete the look. A simple way to elevate your outfit, it's both classic and chic while also being cool and contemporary. That's why it can be an ideal choice for your day job as well as brunch with friends — not to mention a fun date or solo walk around the neighborhood.
Although you might perceive a pencil skirt as an item that leans toward the professional or formal side (while a denim skirt might seem much more casual), sometimes the best idea is to ignore your assumptions and try something new. Fashion stylist Heather Newberger has a suggestion, telling Marie Claire, "[Try] two items you think would never go together [because they] might just go together — especially if one is a skirt. [Think about combinations that] become exaggerated versions of themselves: Pairing an oversized sweater with a micro mini; finding a top that shows off your underboob and wearing it with a flowing maxi; dressing down your midi with a pair of combat boots."
If that's left your fashionable mind more than just a little intrigued, then you'll surely be interested in the various ways you can wear a basic tee with your favorite pencil skirt. Fortunately, we can give you the stylish tips you need.
Fitted tee and pencil skirt
You don't have to do a lot to make this look work for you. Simply grab a pencil skirt that strikes your fancy and find a fitted tee with mid-length sleeves that has a matching element or two. That might be a single shade, pattern, or any other little detail that links the two pieces. You may also want to tuck the shirt in so that you can see the full shape of the skirt, while also continuing the flattering line that the clothing makes along each side of your body.
Loose tee and pencil skirt
Take your outfit in the opposite direction by putting away your fitted shirt and opting for a loose tee instead. Although this might cover and obscure the full shape of the pencil skirt, it will create a kind of contrast that is both dynamic and visually pleasing (not to mention just as flattering). Keep the vibe going by wearing a tee with a wide neck that is just as loose as the rest of the piece — and can even be worn hanging off your shoulder for a bit of stylish sass.
Matching tee and pencil skirt
You don't have to go to any extremes with your ensemble to make a basic tee and pencil skirt look incredible together. In fact, you can easily pair a matching shirt and skirt to achieve a stylish look. Although you could always opt for a single solid shade, the aesthetic would also work with two items that have the same pattern or design. In this case, the slim top and bottom pieces are the exact same color, which offers the same sleek continuous silhouette as a form-fitting dress.
V-neck tee and pencil skirt
There are various aspects of this outfit that play together in a way that creates a stunning visual effect. Along with a pencil skirt that extends below the knees and features both bright and dark vertical lines in different widths, the V-neck tee forms an arrow that points down and keeps the eye moving from head to toe. The effect is completed with the help of high-heeled shoes in the same shade as the shirt. The shoes also have pointed toes that mimic the shape of the V-neck cut-out.
High-neck tee and pencil skirt
Instead of using vertical lines to please the eye, this look opts for horizontal. Not only are there multicolored lines on the tee, but the short straight-cut sleeves boast the same design. Beyond that, by tucking the shirt into the black pencil skirt, another line is created at the waist (which matches the one where the piece stops below the knees). Finally — in the same way that a pointed toe can imitate the shape of a V-neck shirt — a tee with a straight neck worn with bluntly topped boots can have the same mirroring effect.
Silk tee and pencil skirt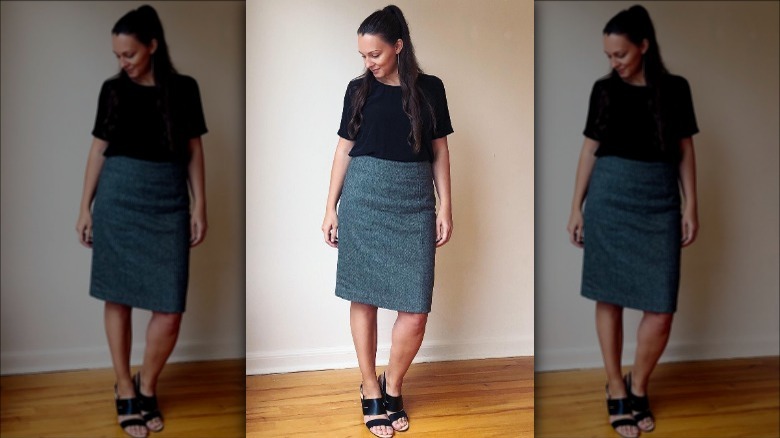 Instagram
Try popping on a silk tee with a pencil skirt. You can slip into a classically chic outfit that will suit a full day of work in an office, an important appointment, or lunch with your besties — but also look great when you step out for a dinner date in the evening. With seemingly endless options when it comes to colors, patterns, and specific details, you'll surely love the feel of both the soft material of the shirt and the secure fit of the skirt.
Contrasting tee and pencil skirt
Create some chic contrast in your look by pairing a casual and comfortable text-adorned tee with a pencil skirt boasting a fabulous floral pattern. This is a style that works well if you leave the shirt loose, however, you can also pull it out to bloom at the bottom if you prefer to tuck it in. At the same time, the yellow top brings out the same shade in the skirt while also complementing the pretty lilac purple hue — and the elbow-length sleeves on the shirt perfectly suit the knee-length skirt.