What To Look For When Buying A Basic White T-Shirt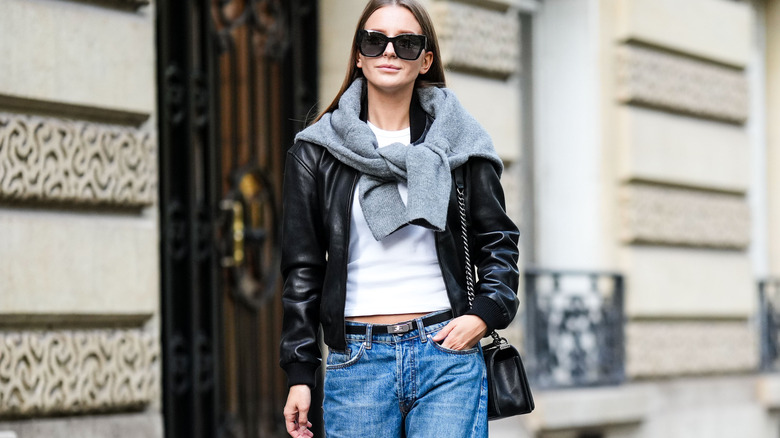 Edward Berthelot/Getty Images
Once used only as an undergarment, the T-shirt has gone through quite an evolution. From a symbol of teenage restlessness and rebellion to a classic staple in nearly everyone's wardrobe, it's safe to say the T-shirt isn't going anywhere. More than just a classic, the basic white tee can now be anything you want it to be. Wear it as-is or add a slogan to turn it into your very own personal billboard, blasting strongly held convictions without saying a word. 
But how do you know which T-shirt is right for you? We've probably all experienced the ill-fitting tee that looked fine until a few washes in. Or the shapely tee that looked good online but not so much in real life. So, if you're in the market for a basic white tee (or several), here are some tips for buying ones versatile enough to work for what you need.
Start with a reference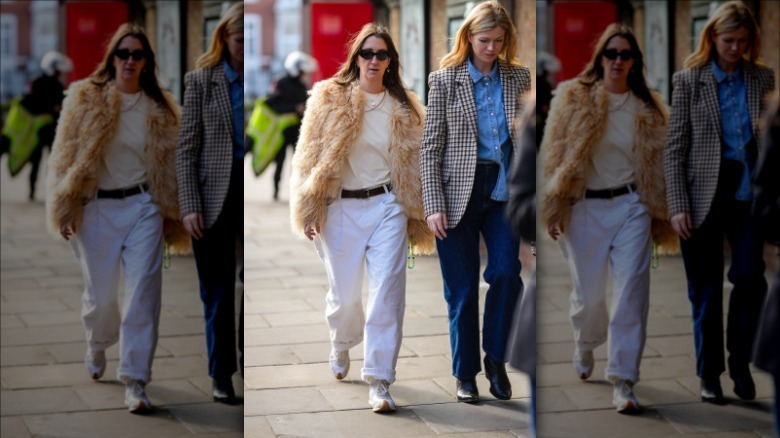 Edward Berthelot/Getty Images
So, you want to buy a tee? Do tell: did you come across it online, in a magazine, or in a store window? Did you like it on your friend and decided you needed one? Your answers should give you clues as to how you envision yourself in a tee. Psychologists tell us that our clothing communicates a message, and with these references fresh in our mind, we decide how we want to use T-shirts to express our unique sartorial message.
Consider the type of fit you want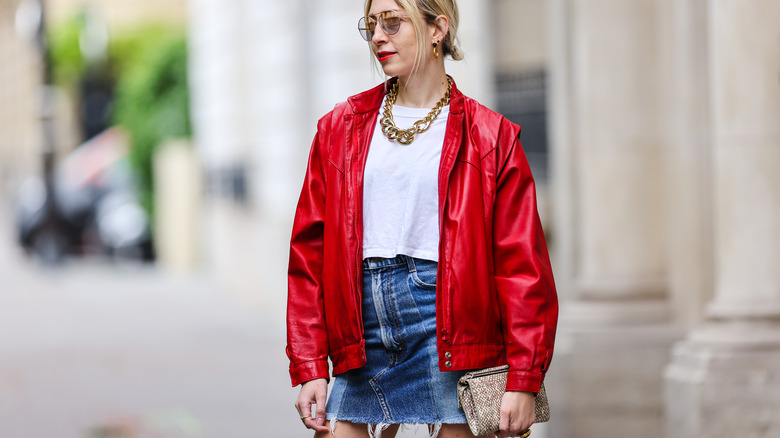 Edward Berthelot/Getty Images
With more than enough T-shirt fit and type combinations to choose from, shopping for T-shirts may not be as simple as it seems. You'll first want to consider the fit: do you want the tee to be oversized, fitted, or regular? Along with that, do you want the shirt length long or cropped? If you want to tuck the shirt in comfortably or leave it half-in or half-out, it should probably be at least hip length.
Decide the type of neck you want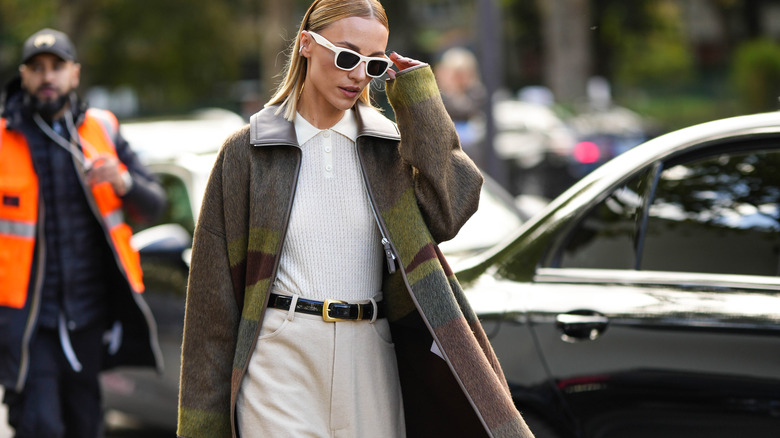 Edward Berthelot/Getty Images
Next, you'll want to decide on the type of neck, and there are a bunch. Polo neck, crew neck, and scoop neck are some common options. The polo neck, fashioned after a tennis shirt, has a collar and tends to give off a more aristocratic feel. If you're going for a classic look, consider the crew neck. The crew neckline, with its round fitted neck, is good for layering, as it tends to show underneath sweaters. Lastly, the scoop neck has a low neckline if you're into showing a little chest cleavage.
Don't forget the sleeves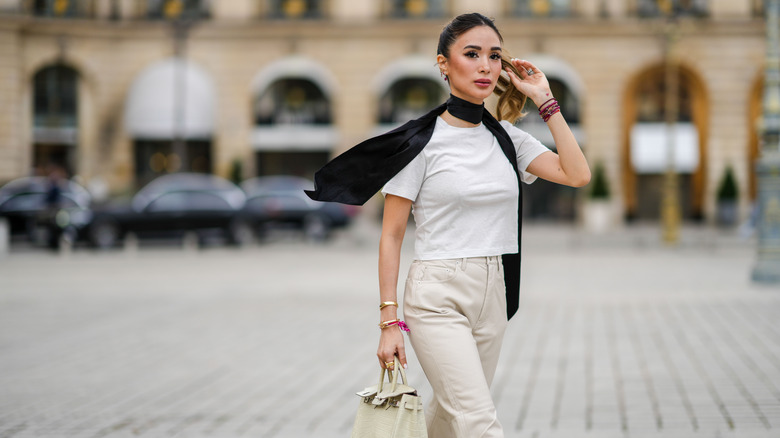 Edward Berthelot/Getty Images
You'll also want to turn your attention to the sleeves. You may decide on a cap sleeve, a short sleeve (mid-arm length above the elbow), or even a ¾-length sleeve T-shirt. The short-sleeve length is classic and often what we imagine when we think of a T-shirt. These lengths can be looser or more fitted. If you want to show off more of your arms, you might choose the cap sleeve. Conversely, if you want to hide your arms, you may decide on a ¾-length sleeve T-shirt.
Make sure it flatters your shape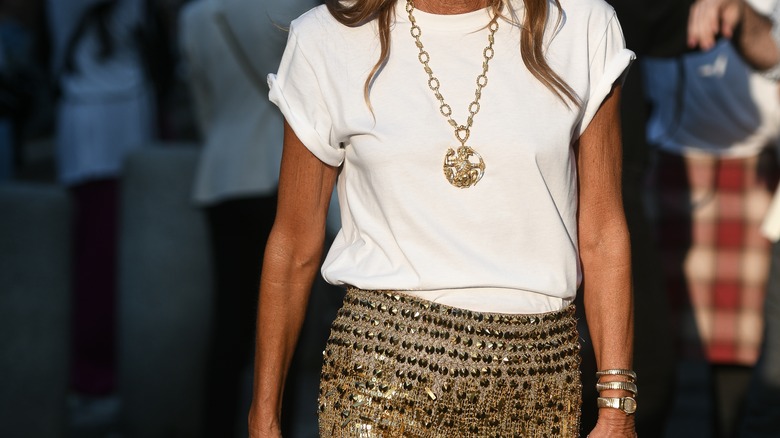 Creative Lab/Shutterstock
An internet search of recommended T-shirts for specific body sizes shows varied opinions about what is most flattering, but overall, it seems balance is key. If, for example, you're wider on top, scoop neck tees draw the eye down and make you look narrower on the top. Or if you're wider on the bottom, your T-shirt should hit below or above the widest part of your hips if you desire to de-emphasize them. It's a good idea to try on fits from different brands. Finally, if you're unsure, be creative: roll up your sleeves, knot the bottom, or tuck in to see what works for you.
Don't skimp on quality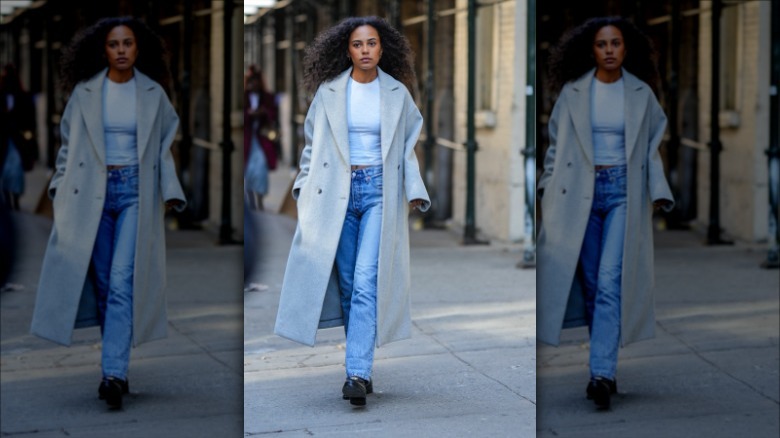 Edward Berthelot/Getty Images
What other details do you want your T-shirt to have? Maybe you want it to be thick and opaque, lightweight and sheer, or stretchy and comfortable. Maybe you just want it to maintain its shape after washing, or perhaps you want organic material. Whatever it is, be conscientious about choosing a T-shirt that is made well enough to accommodate these details in the best possible way. 
Pick your price point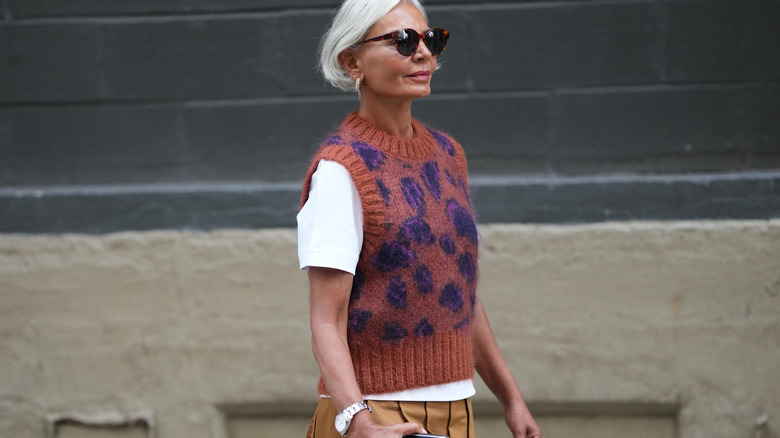 Edward Berthelot/Getty Images
You can spend anywhere from $10 to $400 on a T-shirt, but a cheaper price doesn't necessarily mean cheaper quality. If you're torn between purchasing a tee at a lower or higher price point, see if it meets all the above criteria before making a decision. If it does, perhaps it's right for you, and you can save a lot of money along the way. After all, even cheaper options can be styled brilliantly.
Try graphics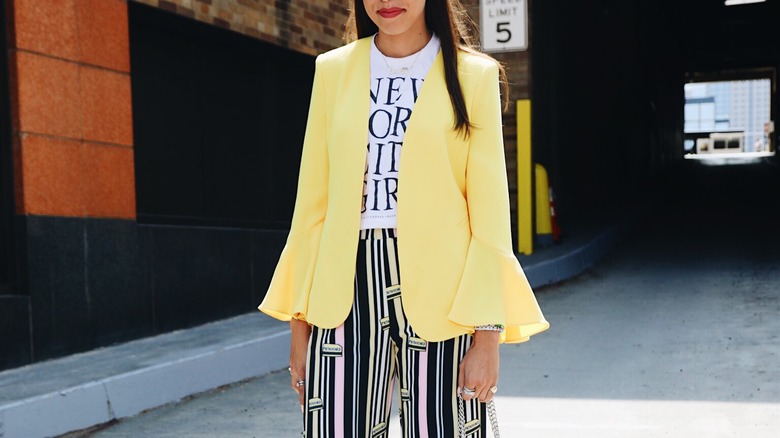 Marie Simonova/Getty Images
A basic white tee is a perfect canvas from which to project ideas you believe in. Research published in The Journal of Social Psychology shows that people are inclined to form perceptions of us based on the graphic tees we wear. So, let's be sure that the messages we place on our tees really mean something to us because they are, quite literally, a part of us — an extension of what we stand for.
Make sure it adds to your wardrobe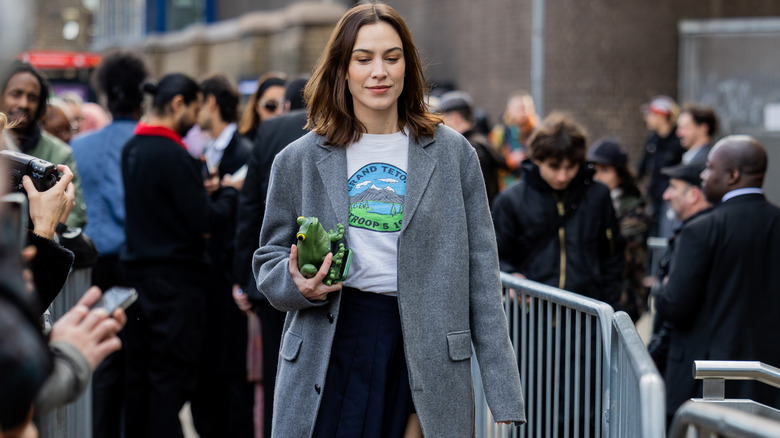 Christian Vierig/Getty Images
When you envisioned what your T-shirt would look like, did you consider what other clothing you had to complement it? To avoid having a pile of unworn T-shirts in your closet, it's a good idea to consider several ways you would wear them, as well as whether or not you have the clothes to complete the look. This way, you'll be more likely to get good use out of your tee.