Denim Maxi Skirts Are Back In Style Against All Odds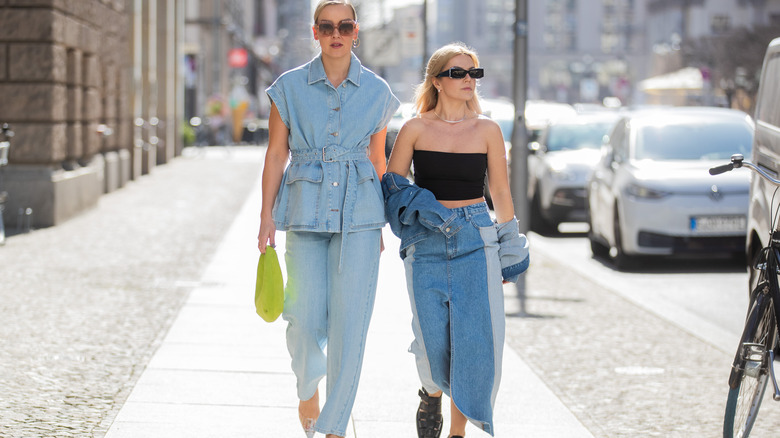 Christian Vierig/Getty Images
Fashion trends come and go, and sometimes trends come all the way back around even when we thought they never would. Low-rise jeans, for instance, were a major jean trend in the late '90s and 2000s and were joyously thrown out. In their place, high-rise jeans had their moment to shine. However, much to our younger selves' chagrin, low-rise jeans came back for a hot second. In the same vein, denim maxi skirts had their moment around the same time in the Y2K era. And now it looks like designers are trying to revive the look. And to be honest? The long denim skirts of our childhood were nowhere near as stylish as designers are making them now.
As Fashionista reported, the return of the denim maxi skirt made its 2.0 debut at New York Fashion Week 2022. Several designers showcased denim skirts that are "calf-length or longer" in the latter half of the year, meaning that they'll be a big deal in Spring 2023. What is it about the denim maxi skirt that empowered its resurgence? Lauren Rae Levy Vigneron, the founder of the LRL Group, told USA Today that this type of skirt creates a nice silhouette. "Maxi skirts have a way of elongating the body, which is sexy without trying," she explained. If you want to try styling and wearing a denim maxi skirt in 2023, here are some ways you can incorporate the item into your wardrobe to match your personal style.
Spice up your denim maxi skirt with a cropped top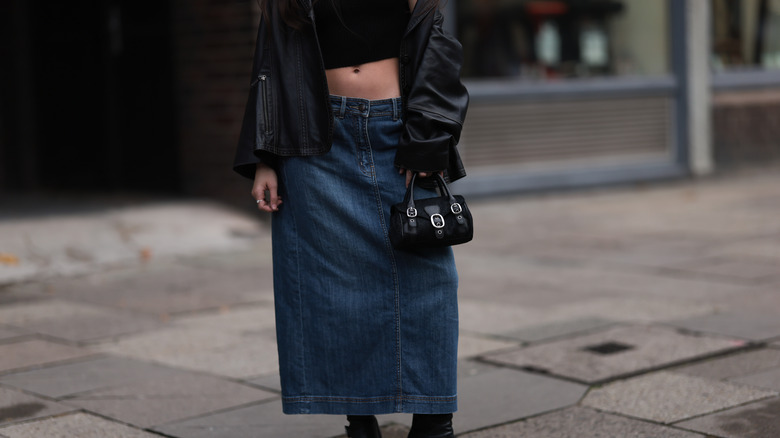 Jeremy Moeller/Getty Images
When this trend was around in the '90s and 2000s, a lot of us were too young to really know how to style this up. And we definitely wouldn't have worn a long denim skirt with an exposed belly button. But as Fashionista reported, a lot of the styles showcased by designers such as Altuzarra and Marni included crop tops with their denim maxi skirts. This style is great because a longer, potentially wider bottom half of an outfit calls for a tighter top. And what's better than wearing a cropped tank or short sweater that accentuates the waist because it's showing it off?
Long denim skirts with a slit can be sexy and chic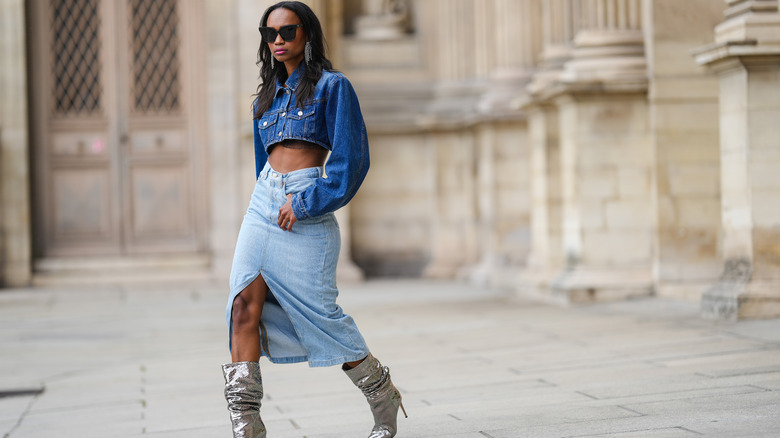 Edward Berthelot/Getty Images
With the more adult version of this style being a big draw for its return, slits in these maxi denim skirts are a must to try. These slits don't even have to be that dramatic for them to look bold because of the length of the skirt already. As the photo above shows, a slit right up the middle of your maxi skirt to above the knee makes it a bit more grown-up and sexy while still feeling chic. What's more, you can try a maxi denim skirt with a side slit or even two.
Cozy it up with a sweater and skirt combo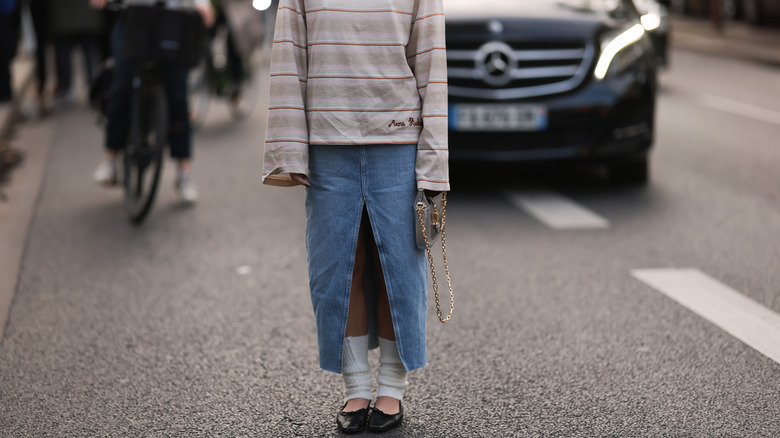 Jeremy Moeller/Getty Images
Since this trend is coming out now and gaining speed into spring 2023, you still might want to dress it in a way that's cozy and warm. It is still winter, by the way. Instead of going for the classic miniskirt and tights combo, you can pair a denim maxi skirt and sweater for a demure, sweet look that is very stylish. You can crop it yourself to hit right at the waistband or tuck it in depending on what you're going for, or you can go for a very loose and casual look that screams "cool."
When in doubt, layer it out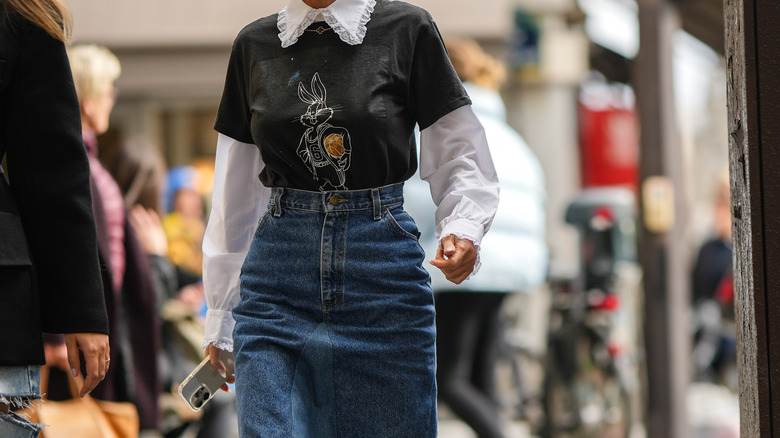 Edward Berthelot/Getty Images
Much like low-rise jeans, skinny jeans, and these longer denim skirts, layering was a big trend in the early 2000s. But to be honest, even if camis and long-sleeved shirts aren't the way to layer anymore, the concept of shirts on shirts hasn't ever gone away. So to capitalize off of a timeless style and add it to this new trend, wearing a collared blouse or turtleneck with a graphic tee or even a sweater vest with a long denim skirt is so crisp. You can play into a preppy look or a more hipster one, but layers tucked into a classic denim skirt is such a cute combo.
Flowy or wide denim maxi skirts are flirty and fresh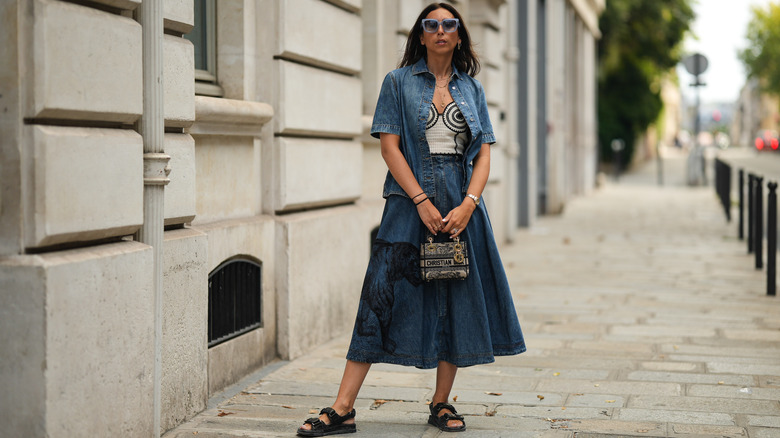 Edward Berthelot/Getty Images
Going into spring, a more free and flowing denim maxi skirt might be what you want to choose. Even though we're sticking with denim which can be heavy, a wider skirt or one that has more flow to it will be the flirty, fresh look you want going into warmer months. Stylist Amanda Vargus told USA Today that you can even wear this "on-trend" look in winter months, pairing a "full volume" maxi skirt with a "more slimming top or bodysuit."
Balancing your tops and bottoms is a great rule of thumb, which is what Vargus is referring to. If you have wider pants or a skirt, you'd want to pair it with a tighter-fitted top. And tight pants or miniskirts look good with a more flowy or looser top or sweater.
Add a pop of color to your denim skirt collection
Edward Berthelot/Getty Images
Amanda Vargus also told USA Today that upcoming 2023 trends are very much about bold choices. "I see people wanting to make a statement and taking risks with their fashion choices," she told the outlet. With that in mind, why not pair this denim maxi skirt trend with eye-popping color? People might already be looking at the long denim skirt already, so you might as well keep them entertained. Just like the photo above shows, a bright color is striking and allows you to really go off on the rest of your outfit. Even going with a black denim skirt will be a bit out of the ordinary and oh-so edgy and fun.
Do double denim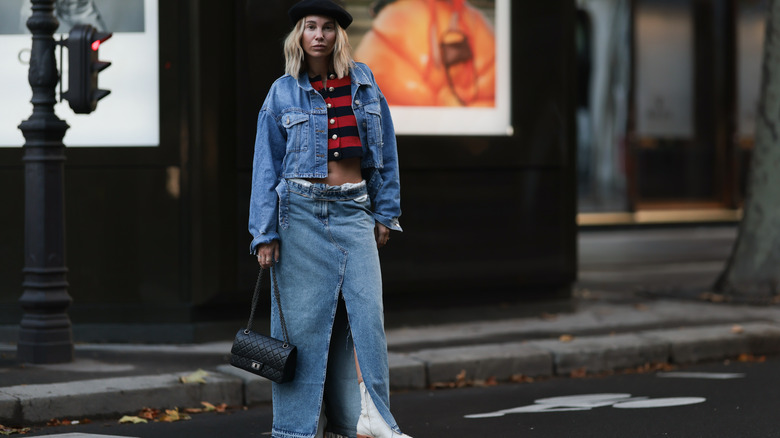 Jeremy Moeller/Getty Images
Really sticking with the theme of early aughts fashion here, you can use this trend to rock a Canadian tuxedo. You know, denim on denim á la Britney Spears and Justin Timberlake in 2001. While this has been seen as tacky or a faux pas since Spears and Timberlake did it, let's face it — it was kind of camp when they pulled it off, too — you can lean into it. It's out there and might clash, but if you have confidence in your look, others will catch on.
Patchwork designs will make your skirts stand out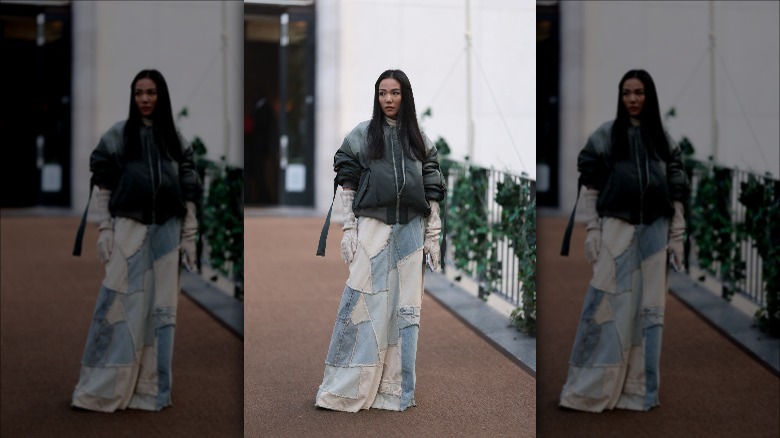 Jeremy Moeller/Getty Images
If you want to really have fun with the denim maxi skirt trend, try finding a patchwork skirt. It's kind of wild and might not be everyone's cup of tea, but it'll for sure be a staple piece if you choose to wear it. And if a long skirt made of patchwork denim isn't for you, you can also go with a skirt that has embroidery, lacy, or other designs on it. Then you can have some fun matching your top and shoes to the colors in your skirt.
A classic button-down denim skirt is so clean and cute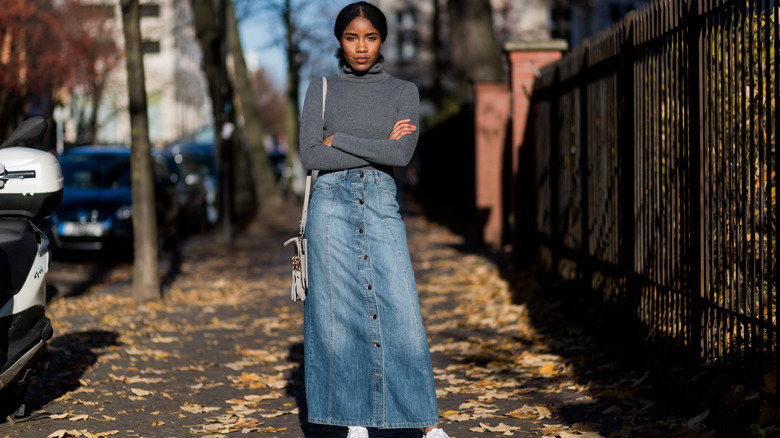 Christian Vierig/Getty Images
Lastly, you cannot go wrong with a denim maxi skirt that has buttons going down the front, either all the way or part of it. This look might be the one that scares you a bit because it's a bit too close to home. However, you're older now, and there are so many cute ways to style this. You can wear a basic or solid turtleneck or you can wear a chunky sweater and a skirt that goes to your mid-calf. You can make the focus all on your shoes or a purse while still matching your look. Trust that this classic version of the denim maxi skirt is clean and cute and a great addition to your closet.