Suzanne Somers' Favorite Fragrance Was A Classic, Timeless Scent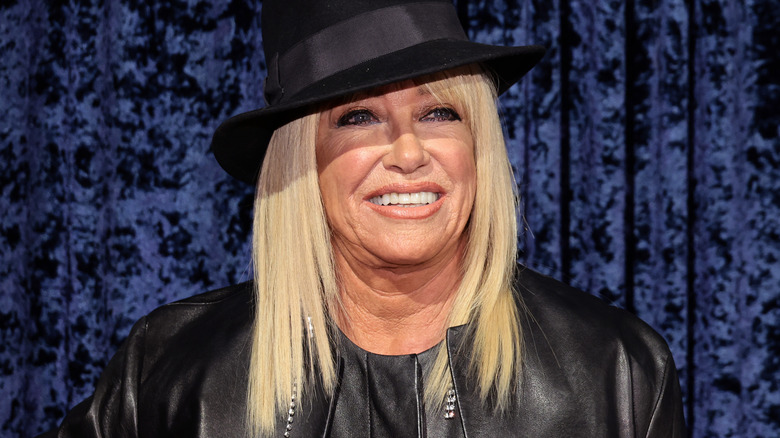 Jamie Mccarthy/Getty Images
Discovering your signature scent is an integral part of identifying yourself as a person. While you might dabble in seasonal or trendy perfumes and body sprays during adolescence and young adulthood, there comes a time in life when connecting your essence with a particular scent feels like a rite of passage. What's more, finding that scent, for many, is a pathway to a secure adult persona.
Such was the case for Suzanne Somers, the "Three's Company" actor who will continue to inspire us through her bold beauty and fashion choices long after her passing. The single mother-turned-television star recounted her rise to fame to the Sunday Edit in 2022, and a lot of it came back to one particular scent: Chanel N°5. "It brings me back to a thrilling time in my life when a hometown girl got her big Hollywood break and the glamorous life unfolded," Somers told the outlet. 
But she couldn't always get her hands on it. It was her ability to afford the perfume that she felt best represented her essence that signified a major turning point in her life. Even later in life when she established her own organic product line — Suzanne Organics Essence Rollers — she held a soft spot for the popular perfume. Now that is the power of a signature scent.
The timelessness of Chanel N°5
Suzanne Somers told the Sunday Edit that Chanel N°5 "was subtle and sexy and made me feel special," and its story proves just how classy and timeless it really is. According to the brand's website, this scent's formula was concocted by perfumer Ernest Beaux at the request of Gabrielle Chanel all the way back in 1921. Chanel's goal was to add sophistication and complexity to the world of perfume — which, at the time, was quite simple and floral-based — just as the brand had done in the fashion world. The result was a sultry fragrance that would remain synonymous with "a woman's scent" — Chanel's famous words when directing Beaux's scent innovation — for over a century. "This is iconic. This fragrance is classy, sophisticated, and rich," one verified buyer of the scent raved in their Sephora review.
The iconic perfume has been reinterpreted into five slightly different versions. However, none differ dramatically from the original formula. Moving away from the basic scents of the past, this fragrance includes many notes, ranging from rose, lemon, and jasmine to sandalwood, vanilla, moss, and aldehydes. If you believe that Chanel N°5 could be your signature scent, you can purchase the perfume from Chanel for $165 or Sephora for $135. If that feels a bit steep for your budget, though, we've got a couple of cheaper options that evoke a similar scent and feeling.
Potential Chanel N°5 Dupes
If you're seeking a more affordable alternative to Chanel N°5, you're in luck. Due to its massive — and longstanding — popularity, the perfume has inspired many similar scents and rival perfumes over the years. If you're looking for something as close as possible to a replica of the iconic formula, you'll want to try one of the perfumes that are actually open about being inspired directly by Chanel N°5, like Dossier Floral Aldehydes, which retails for $26.10 — over $100 cheaper than Chanel's bottle. The scent features bold floral notes with the distant sharpness of aldehydes, just like Chanel N°5.
For those looking for a similar scent that may even rival Chanel N°5 instead of merely imitating it, take a look at a standalone perfume with some of the same notes, like the citrusy, deep floral fragrance Molinard Jasmine, which you can snag on Amazon for $38.94. This scent contains notes of jasmine and clove, which add floral and warm, spicy layers to the fragrance. It's this depth that gets you closer and closer to Chanel levels of fragrance witchcraft.
As you search for your perfect version of Chanel N°5, keep in mind that fragrances can smell different on different people, so always test out a new fragrance yourself before deciding whether it makes the cut as your signature scent.