Low-Waist Belts Are Replacing High-Waist Looks For Fall 2023 - Our Tips To Style The Trend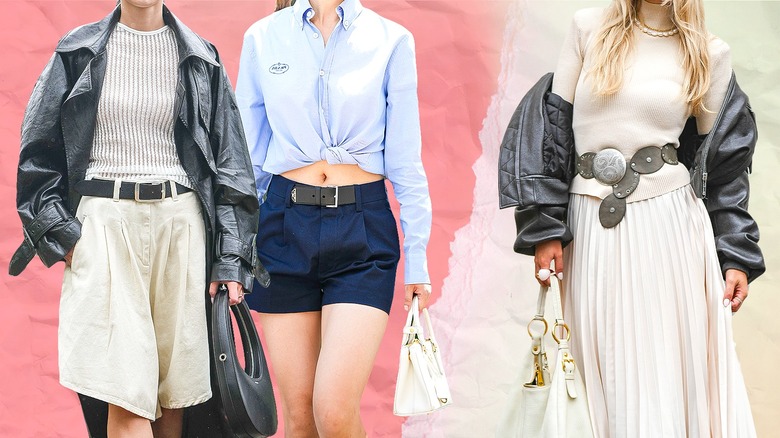 Static Media / Shutterstock / Getty
Do you accent every dress with a wafer-thin belt just below your ribcage? Or perhaps you love a solid, staple belt tucked into the loops of your high-waisted jeans. If this describes your usual belt game, prepare yourself because the tides of fashion are bringing a very different trend ashore: the resurgence of low-waist belts.
Don't get us wrong — we love high-waisted proportions. Worn high, belts are an easy way to nip in a fit-and-flare look and make your legs look a mile long. But low-waist styles have been clawing their way back into the spotlight, such as with the controversial comeback of low-rise denim earlier this year. And it seems that belts are following a similar trajectory, with a growing focus on statement belts for fall, including bold, low-slung pieces.
However, low-waist belt styles can sometimes be intimidating and tricky to pull off. No longer a matter of practicality, low belts are purely for the aesthetic, meaning you have to be committed to the vibe. But that doesn't mean that this trend is one-note or out of reach. Quirky though they may be, low-waist belts have a lot of potential, with various ways to rock the look, like with super low-rise jeans or a hip-hugging top. 
Live dangerously by belting super low-rise jeans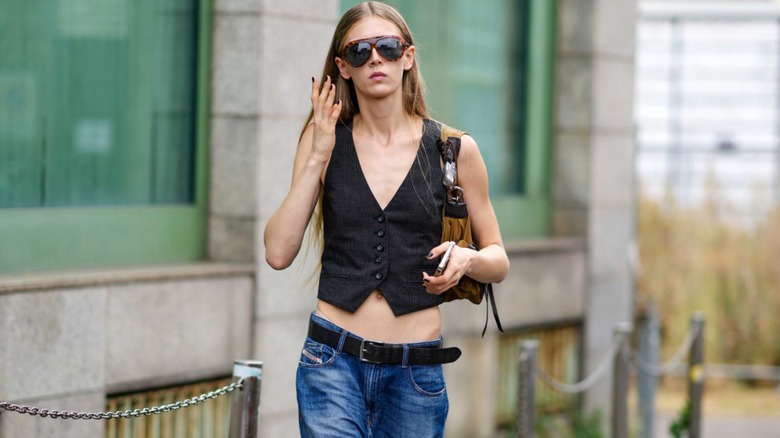 Edward Berthelot/Getty Images
Whether or not you're personally into the reappearance of low-rise denim, it's a natural pairing for equally low-waist belts. The casual coolness of slouchy, barely-decent jeans can play well with oversized sweater looks or daring midriff-baring ensembles. Adding a belt to the equation emphasizes the low-riding silhouette, plus helps prevent any wardrobe malfunctions. Keep the outfit effortless with a plain black or brown belt, or add a bit of early '00s glamor with a chunky, glitzy statement belt.
Add detail to a monochrome outfit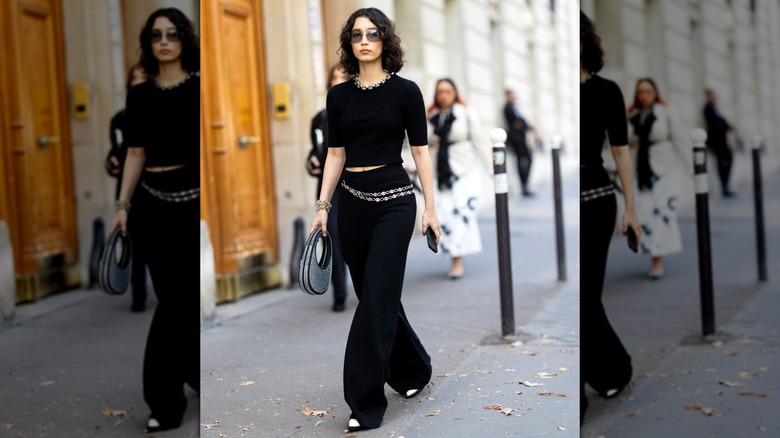 Valentina Frugiuele/Getty Images
If you want to incorporate the sensual vibes of a hip-hugging belt without looking too extra, consider wearing it with an understated outfit. A simple, monochromatic color palette provides a demure backdrop for whichever style you prefer, from delicate chain belts to the eye-catching discs of thick leather concho belts. All the better if your garments have clean and relatively modest lines. The simpler your clothes, the more your belt can shine as the true focal point of the look.
Add structure and form to a slinky dress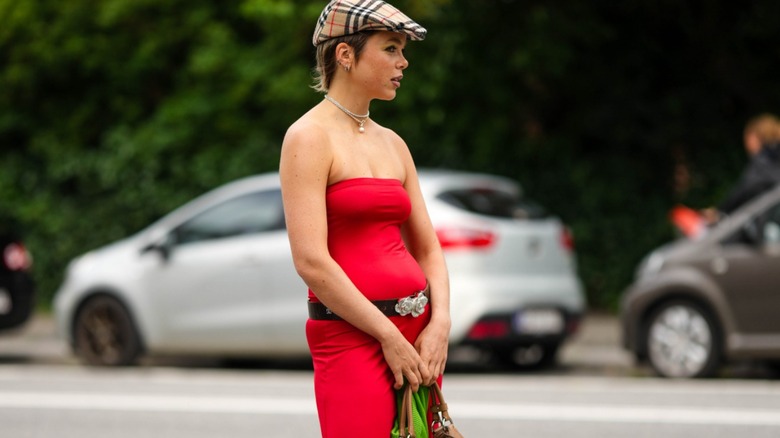 Edward Berthelot/Getty Images
Wearing a high-waist belt over a dress is often a no-brainer, but you can put a funky twist on the look by accenting your gown with a low-slung belt, accentuating your hips rather than your waist. This technique not only adds interest to the look but can be used to make your torso appear longer. This belt placement can also emphasize the luscious curve of your hips, but if you prefer less bulk in the hip area, try hitching the belt higher to sit below the belly button instead.
Break up the silhouette of a hip-hugging top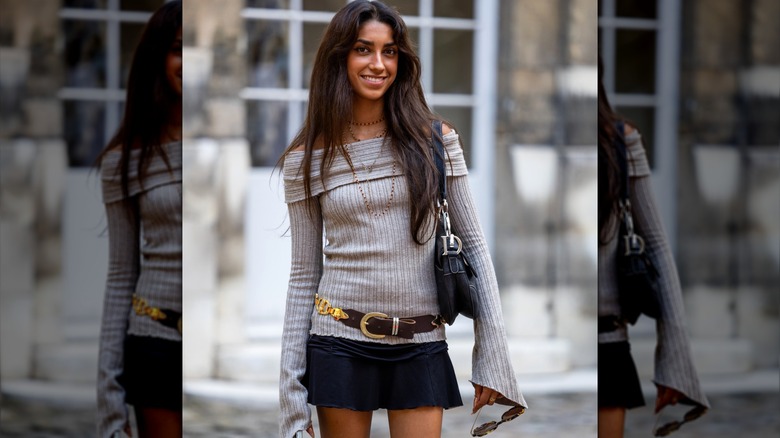 Christian Vierig/Getty Images
Are you tired of tucking in your shirts? A long, hip-hugging top — whether it's a form-fitting tank or a snug sweater — can help show off your figure to its best effect. But, similar to that of a long dress, the unbroken silhouette of a lengthy top may trick the eye, making your torso look taller and your legs shorter. If this isn't your goal, add a low-slung belt somewhere above the hem. This helps delineate a waistline and add bling to the overall ensemble without resorting to a prim, tucked-in look.
Make a statement with a wide belt and a short hem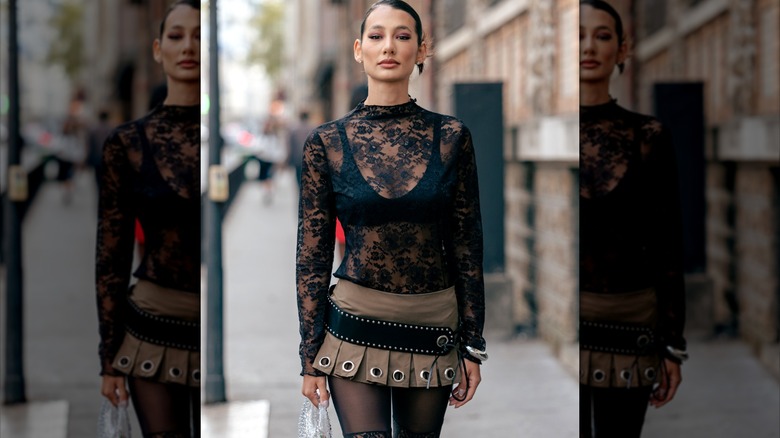 Claudio Lavenia/Getty Images
Want to add impact without verging on gaudy? An oversized belt can instantly add laid-back style to your outfit and is easily tweaked to align with any aesthetic. Go edgy with a studded belt, bring boho vibes with wide macramé, or keep it sleek and chic by wearing a thick stripe of black leather across your hips. We especially love this look over a flirty miniskirt, as the short hem balances the visual weight of the belt and keeps the bottom of your outfit from skewing too heavily.
Add a cute accent with a chain belt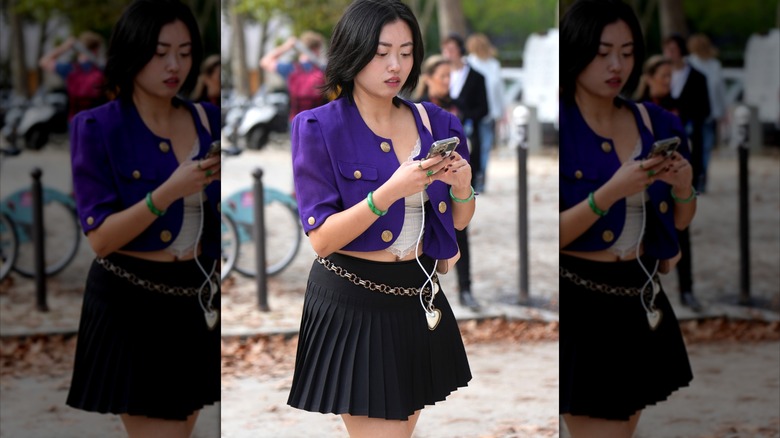 Edward Berthelot/Getty Images
Most staple jewelry pieces, from earrings and necklaces to rings and bracelets, are more centered around the upper body. But you can introduce some glitter and interest below the waist with a low-slung chain belt. This is especially handy if you're already wearing an embellished top or impactful pieces like statement earrings and don't want to clutter the look by concentrating all your ornaments in one area. Slip a chain belt through the loops of a pair of low-rise jeans, or let it hang loose over your favorite skirt.
Rein in the shape of a voluminous shirt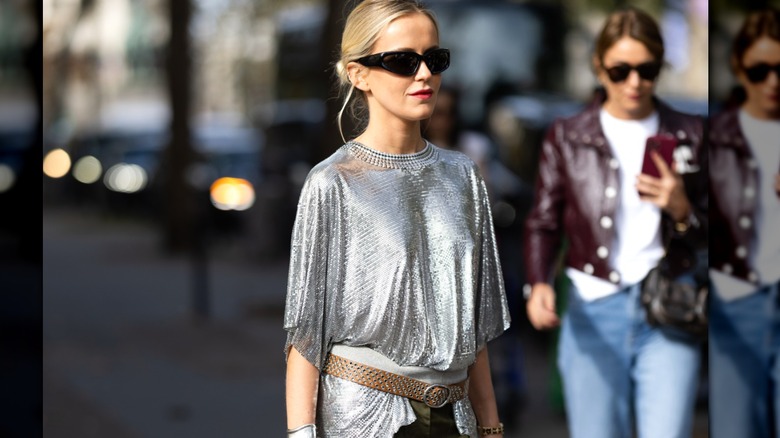 Valentina Frugiuele/Getty Images
A baggy top can be super airy and comfortable, but it can also swallow up the shape of your body. To enjoy the best of both worlds, consider giving the garment structure with the addition of a low-slung belt. Wearing your belt low on the hips preserves the easy, unpretentious glamor of a voluminous blouse while reining in excess bagginess. The result is a delightfully casual effect that can be applied to many different aesthetics, from free-wheeling bohemian styles to Y2K throwback looks.
Enjoy both style and practicality with a belt purse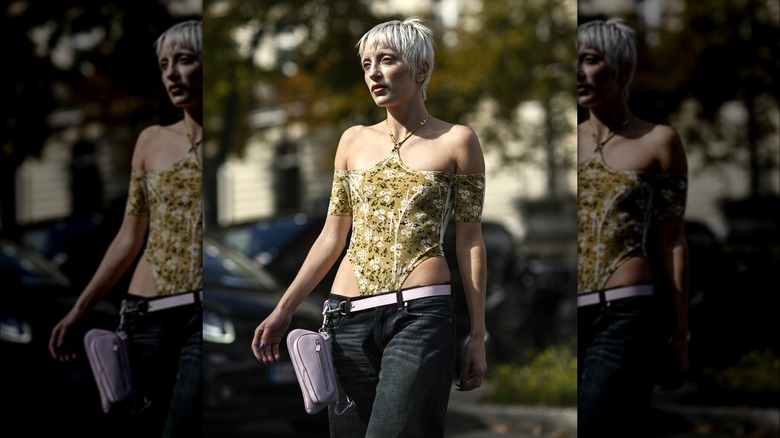 Daniel Zuchnik/Getty Images
Prioritizing form over function, low belts aren't always the most useful accessories. But you can change that with the addition of a stylish purse. Mini belt bags are in the midst of a fashion revival, and they make a perfect partner for your sexy, low-slung belt. Choose a cute clip-on bag for easy access, or keep everything secure with a purse that strings directly onto the belt itself. Just be careful how much you pack inside — if the bag gets heavy, your low-waist belt might start looking a little too slouchy.