Oversized Belts Can Bring A Laid-Back Y2K Style To Any Outfit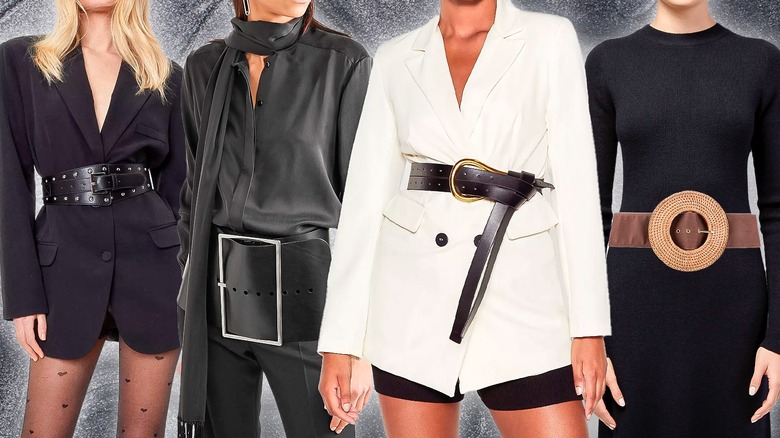 Static Media / Shutterstock
There have been plenty of Y2K accessories recently that have taken us back to the nostalgic era. From chokers to crystal accessories, many can't seem to get enough from this time period. Another trend that's adding a touch of retro casualness is the oversized belt. An oversized belt isn't just a recent fad; it's a piece that's long helped break up your outfits.
Although oversized belts can be overwhelming to wear throughout the day, they help break up your top and bottom to create a visual break. If you're wearing a monochrome look, for example, an oversized belt can avoid making it look flat, giving it more color and contrast. Even if you aren't wearing a monochrome look, an oversized belt looks chic and modern and is the perfect way of completing your street-style looks. Regardless of your style, an oversized belt can bring your look together under one large fashionable accessory.
Denim belts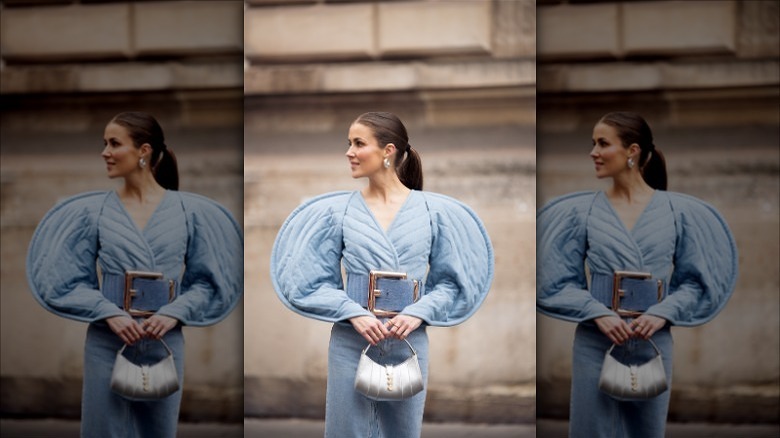 Raimonda Kulikauskiene/Getty Images
We already love denim in our pants and shirts, so why not add it to our wardrobes as a belt? Denim belts aren't new, but with the oversized belt trend, they may have another wave of popularity. These pieces elevate any casual look and are a fun twist for more formal attire. If you're keen on a Y2K look, a head-to-toe denim look will be the perfect nostalgic 'fit.
Embroidered belts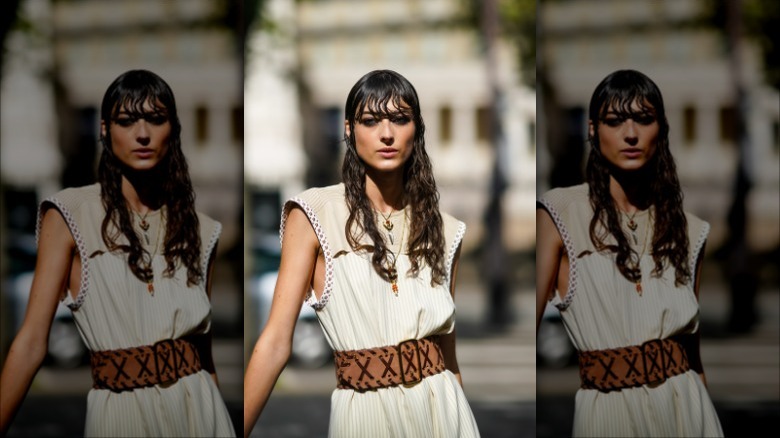 Edward Berthelot/Getty Images
Belts don't need to be simple or have a single design to look chic. You can add embroidered details to your belt to give it more flair and style. An embroidered leather belt will add warmth and texture to your outfit without being too overwhelming. A leather belt with design details, for instance, adds more of the Y2K personality to your look. An embroidered belt also gives your outfit a laidback touch if you're looking to give your ensemble a dressed-down look. 
Leather belts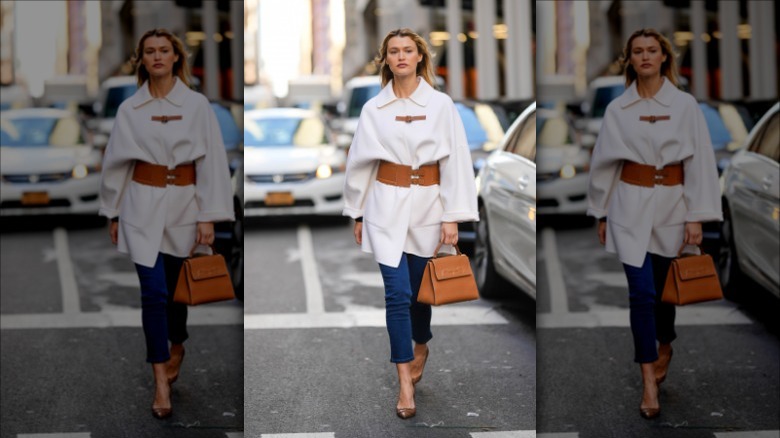 Edward Berthelot/Getty Images
A leather belt is a classic accessory piece that belongs in any wardrobe. If you want this timeless piece to stand out against the crowd, look no further than increasing its size. An oversized leather belt can help elevate all your looks, regardless of the style or color palette, while still giving you the right amount of retro vibes. Stick with classic colors like black and brown for a functional accessory that works with most outfits.
Studded belts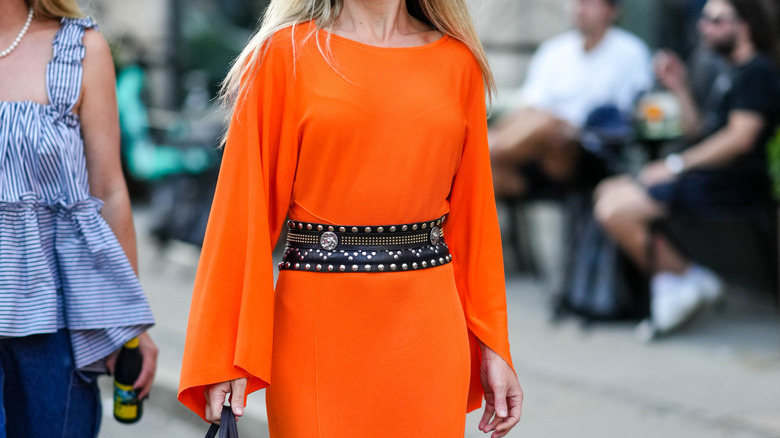 Edward Berthelot/Getty Images
Metal accessories have been statement pieces, helping give your outfits a major lift. The studded details, like on the belt seen above, will help bring some shine and an edgy Y2K look. Plus, it's oversized, so it's guaranteed to stand out in the crowd. Regardless of the stud accents or gold or silver chains, these metal pieces will give your look a darker aesthetic.
Rhinestone belts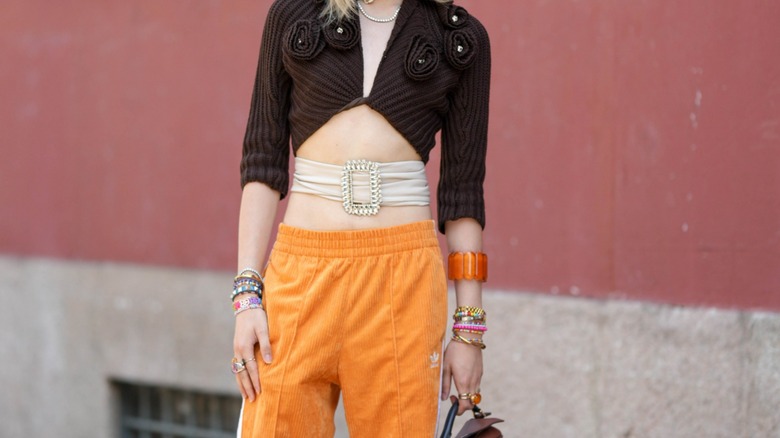 Edward Berthelot/Getty Images
Just because you're going with a large belt, it doesn't mean you have to go for something simple. Rhinestones and embellishments are an easy way of adding fun and a bit of Y2K glam to your outfit without becoming too overwhelming. Although the larger size creates a more impactful statement, an oversized rhinestone belt will help give your ensemble some shiny Y2K casual charm.
Large buckle belts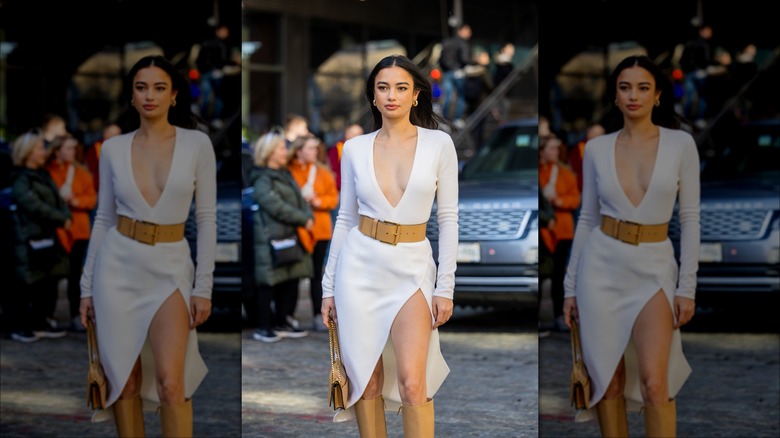 Christian Vierig/Getty Images
Nothing gives the most Y2K vibe than a large buckle. Large buckle belts are some of the most iconic belts from this era. With its large size and unmissable metal buckle, these belts can help give your outfit more laid-back energy. Although they might seem overwhelming at first, these large buckle belts are versatile enough to wear with almost all of your looks. Even if you aren't a fan of the Y2K fashion, these belts can give you some extra style points without making it too retro.
Suede belts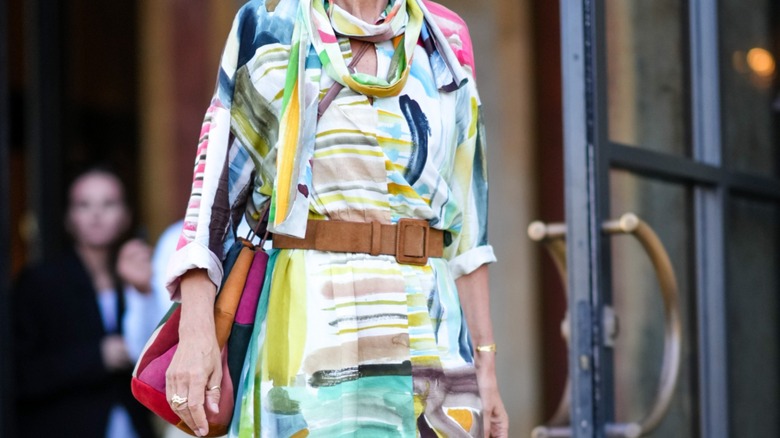 Edward Berthelot/Getty Images
If metal and leather aren't your thing, a suede belt can be the perfect compromise. Although it's softer and more subtle than the other oversized belts, suede brings warmth to your outfit that's uniquely retro. Giving a bit of Y2K boho, a suede belt is the perfect blast from the past to give your 'fit some free-spirited charm.