Y2K-Inspired Crystal Jewelry Is The Claire's Tease We've Been Missing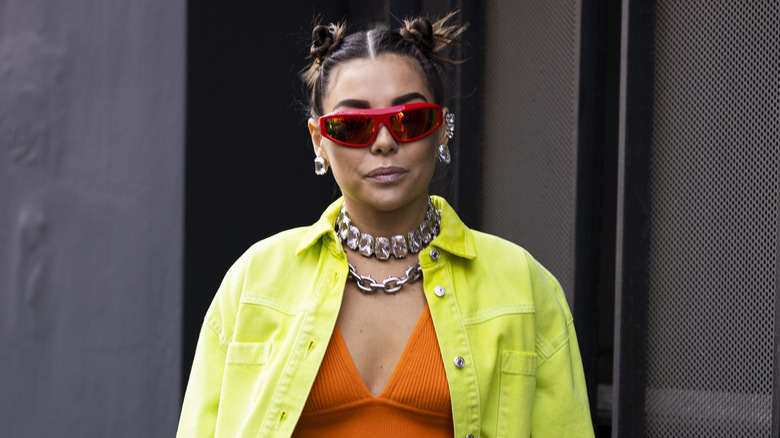 Claudio Lavenia/Getty Images
If you thought fashion's love for the Y2K era was over, there's a new jewelry trend that's ready to carry it on into another season. Crystal jewelry might not have been the most prevalent of jewelry trends in the aughts, but it did make quite a statement. Known for its glamour and shine, crystal jewelry gives us the same feel and vibe as diamonds. However, unlike the precious stones, crystals are much more accessible and at a fraction of the cost. Other jewelry trends from this era were much more laidback and casual, which made it easier to get a dressed-down vibe. Crystal jewelry is best if you want to dress up your look but still maintain the '00s style.
Whether it's bracelets or necklaces, crystal jewelry can be the perfect addition to your jewelry collection. To balance it out, try adding in other silver jewelry pieces, or, if you're looking to shine and dazzle, wear pieces on their own. Here are ways to wear crystal jewelry to amplify every look.
Crystal earrings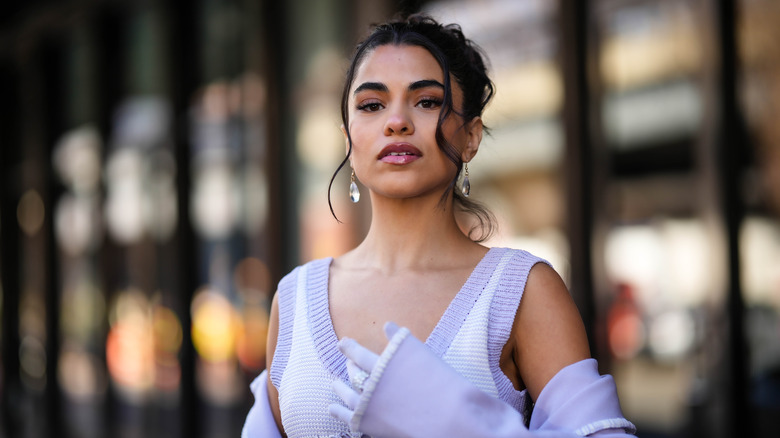 Edward Berthelot/Getty Images
There's no better way to add some serious glam and shine to your look than to wear a pair of crystal earrings. Whether it's studs or long pendants, crystal earrings will dazzle anyone who looks at them. Since they're more affordable, crystal earrings can come in bigger sizes. This makes it the perfect jewelry piece if you want to create a movie star moment. Be sure to wear your hair up and out of the way if you want your earrings to take center stage.
Crystal bracelets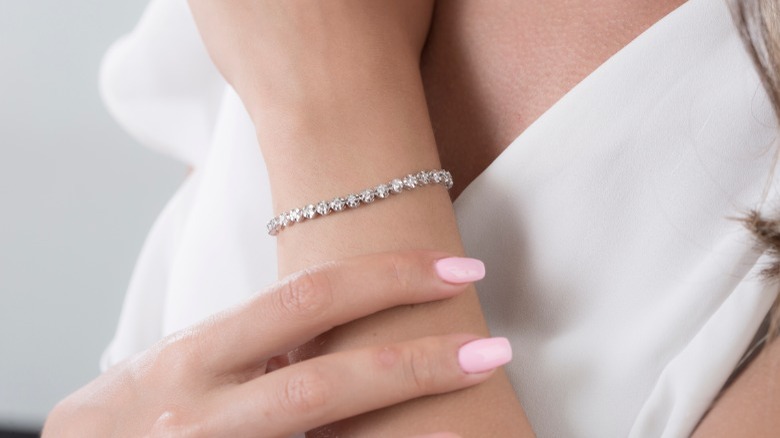 feedbackstudio/Shutterstock
Crystal bracelets are delicate and unique pieces that are an absolute must-have for any jewelry collection. You'll typically see crystal bracelets in the form of tennis bracelets. These petite pieces are perfect for everyday use since they're not as valuable as diamonds, making you less likely to worry about losing or damaging them. This makes them a worthwhile investment, even if the look is just a trend at the moment.
Crystal rings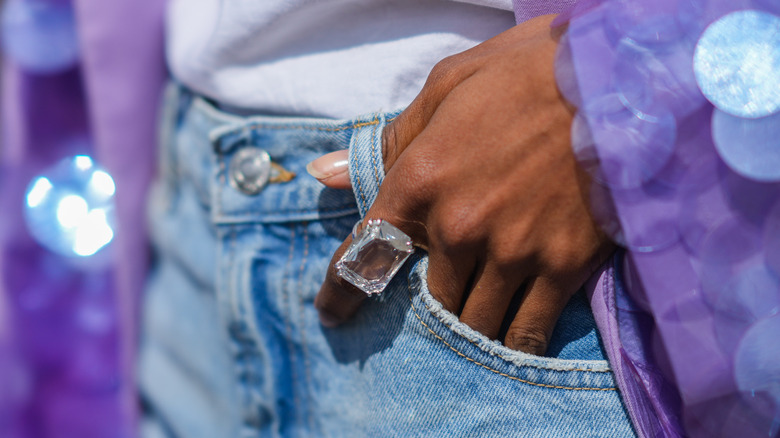 Edward Berthelot/Getty Images
Sometimes you just need a jewelry piece that is magnificent and grand. A crystal ring fits the bill, without taking away from your outfit. And it is perfect if you want to create a dazzling impression or want that perfect detail shot. There are also smaller crystal rings available if you want something a bit more understated.
Crystal necklaces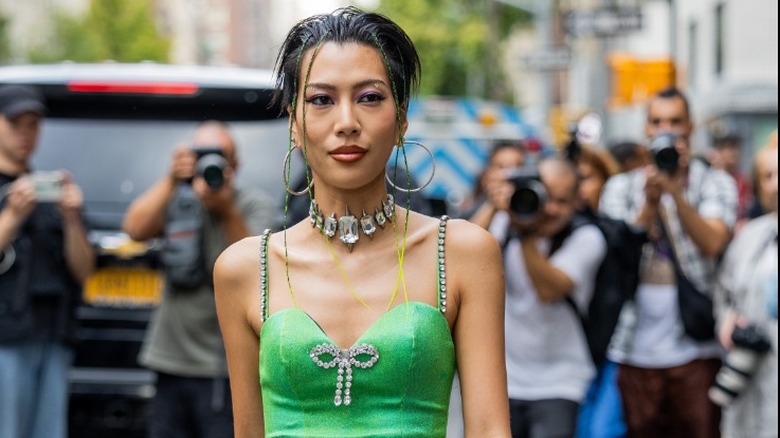 Christian Vierig/Getty Images
If you thought diamond necklaces were the best type of jewelry, crystal necklaces will change your mind. These Y2K-esque pieces of jewelry are shiny and glamorous, and they come in various sizes, meaning you can get either a dainty chain or a chunky choker. Depending on your style, you can get either an edgy or elegant look with just the help of a necklace.
Crystal headpieces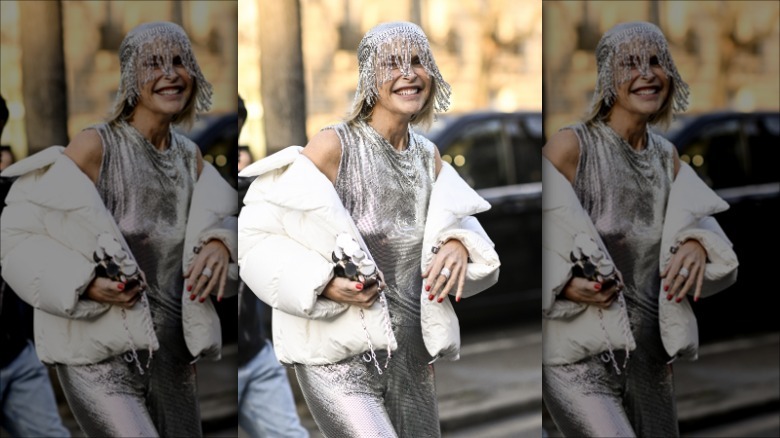 Daniel Zuchnik/Getty Images
Jewelry isn't just for your arms, necks, or fingers. Headpieces have become more common and casual in recent years, making them the perfect accessory to add interest to your look. Whether it's a shiny crystal headband or an over-the-top crystal fringe headpiece, these pieces of jewelry are the perfect compliment to decorate and glamorize your head.
Crystal body chains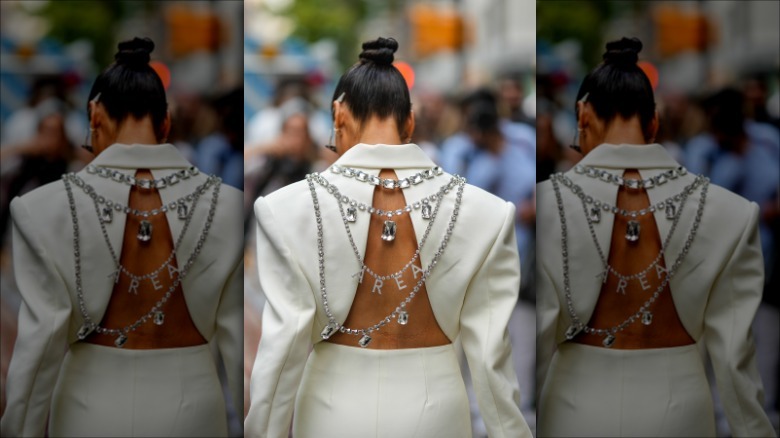 Edward Berthelot/Getty Images
Body chains have recently become a staple in their own right. Part of a Y2K renaissance, the body chain is a unique way of adding glam and boldness to any look. You can even opt on wearing body chains on your back if your outfit calls for it. Crystal body chains not only add a '00s touch, but they can add sparkle and shine to your look.
Crystal belts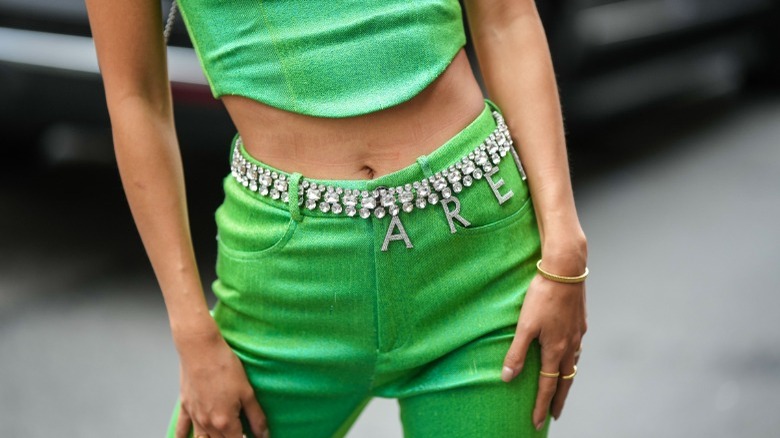 Edward Berthelot/Getty Images
Belts aren't just for holding up your pants, they can also add a touch of fun to your outfits. Although not as common of a jewelry piece, crystal belts can spice up a monochrome outfit. Especially when worn with solid-colored bottoms or dresses — or even denim! — crystal belts will dazzle and shine bright, adding a pop of nostalgia and a dressier feel to your outfit.