'80s-Inspired Statement Jackets Are The Outerwear You Need For Fall 2023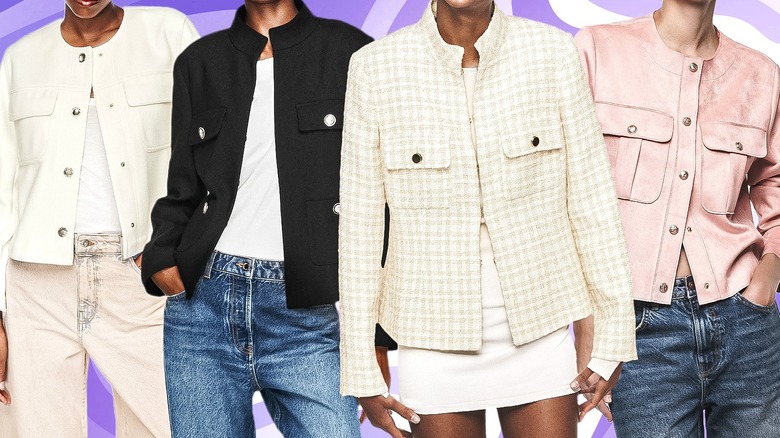 Static Media / Shutterstock
Y2K-inspired fashion continues to dominate our social media feeds, but that doesn't mean styles from other eras have nothing to offer our fall wardrobes. Last year, we saw brands like Miu Miu include classic leg warmers in their shows, an '80s trend that slowly made its way into our closets. While looks from the '90s and early 2000s continue to gain momentum, another '80s-era trend will make a significant statement this autumn. The '80s-inspired jacket, the perfect mix of sophisticated and retro, will take your fall outerwear to the next level without looking gimmicky.
The sleeker silhouette of the '80s statement jacket serves as a perfect contrast to the oversized outfits we have seen recently. With pointed shoulder pads, a cinched waist, and flamboyant buttons, these pieces offer a more structured approach. While you may have gotten used to your oversized outerwear, these form-fitting jackets and blazers are a chicer alternative for the season. They come in cropped or long hems, making them versatile for any style preference or outfit.
Retro denim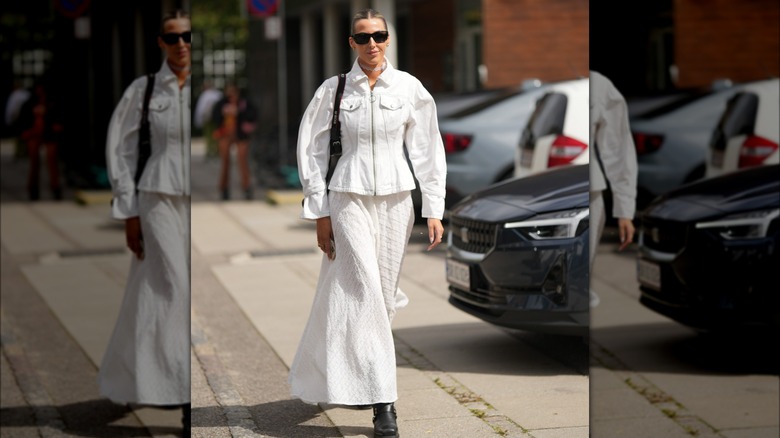 Edward Berthelot/Getty Images
Even in the '80s, denim had a firm hold on our fashion. Take a cue from the era and opt for an '80s-inspired denim jacket. Unlike the oversized denim trends we've seen in 2023, you'll want a jacket with clearly defined shoulders and a structured silhouette. Instead of going with a baggy shape, choose a piece that highlights your figure and cinches at the waist. Even with a denim material, this style will look upgraded and different.
Flashy '80s vibes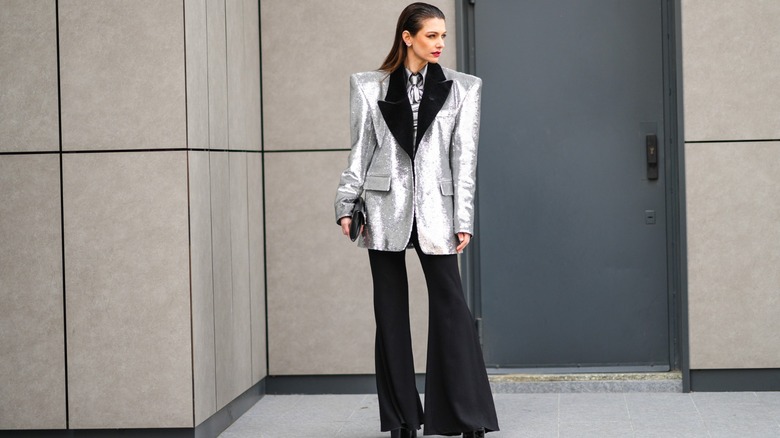 Edward Berthelot/Getty Images
No list of '80s-inspired jackets would be complete without a metallic piece. The metallic trend was prominent in the '80s and could be found everywhere in fashion and beauty. Bring that same flashy and retro feel into your fall wardrobe via a statement jacket or blazer. Take it up a notch by adding accents like shoulder pads or an exaggerated silhouette.
Cropped hems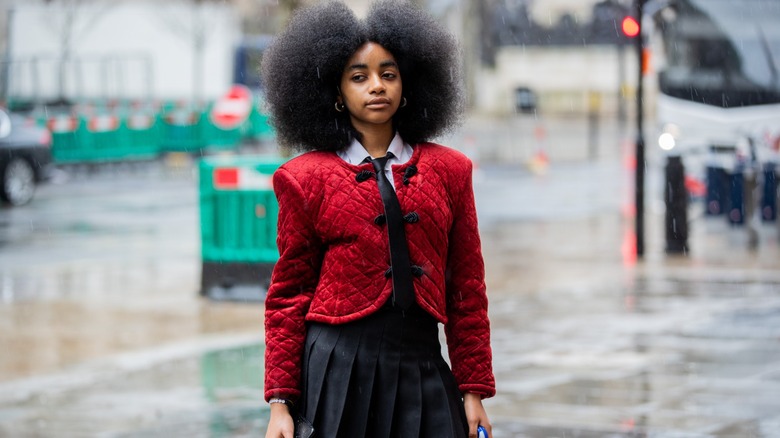 Christian Vierig/Getty Images
Much like metallics, it wouldn't be the '80s without a cropped piece. The cropped jacket is another way to give your fall closet a bit of a retro remix. For those on the shorter side, the cropped length could be a beneficial trick to help elongate your legs. This classic cropped hem is perfect to showcase an edgier take on the traditional length, which can be seen in various pieces from brands like Chanel from the era.
Go full grunge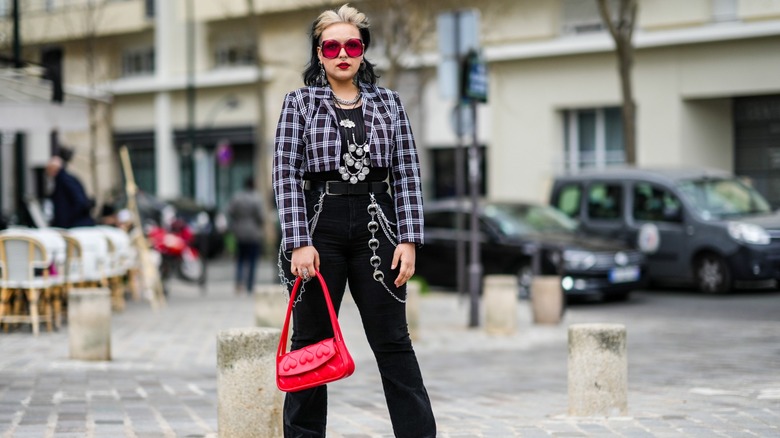 Edward Berthelot/Getty Images
While we are giving these jackets the '80s grunge treatment, it's only fitting to pair them with other edgy items to give them a darker look. The obvious choice would be to opt for an '80s-inspired jacket with darker hues instead of the vibrant and bold colors we tended to see in the surrounding decades. You can also opt for moody prints like plaids and tartans that add flair to the look. Pair your jacket with metal accents such as jewelry and chains for a punk-rock effect.
The bar suit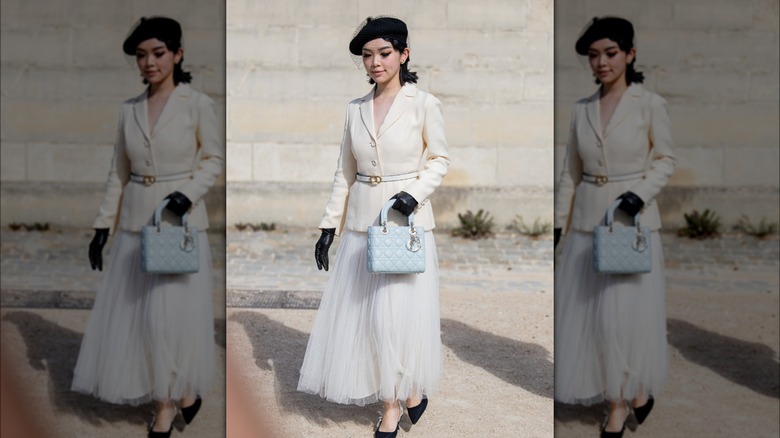 Christian Vierig/Getty Images
While Chanel provides significant inspiration for the '80s statement jacket, the Dior fashion house has also given us plenty of cues on how to get the look. The Bar Suit, one of the brand's most iconic designs, existed long before the '80s; it was the reimagination of Gianfranco Ferré in 1989 that gave us the stunning look we all remember. With an exaggerated cinched-in waist and voluminous hem, this style has reappeared in various versions. Take a cue from Ferré and opt for these contrasting volumes for the same effect.
Statement buttons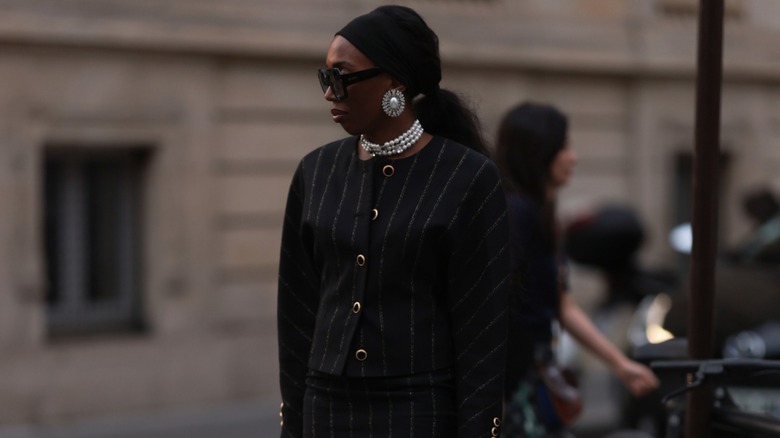 Jeremy Moeller/Getty Images
It's not only the print, color, and silhouette of the jacket that'll give you this retro touch; it also comes down to the buttons. As minimal as it may seem, buttons can do plenty to provide you with an authentic '80s vibe. Since this was the era of metallic clothing, we wouldn't expect anything less from the hardware. Choose opulent buttons in shiny gold, brass, or silver that'll stand out on any jacket. There is no need to revamp your whole wardrobe, as this small accent will create that nostalgic feel.