10 Makeup Hacks To Make Your Eyes Look Bigger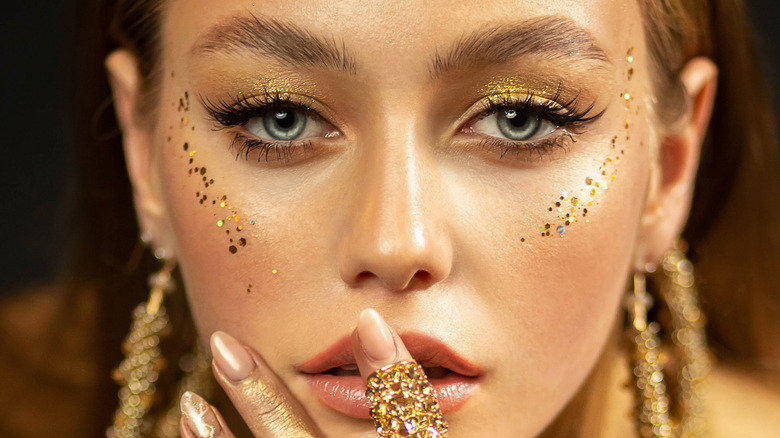 Ironika/Shutterstock
We may receive a commission on purchases made from links.
Beauty is skin deep, but how we look on the outside can affect how we are perceived in the outside world. According to the BBC, it seems that having bigger eyes can give you some advantages in the real world, such as getting ahead in life and getting away with things. That is because our eyes are fully grown when we are born, and huge eyes remind us of cute babies, so when an adult has big eyes, others see it as an attractive quality representing innocence and youthfulness. You can blame evolutionary biology for that, but having a baby face with large eyes can apparently get strangers to help you more, succeed more in your career, and you could be perceived as more trustworthy.
A study published in the Journal of Personality and Social Psychology revealed that large eyes are associated with "babyfacedness," which is automatically perceived as cute and associated with appealing traits like "kindness and warmth." That makes women with large eyes more attractive to men because they appear younger. Interesting, right? While some people are born with Bambi's eyes, nowadays, we can use filters on social media to make our eyes look bigger than they really are. However, you can always try these makeup tips to make your eyes look bigger if you want to skip the filters.
1. Slightly arch your brows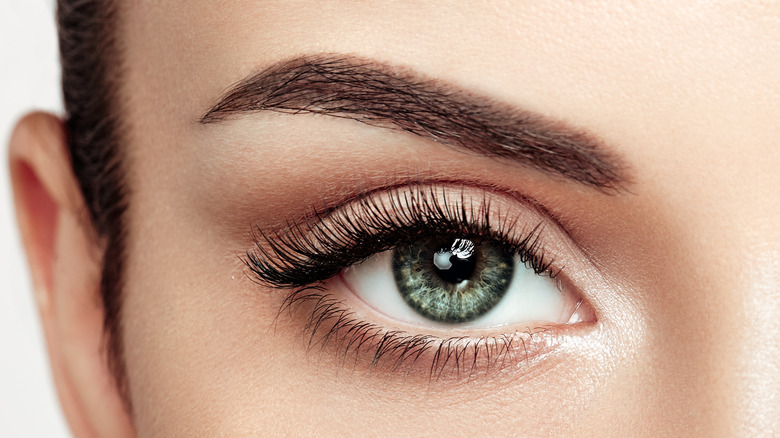 Oleg Gekman/Shutterstock
How you shape your brows can make your eyes look bigger or smaller. Allure compared the shape of the brows to the ceiling and shared that a straighter brow can make the eyes look smaller and adding a little arch can have the opposite effect. Celebrity makeup artist Pati Dubroff told the outlet, "To expand the eye area, I brush up the brows and tweeze in a slight arch." Ipsy agreed that "lifting the ceiling of the eye area" can open up your eyes and make them look larger. Ipsy recommends laminating your brows or trying a brow gel to keep your brow hairs lifted at an arch.
2. Try the cut crease trend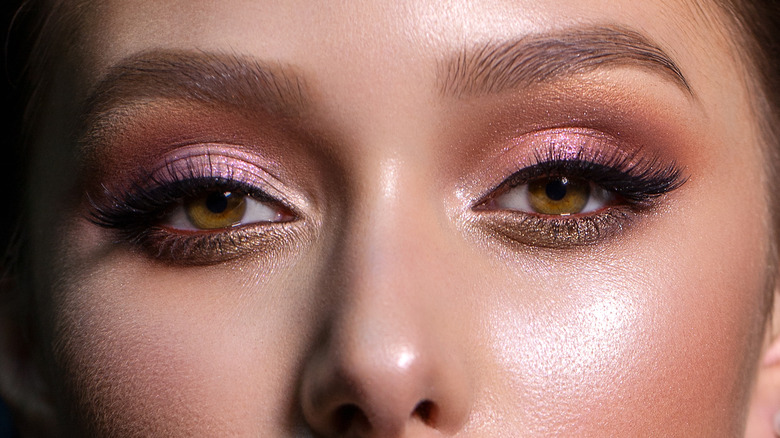 Tata Mamai/Shutterstock
A cut crease is an easy makeup technique to make your eyes look bigger and brighter with eyeshadow or concealer, per Bustle. With the right colors and a little blending, you can add dimension to any eye shape and make them appear doe-like. The simple technique of using light and shadow where you accentuate your eyelid crease gives it more depth, and the results make your eyes look bigger and more open (via Cosmopolitan). You can literally change the shape of your eyes and make them pop with a properly blended line.
3. Add a little shimmer or sparkle at the inner corner of your eyes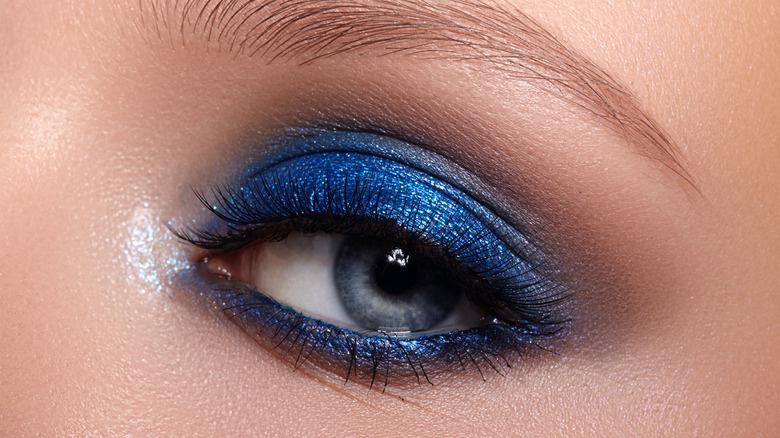 marinafrost/Shutterstock
Adding a little illuminating eyeshadow in the inner corner of your eyes catches the light and reflects it in a magical way to make your eyes look more awake — and gives the illusion of bigger eyes. Makeup artist Lennie Billy told Ipsy, "I always recommend adding a hint of shimmer or light matte shade to the brow bone and inner corners to return light to the eyes." Billy added that this little trick works whether you keep your eye makeup minimal or are rocking a sexy smoky eye.
4. Use a light eye pencil on your waterline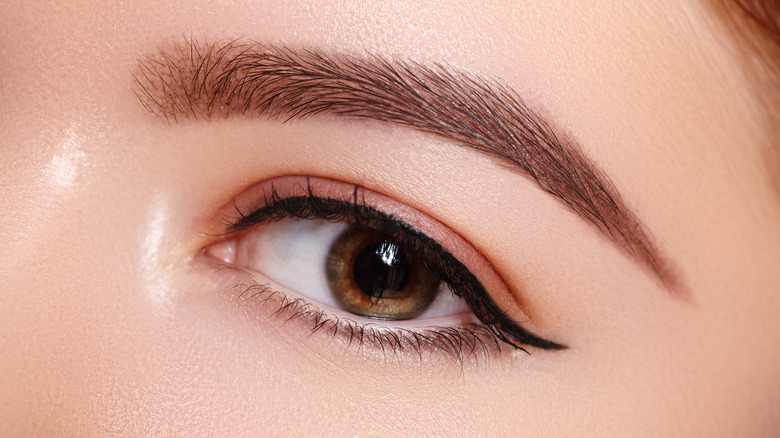 marinafrost/Shutterstock
Allure recommends using white eyeliner on your waterline to instantly brighten your eyes and make them look more prominent, and it is so easy. If you want to add a little sparkle, you can also try this with a rose gold eye pencil. New York City-based makeup artist Kelli J. Bartlett told Byrdie, "Waterline eyeliner can be a very effective way to help brighten and open up the eyes when you use a flesh-toned liner." This little hack works because it gives the illusion that "the whites of your eyes extend farther," which makes your eyes look naturally bigger, per More. People will think you were born with those big eye, but that's just one reason that you should incorporate white eyeliner into your beauty routine.
5. Use the magic of mascara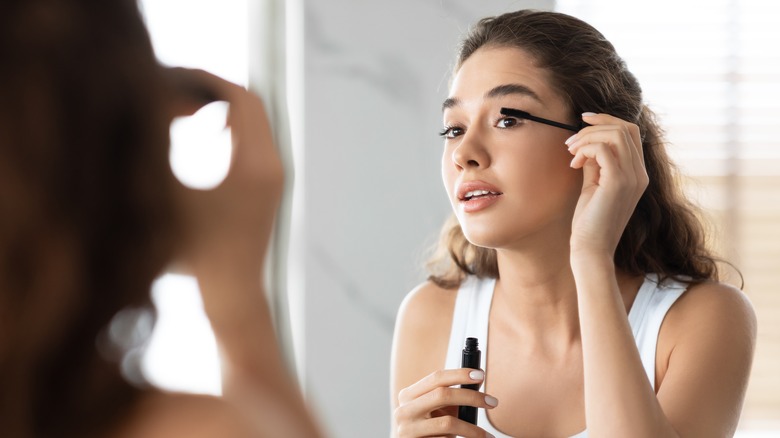 Prostock-studio/Shutterstock
You can always turn to mascara if you weren't born with long, luscious lashes. According to MasterClass, wearing a volumizing or lengthening mascara can give the illusion of thicker and longer lashes that automatically opens up your eyes, making them look significantly bigger. If your lashes are short and straight, try curling them with an eyelash curler to make the eye area appear wider, per Allure. Want to go a little extra? Try false lashes to add a little drama because they will make your eyes look like a Disney princess (via MasterClass). We at Glam have even curated a list of the best mascaras for extra volume.
6. Prep to de-puff the areas surrounding your eyes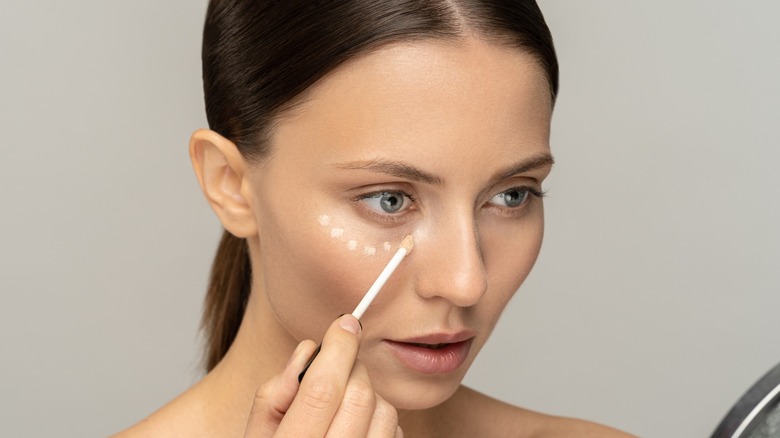 DimaBerlin/Shutterstock
Your eyes' appearance is minimized when your under-eye area is puffy. You can combat the fatigued look and make your eyes look larger with the right preparations. Eye serum, eye cream, moisturizer, and under-eye concealer all play a part in helping your eyes look larger, brighter, and more awake. "Some specific problems such as puffy eyes can be improved with an eye cream," dermatology specialist registrar Dr. Jason Thomson told The Dose. "These usually contain ingredients such as caffeine which work to constrict blood vessels in the skin to reduce swelling temporarily." 
If you're already routinely using a moisturizer, you might be able to achieve these benefits without spending any additional money on eye cream. It's worth checking your moisturizers' ingredient list to see if they are the same as the ingredients in your preferred eye cream. "Eye creams designed to hydrate and brighten the skin around the eyes usually contain the exact same ingredients, in the same proportions as a face cream," Dr. Thomson told the source. If you find that the ingredients are substantially similar, simply apply the moisturizer under your eyes the same way you'd apply an eye cream.
If dark under-eye circles are distracting attention away from your eyes, use concealer to camouflage them. Celebrity makeup artist Charlotte Tilbury suggests choosing a lighter shade than your perfect match to brighten the area.
7. Try winged eyeliner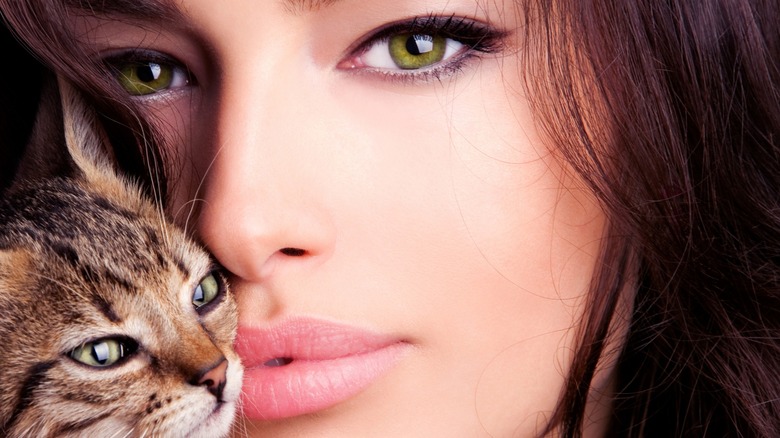 mysticlight/Shutterstock
When it comes to making your eyes look larger, winged eyeliner can be either your best friend or worst enemy. If approached correctly, winged eyeliner artificially extends the eyes, making them appear larger and wider apart. "Winged eyeliner is excellent for opening up your eyes and reshaping them to give them that cat-eye makeup that is flattering on everyone," makeup artist Charlotte Tilbury explained on her website.
However, there are a couple of pitfalls you'll want to avoid when using this eye makeup hack. Be aware that it is possible to visually close off your eyes, creating the illusion that they are smaller. This can be especially problematic if you draw your cat-eye makeup with liquid eyeliner. The starker and bolder the lines you draw, the likelier it is that your eyes will end up looking smaller as a result of this closed-off effect. You can avoid this problem by ditching the precise, cleanly-drawn lines and instead smudging your eyeliner. 
There are multiple ways to nail the smudged eyeliner look. You can use a cotton swab, smudging brush, or even your fingers to blur those eyeliner lines, soften the look of your eye makeup, and achieve the wide-eyed, elongated look you desire.
8. Curl your eyelashes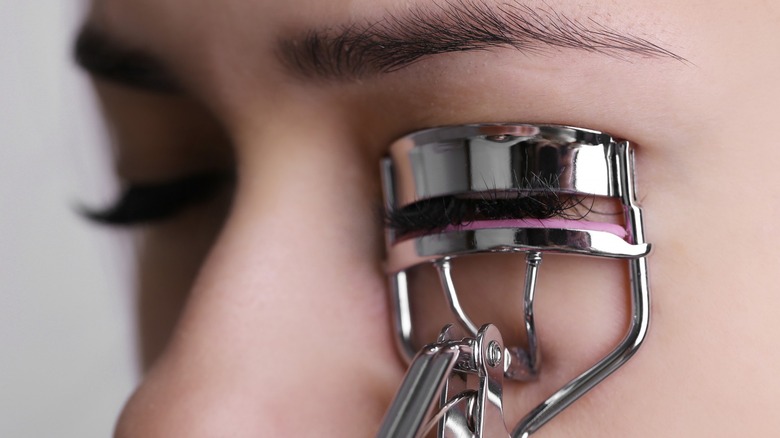 Africa Studio/Shutterstock
Many people have relatively straight eyelashes or even eyelashes that droop a bit. Straight or droopy eyelashes can make your eyes appear smaller by partially obscuring them or casting shadows that diminish their appearance. You can counteract this effect by curling your eyelashes to create an alert, wide-eyed impression. Celebrity makeup artist Lisa Aharon clarifies, explaining to Rose Inc that curling "...lifts lashes from the root and makes any mascara look better." Aharon explains how to use your eyelash curler, saying, "Wiggle and adjust it until you've got all your lashes in position ... Then close slightly with a firm grip, but don't squeeze until you've made sure you don't have skin." 
You might be wondering at what point in the makeup application process you should stop and curl your eyelashes — before or after eyeliner application? You can make a solid argument for doing it either way, but makeup artist Nikki La Rose recommends starting with clean eyes due to concerns that residual cosmetics could lead to eyelash breakage. You can also use false eyelashes to make your eyes appear much larger.
9. Apply white eyeliner or shadow to your upper lids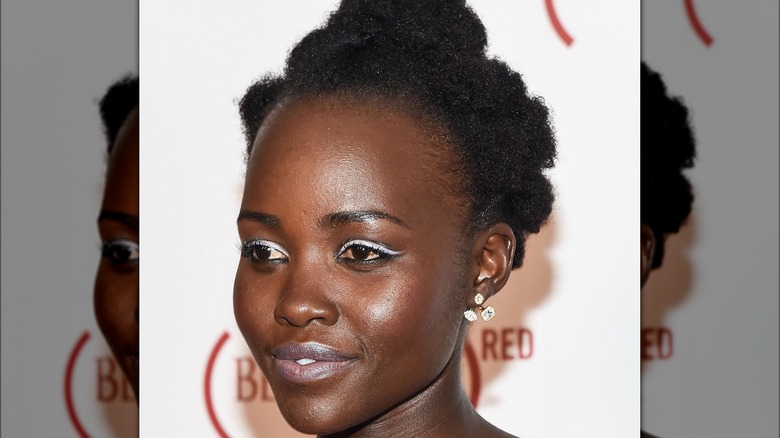 Daniel Zuchnik/Getty Images
Human sclerae are all white in color. For this reason, an eye-widening trick you can try involves using white-colored eye cosmetics, like eyeliner or eyeshadow above the eyes. This makeup hack is especially effective for people with dark skin tones, but it works for everyone.
It is a modified, toned-down version of a trick from performing artists who present dance and theatrical productions onstage for live audiences. Dancers, in particular, often wear exaggerated white eye makeup that is meant to amplify the look of their facial expressions when they perform onstage. Some choreography is intended to tell a story to the audience. Nuances of these stories can be lost in cases where people in the back of the auditorium are unable to interpret the dancers' emotions. This is often because they are unable to read the nonverbal cues emanating from their faces. To compensate for this, the performers' eye makeup frequently incorporates sizable areas of white, which makes their eyes look bigger. In cases where stark white is too jarring, you can use a flesh color that's a few shades lighter than your skin tone.
10. Soften and widen eyes' appearance with brown eyeliner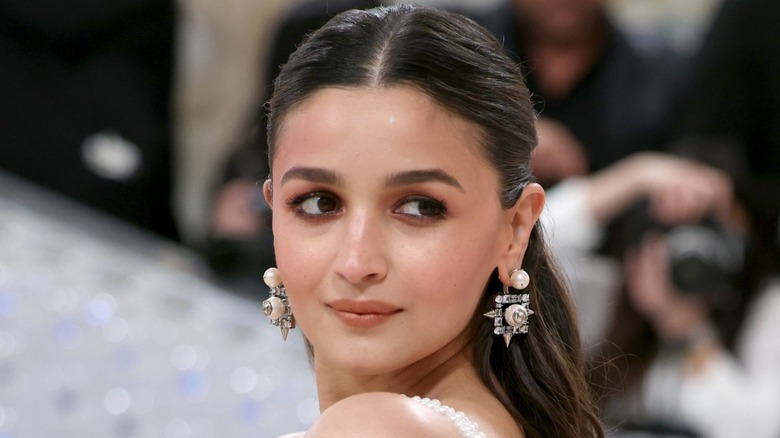 John Shearer/Getty Images
Actress Alia Bhatt's makeup artist, Puneet B. Saini, detailed in an interview how they amplify the star's eyes. "For smoky eyes, you can try using a brown kohl instead of a black one, which can help make your eyes look wider since it's softer," Saini explained to Vogue India. "Simply enhancing the upper and bottom lids and lashes with color and mascara — without touching the insides of the eyes — is usually enough to make them look bigger."
We recommend using ordinary brown eyeliner instead of traditional kohl, which is also known as kajal. In the U.S., the Food and Drug Administration has banned real kohl due to concerns about some of its ingredients, including its high lead sulfide content, which can result in lead poisoning. "The black iron oxide and pigments in most commercially produced kajal may contain elevated levels of lead," cosmetic chemist Dr. Renuka Thergaonkar explained to Allure. "Prolonged application can cause excessive lead storage in the body, which impacts the brain." Luckily, you can mimic Bhatt's dreamy doe-eyed look using ordinary eyeliner with beautiful results.