What Should Come First In Your Beauty Routine: Curling Your Eyelashes Or Applying Eyeliner?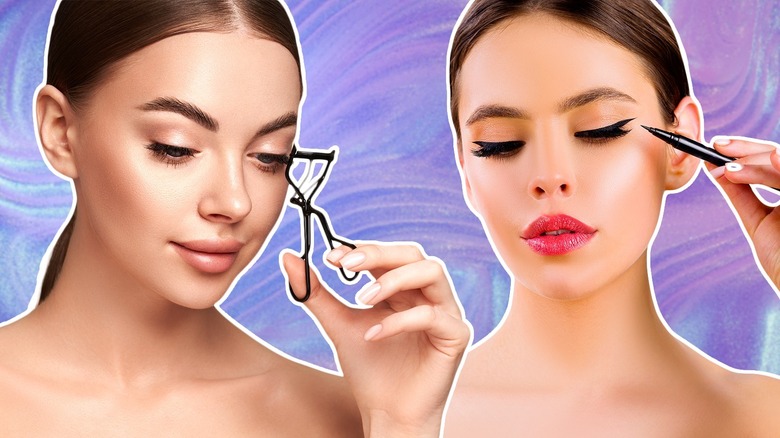 Static Media/Shutterstock
Every beauty routine can use fine-tuning from time to time. Not only do you get better at applying makeup the more you do it, but you also learn the best ways to optimize your routine. Just consider how far you've come since your teen years, when makeup was so often dramatic — not to mention that good supplies were typically sparse.
With the advent of so many beauty-based social media accounts demonstrating far easier ways to do just about anything and everything with makeup, these tutorials can be quite helpful, especially since most of us don't have access to our own beauty experts.
The eyes are one of the most important features to focus on, and though most of us know the basics — like curling your eyelashes before applying mascara and using waterproof mascara if you want it to last — some areas get tricky. One of these is whether it's better to put on eyeliner before curling your lashes, so what should come first in your beauty routine?
Some say apply liner first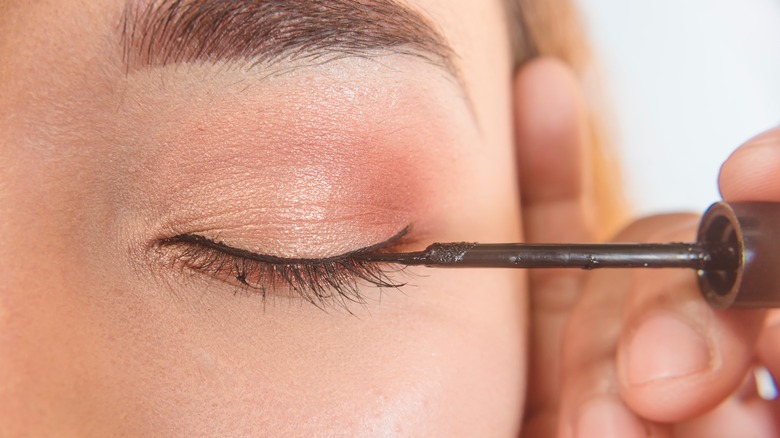 MDV Edwards/Shutterstock
There are those that swear by applying eyeliner first before even thinking about curling their lashes. Makeup artist Fiona Stiles says when using liquid eyeliner, you should always reach for the eyeliner first (via Allure). "This way, you'll have less interference and better access to the lashes," says Stiles. Liquid eyeliner is actually one type you should never use if you actually want a smudged or smokey eye look.
Still, there are some caveats. "Sometimes when you curl your lashes after doing your liner, it will take the product off, so you're going to have to go with the lesser of two evils here," says Stiles.
Celebrity makeup artist Ralph Siciliano says you may want to consider what final look you'd like best. "It depends on the look I'm going for, but in general, I think it's best to curl after eyeliner," Siciliano tells Glamour. "If lashes are too curled, they tend to get in the way of liner application, especially if you're working with a gel or liquid."
The case for curling eyelashes before adding eyeliner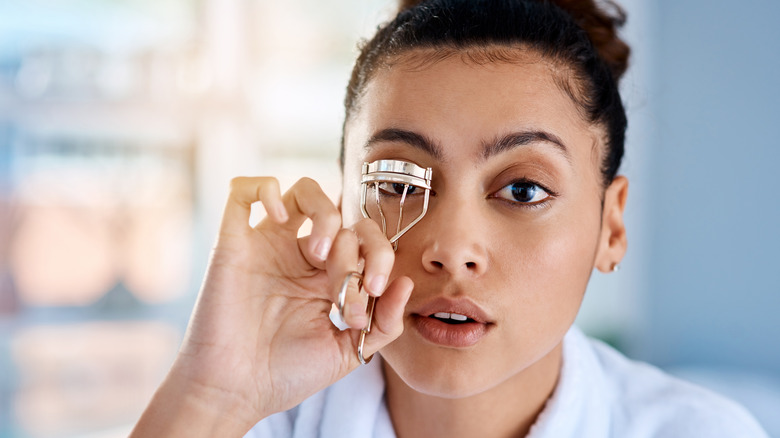 Dean Mitchell/Getty Images
Besides the eyelash curler inadvertently removing some of the eyeliner you just so patiently applied, there is an even higher risk of messing up the eyeliner when curling lashes after eyeliner. When using a pencil to apply eyeliner to the waterline, it's possible that curling eyelashes afterward can smudge the pencil liner. This is especially true when using kohl pencils, which tend to smudge more than other types, and it may be an eyeliner mistake you didn't even know you were making. 
According to L'Oréal Paris, curling lashes after you've already placed your eyeliner is one of the top reasons why eyeliner becomes a smeared mess. They advise curling lashes first and then applying eyeliner, thereby ensuring the eyeliner stays perfectly flawless and striking.
To keep eyeliner lasting all day and smudge-free, consider using a setting powder or setting spray, which will need to be carefully dabbed on rather than sprayed to avoid harming the eyes. Waterproof liquid eyeliner is also a good option as it dries quickly and is smear-proof.