Why Zara's In-Store Shoppers Haven't Returned After COVID-19 Lockdowns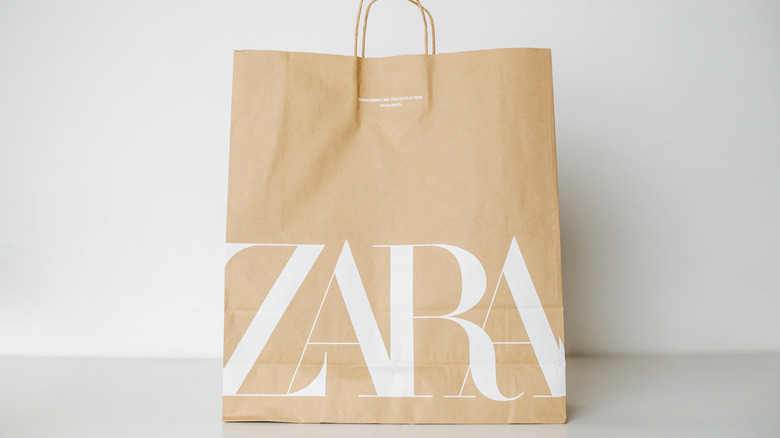 Kuznetsov Dmitriy/Shutterstock
Everyone tuned into the fashion industry is probably familiar with Zara, a prominent clothing retailer with locations all over the world. Zara is part of Inditex, a massive group that also has other well-known names such as Massimo Dutti and Bershka. Worth noting, though, is that Zara leads Inditex's sales by a long shot, pulling in 70% of the group's sales in 2021 (via Statista).
What makes Zara so accessible is its breadth of products, only some of which include dresses, tops, pants, bathing suits, denim, footwear, accessories, lingerie, and even fragrances and other beauty items. Of course, the brand's reasonable prices don't hurt either. For instance, many stylish dresses at Zara sell for around $50 or less, and many of Zara's sale items offer excellent deals. This is perhaps why Zara pulled in 17,068 unique visits in one day in December 2019, a pre-pandemic high, per foot traffic data collected by SafeGraph.
Zara also has an impressive following on social media, with more than 52 million followers on Instagram and over three million followers on TikTok. However, despite its vast product offerings and seemingly devoted social media following, the fashion company's foot traffic numbers haven't been so hot throughout the COVID-19 pandemic.
Zara isn't getting as many visits after COVID-19 lockdowns
Unlike Sally Beauty Supply, which rebounded well after COVID-19 lockdowns, Zara's foot traffic numbers haven't been so impressive. According to data collected by SafeGraph, Zara's foot traffic in the U.S. hit an all-time high during the winter of 2019 and 2020 before the lockdowns, then suffered a massive blow with nearly no visits during the lockdowns. Unfortunately, post-lockdown numbers have yet to reach the heights of their pre-lockdown counterparts.
In fact, the company hit an extreme low of only 168 visits in a single day in April 2020. Fast forward to post-lockdown life, and the foot traffic score was 6,982 for one day in April 2021 — not even half of the brand's highest number of visits. Jump to early July 2022, and the brand had 3,130 visitors in one day. What went wrong?
Zara is a fast fashion brand, and there is a tempting perk to shopping fast fashion: trendy products for low prices. However, fast fashion companies can be unethical and lack sustainability, both environmentally and in their production methods. Good on You, which rates companies based on their sustainability and ethical practices, rates Zara as "not good enough" when it comes to its labor conditions and environmental impact, making "not good enough" its overall score as a company. 
This might not be surprising to many. During lockdowns, people had more time to think about values and how their clothes are made, so more people are now likely to think about sustainability and ethics over trendiness. This change of values could be a cause of Zara's lower foot traffic numbers.