Why Sally Beauty Supply Was Able To Rebound So Well After COVID-19 Lockdowns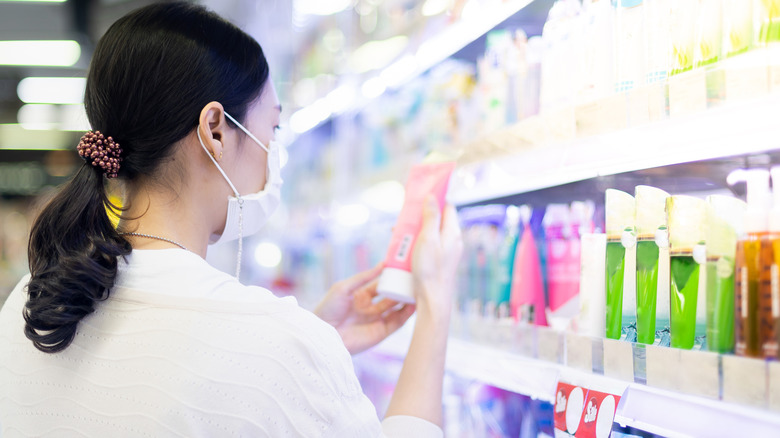 Lin Xiu Xiu/Shutterstock
Everyone remembers the lockdowns from the beginning of the COVID-19 pandemic, including companies of all business sectors, which had to find ways to maneuver the new normal just as everyday people did. While the pandemic is still far from over — masking and diligent sanitation have become part of everyday life for many — we can't forget the uncertainty and stress we felt during the initial lockdowns. 
Advertisement
As difficult as it was for everyone to enjoy life during the lockdowns, those odd, unusual times were especially hard on the beauty industry. Safety, mental and physical health, and focusing on essentials such as food and toilet paper became more of a priority than beauty in 2020, so the cosmetics industry wasn't thriving during those isolating times. Unfortunately, some fashion and beauty brands ended up shutting down or going bankrupt as a result. Even Revlon, a once ultra-popular makeup brand, recently filed for Chapter 11 bankruptcy.
However, Sally Beauty Supply is still succeeding despite the pandemic shutting down similar brands. How is it doing so well during such a continuously stressful time?
Advertisement
Sally Beauty Supply addressed the pandemic and kept prices reasonable
Despite these abnormal times, Sally Beauty Supply managed to double its competition's foot traffic. According to data collected by SafeGraph, Sally Beauty Supply's foot traffic in the U.S. clearly took a hit during the initial lockdowns in April 2020, but the numbers climbed back up during the summer of that year.
Advertisement
More specifically, Sally Beauty Supply's foot traffic hit an all-time high in January 2020 before the lockdowns. On January 13, 2020, its foot traffic was at a whopping 130,816 visits. But, of course, during the lockdowns, the foot traffic hit an all-time low at 37,332 visits on April 6, 2020. However, after the lockdowns ended, the numbers jumped up again, as Sally Beauty Supply managed to pull in 98,426 visits on July 27, 2020. Fast forward to 2022, and the beauty company came near its all-time high with a foot traffic score of 124,420 on April 18, 2022. Now, the retailer remains on good footing at 82,742 on July 11, 2022.
Sally Beauty Supply's rebound is impressive, but the success didn't come at random. One likely reason why the company stayed successful is that it acknowledged the pandemic in a professional press release in late March of 2020 rather than appearing panicked or trying to ignore the virus. Plus, the retailer's low prices undoubtedly appealed to customers during such unfortunate times as the company prides itself on offering "Pro Quality. For Less." In fact, the brand's prices are, on average, cheaper than Sephora's and Ulta's, which means that consumers can trust Sally Beauty Supply to help them achieve their makeup goals for less (via Knoji). This is great at all times, nonetheless when money was tighter than potentially ever, with many facing job insecurity.
Advertisement