Taking A Relaxing Milk Bath At Home Is Easier Than You Think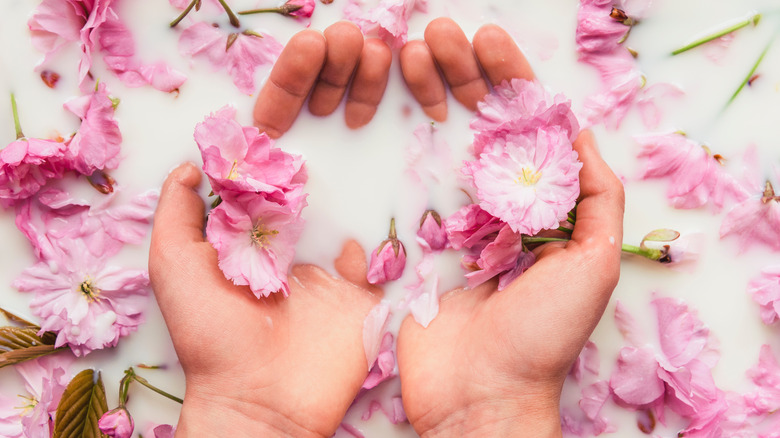 Viktoriya Krayn/Shutterstock
Sometimes, there's nothing better than slipping into a bath. The heat, the steam, the privacy — it's like a little slice of heaven. It's no wonder, then, that baths have become almost synonymous with self-care. Giving yourself time to enjoy a long soak can not only ease sore muscles and be delightfully cozy, but it's also good for your mental well-being. "Baths help many people sleep well," family medicine provider Dr. Amy Zack explains to Cleveland Clinic. "They also create a good environment for meditation, thought, and escape from everyday stressors."
When the weather turns colder, the descent into hot water becomes an even more welcoming way to unwind. For some bathers, baths can even be a spiritual experience. But what goes into creating a truly rewarding bathtime? Candles? Music? A bottle of rosé? All of those things can certainly help set the mood, but there are also ways to elevate your bath with skin-enriching ingredients. While it may surprise you, one such ingredient may be hiding in your refrigerator already, just waiting to enhance your bathing experience. That's right, we're talking about pretty, popular, and highly Instagrammable milk baths.
The benefits of taking a milk bath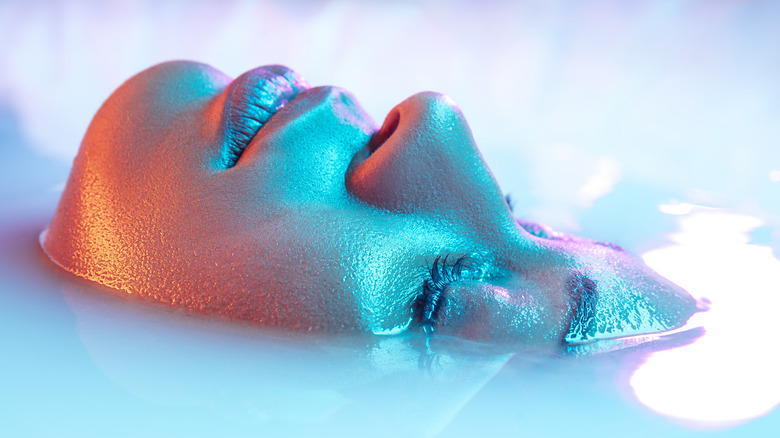 Master1305/Shutterstock
Milk baths look great in photos. But they aren't just social media worthy — they're also a great way to relax and soothe sensitive skin. "Milk baths can have tons of great benefits for your skin. They can soothe and hydrate skin, whether it's dry, itchy, or just generally irritated," dermatologist Michelle Henry tells Good Housekeeping. "The lactic acid in milk acts as a mild alpha hydroxy acid, which helps with exfoliation. The proteins and vitamins will help calm inflammation and moisturize. Milk also contains nourishing ingredients for your skin, like proteins, fat, vitamins, and minerals." Given the option, Dr. Henry suggests choosing whole milk or goat milk for the most potent results.
Non-dairy options can also be used for milk baths, and they have their own set of benefits. Oatmeal is famously soothing in skincare, making oat milk baths a fantastic option for calming problematic complexions. "Extracts of oatmeal have been shown to lessen inflammatory mediators in the skin, giving significant clinical improvements in skin dryness, scaling, roughness, and itch intensity," board-certified dermatologist Dr. Loretta Ciraldo tells MindBodyGreen.
Meanwhile, coconut milk is full of rich, hydrating fats and proteins. "Coconut milk is a super hydrator," Tara Pelletier, co-founder of vegan apothecary Meow Meow Tweet, explains to Well+Good. "The water is nutrient-dense and the fat helps to smooth skin cells and lock in the hydration."
How to enjoy your own milk bath at home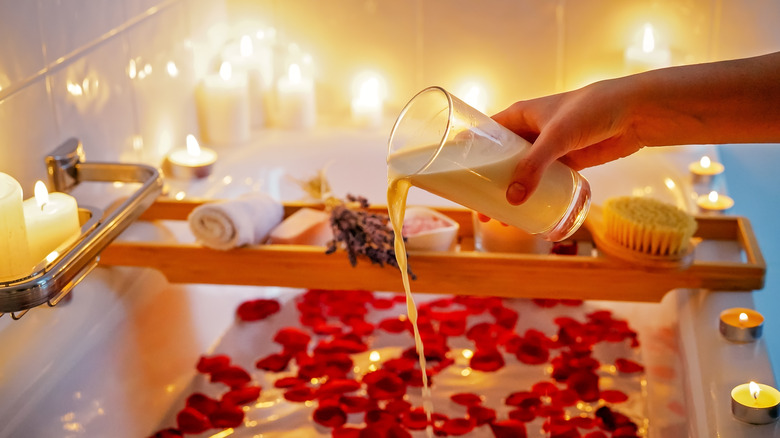 Tatyana Soares/Shutterstock
If you're the grab-and-go type, there are various pre-made milk bath products available, both in scented and unscented formulas. But milk baths are so simple that you can also easily make them yourself, using items that are probably in your home already. The most critical ingredient is, of course, the milk or powdered milk of your choice. Try adding one to two cups directly to your bath water. Then, you can choose to add other restorative mix-ins like salts, honey, essential oils, sliced citrus, or dried flowers.
Beauty blogger Stephanie Gerber of Hello Glow shares a make-ahead rose milk bath concoction using one and a half cups of powdered milk, a half cup of Epsom salts, a quarter cup of dried rose petals, five to seven drops of rose essential oil, and two to three drops of optional red food coloring to give the mixture extra pizazz.
And milk baths aren't just a grown-up luxury — they're relaxing indulgences that can be enjoyed by all ages. They're even safe for infants, and caring for your baby with a breast milk bath once or twice a week may help with dry skin and diaper rash (via Healthline). Simply run a lukewarm bath, as you usually would, then add enough breast milk to make the water slightly cloudy. Then let your little one soak and splash for 10 or 15 minutes to reap all the moisturizing effects.