Should You And Your Partner Take Dance Lessons Before Your Wedding?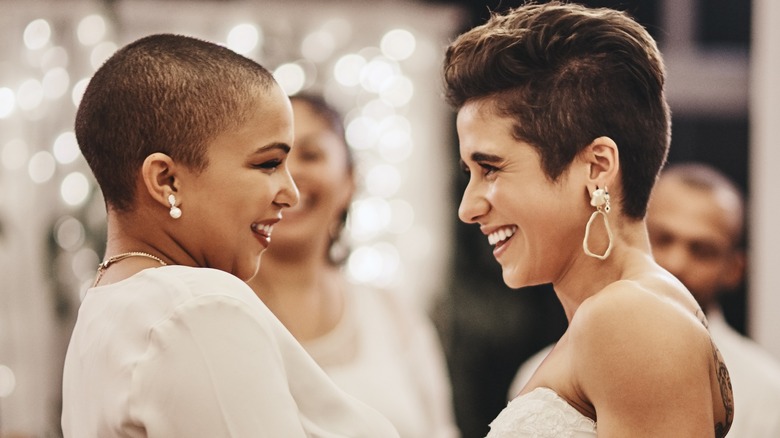 PeopleImages.com - Yuri A/Shutterstock
In the weeks and months leading up to your wedding, there are probably a million things on your to-do list. Order floral arrangements, taste wedding cakes, reserve the venue, send out invitations — the list goes on, and the bills pile up. So, as you're preparing for the event, you may be wondering whether all these tasks and expenses are really necessary. Like, are seating charts required? How important is it that you hand-select every wine vintage? What hacks can you use to lower your wedding costs?
If you're trying to save time and money, one of the questions on your mind may be whether to skip pre-wedding dance lessons. Dance lessons have become an important part of wedding preparations because of a little custom known as the first dance, in which the new couple shares a romantic turn around the dance floor. Weddings may also involve other dance traditions, such as father-daughter dances, mother-son dances, or specific cultural dances like the hora at Jewish weddings (via WeddingWire).
However, just because dance lessons are customary, that doesn't mean they're mandatory. Maybe you're planning to just wing it on the dance floor, or perhaps you're freaked out by the whole idea of performing the first dance in front of all your family and friends. But before you decide whether to kiss dance lessons goodbye, here are a few things to consider.
Why treat yourself to pre-wedding dance lessons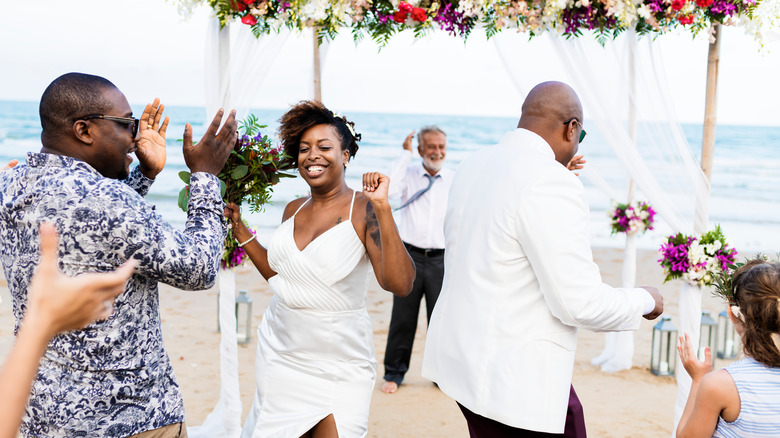 Rawpixel.com/Shutterstock
For many couples, the first dance is an iconic moment to mark the beginning of your life together. Of course, this means there can be a lot of pressure. "Especially if you're not used to performing or being in front of a crowd, it can be nerve-wracking!" Shimkiri Sawian-Figar, the owner of Jersey City Ballroom, tells MarthaStewart.com. "That's why some sort of dance lessons can be helpful—to give brides- and grooms-to-be a chance to perform in front of others and gain some experience with being the center of attention."
Dance lessons also help you personalize your event. Think your first dance is destined to be an awkward back-and-forth sway? It doesn't have to be. By choosing lessons that reflect your personality, the first dance can become a way to show your style as a couple. Maybe you're traditionalists who want to glide through a waltz, or maybe you want to surprise your wedding guests with a spicy hip-hop routine. Either way, dance lessons can help you leave an impression.
And whether you love or loathe the idea of dancing in public, the lessons themselves can be an intimate bonding experience. "Discovering new steps together teaches couples to interact with each other. They're looking into each other's eyes, anticipating the next move. It opens up energy channels of feeling and connection. It rejuvenates everything," professional dancer Tony Dovolani tells Today. Whether you discover a love of dancing together or simply survive this trial by fire, dance lessons are a shared memory you can both cherish. And there's no rule saying that you have to quit after the first dance. Instead, dancing could be a lasting skill you and your new spouse can continue using together down the road.
What to expect from wedding dance lessons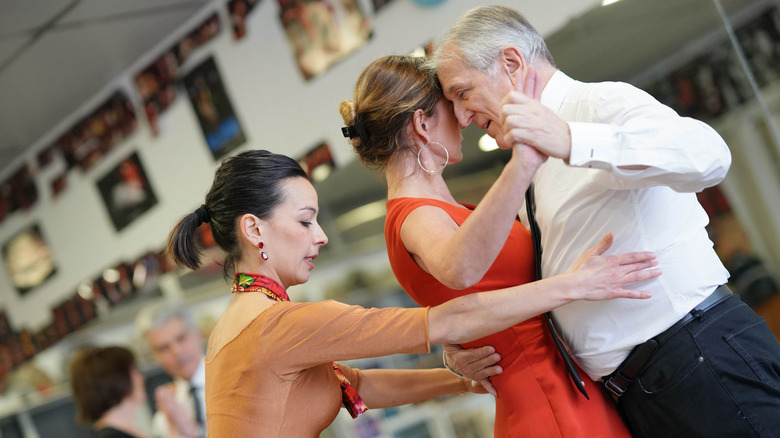 goodluz/Shutterstock
Ready to sign up for wedding dance lessons? There are two options to consider: group classes or private lessons. Professional dance lessons for your wedding debut typically cost between $30 to $50 per hour, depending on the instructor, style of dance, and going rate in your area (via Zola). Some studios may offer reduced rates by booking many lessons at once, but be thoughtful about your reservation. How many dances do you want to master, and how many lessons will you need to learn each one? Would extra classes be something for you to look forward to or an unneeded expense?
As dance instructor Catharine Edwards tells Brides, "The instructor's job is to teach you the best they can in the allotted time frame you have given them. You should feel some sort of progression forward after each lesson. If you want your dance completed in five lessons, you should have most of it done in four lessons." So if your budget is restrictive, you don't have to splurge for additional classes. Instead, let your dance teacher know how many classes you can afford, and they can aim to create a dance that's achievable for your timeframe and skill level.
For the class itself, be sure to wear comfortable clothing that you can move around in, especially comfortable shoes. Bring a water bottle to sip from during breaks, and maybe a little hand towel to clean up with if you expect to get sweaty. Most importantly, come with a good attitude! Dancing is supposed to be fun, and no one is going to judge you for being a beginner. Just loosen up, enjoy yourself, and soon you and your spouse-to-be will be ready to wow guests with your first dance.