Why Barnes & Noble Is Struggling To Capitalize On BookTok And Raise Its Foot Traffic
In the mood for a great book? Whether you're in the market for life-changing prose or a breezy beach read, you probably have a few go-to sources for recommendations, including your bookish coworker, favorite reading buddy, or local librarian. But now, it's even simpler to seek out your next read with the ease of social media. Specifically, we're talking about TikTok.
Advertisement
With over a billion active users each month (via Hootsuite), TikTok is big business for many sectors. Unexpectedly, this market-driving power has also extended to a niche that's the complete opposite of the channel's video-only format — namely, literature. Book lovers have come together on TikTok in an online community known as BookTok, where they exchange reviews, recommendations, and reaction clips around their favorite stories (via NBC News). Now, these BookTok trends are dictating bestseller lists and bringing authors both old and new into the limelight. Especially popular with readers of romance and young adult novels, the #BookTok hashtag has nearly 62 billion views and shows no signs of slowing down (via Sprout Social).
Advertisement
With so much buzz around BookTok and its recommended must-read novels, you'd think that book retailers would be riding high. But booksellers that still pursue a strong in-store shopping experience haven't seen any such success hit their foot traffic. Take, for example, the chain that used to dominate the literary landscape: Barnes & Noble. While Barnes & Noble (B&N) may boast welcoming vibes, convenient Starbucks access, and an all-too-tempting stationery section, its in-store visitors are in steady decline.
BookTok's popularity hasn't helped Barnes & Noble traffic
Ever since the meteoric rise of Amazon from its roots as a humble online bookseller, the face of literary retail has been changing. Digital competition has wreaked financial havoc on brick-and-mortar bookstores and driven popular chains out of business. For instance, Borders filed for Chapter 11 in 2011, and by 2015, Books-a-Million had lost 90% of its value in the stock market (via Bloomberg). Leading competitor Barnes & Noble has survived where many other booksellers didn't, perhaps due in part to the release of its own e-reader, the Nook, in 2009 (via The New York Times). But even still, B&N has been limping along as it fails to marry its traditional business model with a successful online approach. "The company has had, for many, many years, a problem integrating the retail stores and the online business," B&N founder and chairman Len Riggio said in a 2018 statement addressing the brand's financial struggles (via CBS News).
Advertisement
As shown by data from SafeGraph, these ongoing business woes are reflected in B&N's waning foot traffic. Though Barnes & Noble was already fighting to keep up in 2019, the company at least managed to attract peak daily visits of 200,371 during the holiday shopping season. But a continued downward trend has made this performance tough to match, and B&N only saw a high of 165,249 visitors in December 2021. Even putting pandemic traffic lows aside, that represents a dramatic 17.5% decrease in in-store shoppers over only two years.
Barnes & Noble can't corner the BookTok audience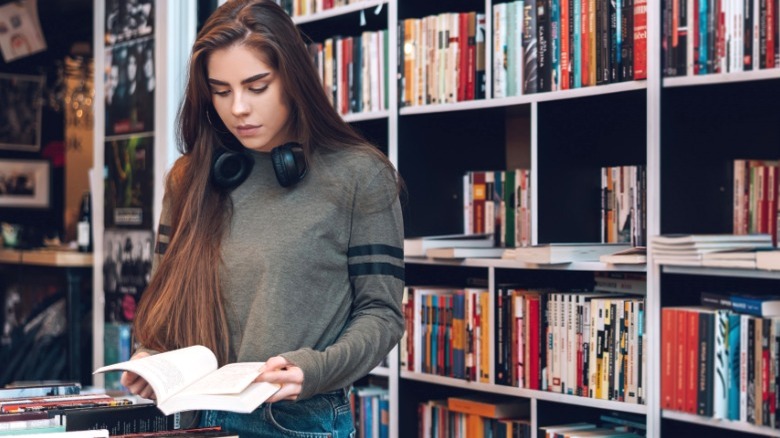 Zamrznuti tonovi/Shutterstock
So, why hasn't Barnes & Noble been able to leverage the popularity of BookTok trends to boost its lagging traffic? Unfortunately, it appears that the bookseller isn't bringing anything new to the table when trying to cater its offerings to TikTok's reading enthusiasts. A cursory search for Barnes & Noble and BookTok reveals the usual fare: BookTok-inspired recommendation lists, product search filters, and a curious reading challenge. These are all perfectly serviceable marketing tactics, but the problem is that everyone else is using them, too. Books-a-Million wasted no time in instituting its own BookTok landing page, and even ThriftBooks has a section on BookTok favorites.
Advertisement
Amazon, meanwhile, is going beyond BookTok product round-ups. The mega-corporation has now positioned itself as the official sponsor of the TikTok Book Club, putting its brand front and center in the BookTok ecosystem (via The Bookseller). Such exposure is key because no amount of marketing jiggery-pokery is likely to redirect swarms of book lovers from the path of least resistance. Amazon's interest is driven not by cynical strategy but by excitement and immediacy. "I don't think you can manufacture it, I think it's happening organically, and that's great," publisher Libby McGuire tells NPR. "It just warms my heart as a book publisher. Because that's what we always strive for, is that word of mouth. And we know that that's what takes a book from one level to the stratosphere." So, until Barnes & Noble is able to put itself forward with a creative and engaging online presence, it seems unlikely that BookTok will direct any significant foot traffic its way.
Advertisement