Picking Your Perfect Honeymoon Destination Just Got A Lot Easier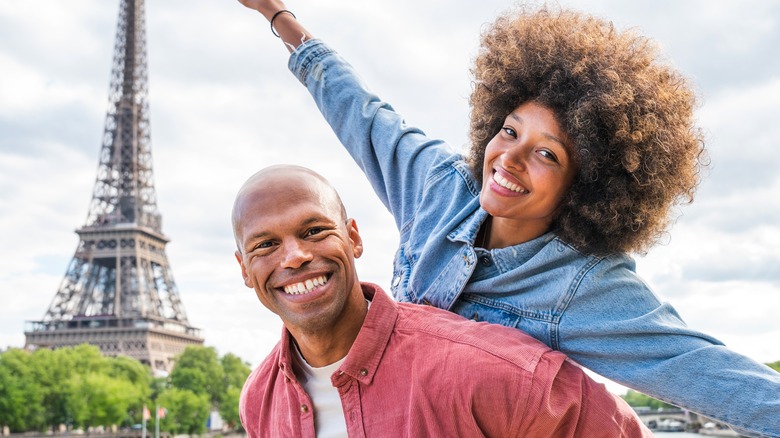 oneinchpunch/Shutterstock
When planning your wedding, the honeymoon might seem like the least of your concerns. Between organizing vendors, deciding your wedding guest list, and keeping appointments, booking your vacation should be the easy part, right? Not necessarily. Modern travel has opened up a whole world for you to explore, but in some ways, global access has actually complicated your honeymoon decision. You've probably bookmarked three dozen breathtaking locales on your Pinterest board or Instagram feed, and it can feel nearly impossible to narrow your options down. Known as decision paralysis, this pressure is essentially feeling spoiled for choice — but in a bad way. More choice can mean more confusion, higher anxiety, and slower decision-making (via Inc.).
If you're the type who likes to take a deep dive into price quotes, reviews, and amenities before committing, you may also experience analysis paralysis. "Usually, our decision-making process involves quickly building a list of a full range of possibilities. Then, just as quickly, we begin narrowing this list down, crossing out outliers and choices that feel obviously unsuitable," therapist Vicki Botnick tells Healthline. But when you're struck by analysis paralysis, you can find yourself in an endless rabbit hole of research with honeymoon options that feel "ever-expanding, endless, and all equally probable."
Let's not forget that there's also a human factor at play. While it's important to discuss honeymoon destinations with your spouse-to-be, other friends and family members may try to add their two cents. All too soon, you can find yourself muddling through a mess of place names, resort research, and personal anecdotes that make honeymoon planning feel less like a vacation and more like a term paper. So how can you find your perfect honeymoon destination without sacrificing your sanity?
How to narrow down your wishlist of honeymoon destinations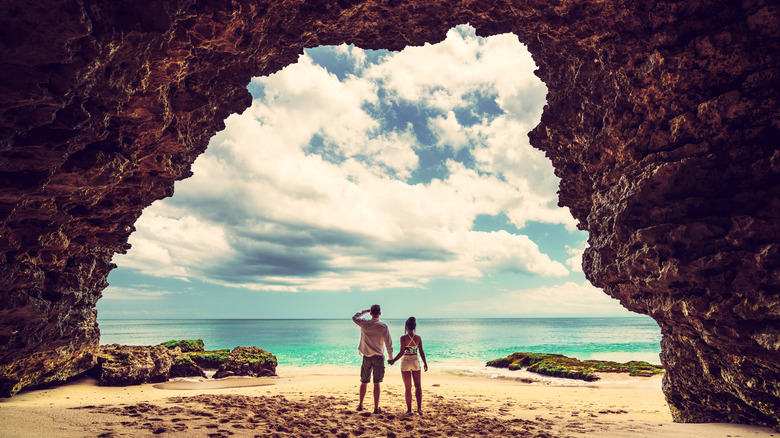 Cocos.Bounty/Shutterstock
When many people think about honeymoons, they automatically envision laying on a tropical beach, mai tai cocktail in hand. But what if you're not a beach person? While an island resort can certainly be romantic, it's not your only option. Ultimately, celebrating your marriage is not about upholding some traditional idea of romance — it's about enjoying a unique, magical honeymoon that fits your relationship. Ask yourself: what kind of vacation do you and your partner most enjoy together? A relaxing getaway? A thrilling adventure trip? Rich cultural sightseeing? Once you've decided on the perfect vibe for your honeymoon, it's easier to start compiling a shortlist of potential destinations that fit the bill.
Further narrow down these choices with practical considerations. For one, do you want to travel domestically or abroad? If you don't have a passport but need one, apply early. You don't want to risk missing your trip while waiting for errant travel documents to arrive. For context, the U.S. Department of State claims that an American passport routinely takes up to 10 weeks to process. And certain countries will require pre-approved visas to visit, even if you only plan on staying for a few days or weeks.
If adventure isn't your cup of tea, you may also want to weigh honeymoon locales on additional factors, like your ability to speak the local language or how much you like (or dislike) the regional cuisine. If relaxation is all you want, a domestic getaway or tourist-friendly resort where you can lounge and unwind could be the perfect way to get away from home without feeling too far away.
Finding a dream destination that works with your budget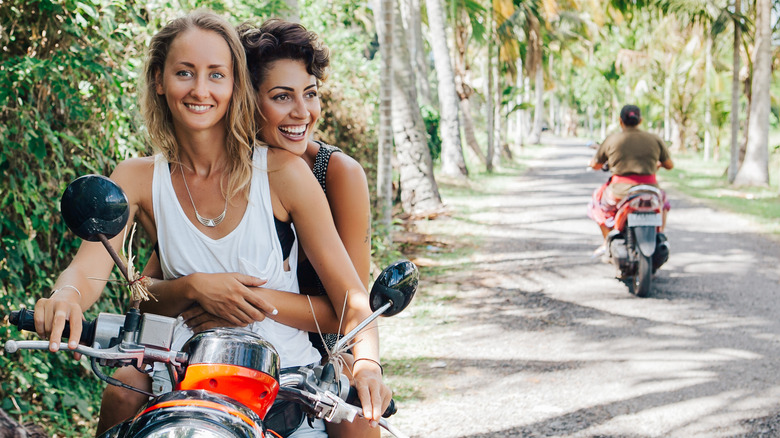 zjuzjaka/Shutterstock
Once you've got your wishlist pared down to a few top contenders, it's time to get extra real and face the price tag. Consider your honeymoon budget to identify which destinations are actually affordable for you. "Be realistic about your budget and expect the unexpected," Joan Roca, founder of the travel-planning service Essentialist, tells Brides. "Organization, research, and a lot of forward planning are key. If the honeymoon is abroad, you need to also consider flights and accommodation." Nowadays, the average honeymoon costs $4,600 (via The Knot). And expensive long-haul flights or cruises can take a big bite out of your total vacation fund.
Of course, there are ways to maximize your honeymoon budget and get the most out of this special trip. If you want to give yourself more capital to work with, consider implementing money-saving tips for your wedding day or asking guests to contribute to a honeymoon fund in lieu of gifts. You can also travel in the off-season to stretch your budget and afford that bridal suite your heart's set on. Finally, don't overlook the potential of all-inclusive vacations, such as cruises or all-in resorts. With all your food, drink, and activity costs factored in from the outset, you can enjoy a stress-free honeymoon without keeping an eye on your spending. That means more time enjoying your destination and your new spouse!