How London Fashion Week Will Be Affected By The Queen's Death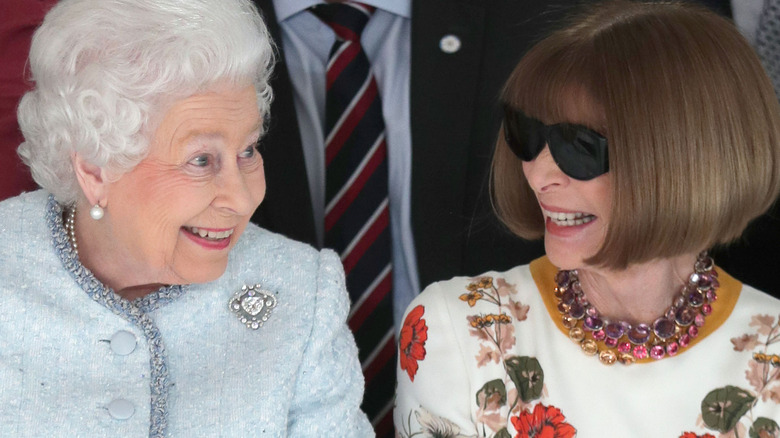 Wpa Pool/Getty Images
London Fashion Week is one of the most highly anticipated events on the global fashion calendar — one of the "big four" shows that include those in the equally glittering cities of New York, Milan, and Paris. But this year's London show, originally scheduled from Friday, September 16 to Tuesday, September 20, has collided with a heartbreaking, historic moment in the United Kingdom: the death of Queen Elizabeth II.
This unfortunate coincidence has cast the British Fashion Council (BFC) in what some people initially regarded an as impossible situation. Out of deference to the queen, but out of consideration to the show's designers and other participants, how could the show possibly go on? After all, the queen had a special connection with London Fashion Week, attending it in 2018 (via The Guardian). In fact, pictures of her sitting in the front row of London Fashion Week 2018 with Vogue's Anna Wintour were (and are) an immense source of pride and affection for the council.
In a statement on the council's website, signed by its executive director, Caroline Rush, the council recalls the late monarch's presence, writing, "We are devastated to hear of the death of Her Majesty the Queen Elizabeth II, whose reign will be marked in history as one of empathy, strength and grace." The statement also notes that "Her Majesty's effortless style, charm, and sense of fun was evident and her passion in supporting young creatives will continue to inspire the next generation." But just what will happen to this year's London Fashion Week?
Designers get their bearings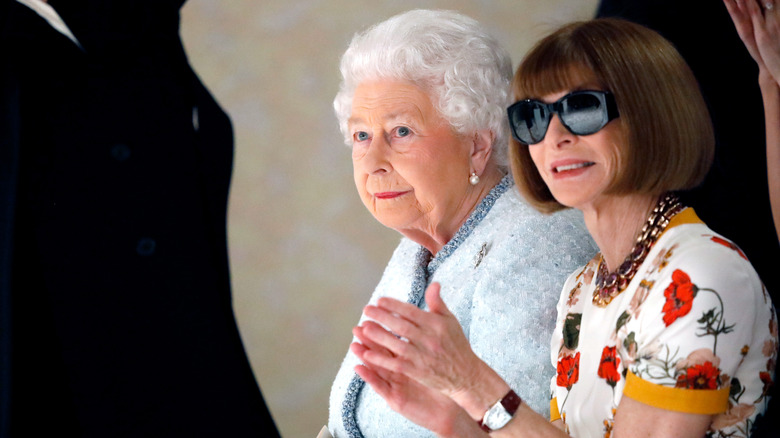 Tristan Fewings/bfc/Getty Images
Perhaps taking a lesson from the ever-pragmatic queen, the council may have landed upon the most practical compromise possible: the show will continue, but activities and events will either be scaled back significantly or rescheduled until September 20 (via The Industry). No show-related events will take place on Monday, September 19 — the day of the queen's state funeral. An official period of mourning will last for seven days after that. Accordingly, the British Fashion Council has asked designers to withhold releasing images of their collections until after this period is over. Until then, it is also advising that "non-essential events," like parties, be canceled out of respect for the much-loved monarch.
Everything considered, including that Anna Wintour mingled with the queen in 2018, it's fitting that Vogue was the one to announce that Burberry was bowing out of London Fashion Week "as a mark of respect" for the queen. Soon after, Belgian designer Raf Simons canceled what would have been his debut at London Fashion Week, set for Friday, September 16. According to Vogue Business, Simons' team said, "As the country enters a period of official mourning, we will pause during this time of great sadness." It remains to be seen if many others will bow out as well.
Check official schedule for changes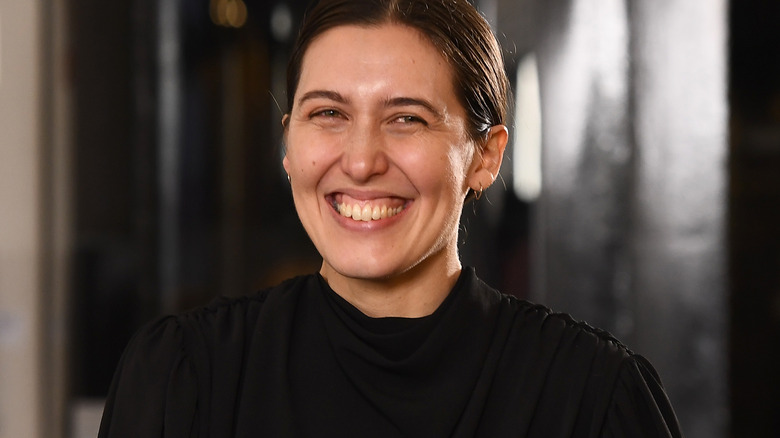 Jeff Spicer/bfc/Getty Images
Now that fashion week participants have had a few days since her death on September 8 to evaluate how they should respond, they're slowly but surely releasing information announcing their intentions. Edeline Lee, for example, was scheduled to do a presentation on Monday, September 19 but will hold appointments and host a runway show in February instead. Emilia Wickstead — a favorite of the newly named Princess of Wales, Catherine Middleton — will give her presentation from 10:30 a.m. to 12:30 p.m. on Tuesday, September 20 (via Fashionista). The event's schedule is bound to change, but the queen's presence is ever felt.
As the ground begins to settle under London Fashion Week, the council appears determined to keep the queen top of mind as the show goes on. It is flying union flags at half-mast, hosting a one-minute period of silence at 8 p.m. on Sunday, September 18, and encouraging people to write a message of condolence in an online memorial book. Also, the council notes that "there will be a celebration of London Fashion Week in October which will include City Wide Celebration as well as parties and events that have been rescheduled with designer shows and presentations celebrated during this period."
Celebrated, too, will be the memory of the irrepressible Queen Elizabeth. In fact, Anna Wintour recalls that the queen's "joy and humor bounded around the room, lighting it up" that day in 2018. It was "an everyday occurrence for Her Majesty — an unforgettable one for the rest of us" (via the British Fashion Council).