How To Break In Your New, Shiny Dr. Martens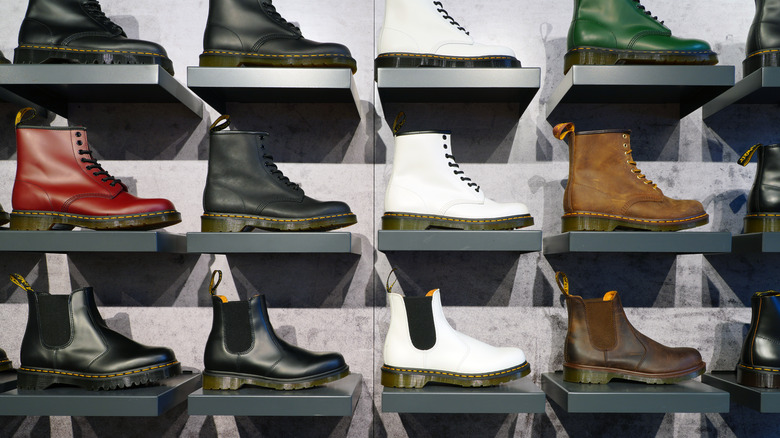 EQRoy/Shutterstock
We may receive a commission on purchases made from links.
So you have just acquired a new pair Dr. Martens and you need to break them in. This famous brand is known for its durable, quality leather shoes. They come in a variety of options such as boots, sandals, oxfords, loafers, and more. But as anyone who has worn a pair of Dr. Martens knows, the thick leather shoes are stiff at first and you need to break them in to achieve their full comfort.
Breaking them in takes a little bit more effort than simply wearing them around the house for a few minutes before heading out the door. As you may already know, rubbing and irritation on your feet can be a very frustrating pain. It's important for the comfort of your feet and the quality of the leather to approach this process with time and care. Breaking in a new pair of Dr. Martens certainly requires some patience because rushing into it might do more harm than good (via Nylon).
Proper sock choice and preventative layering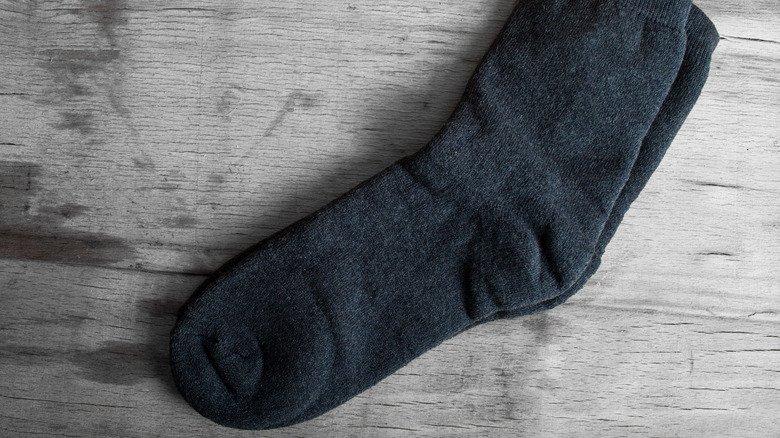 Oleksandr Rybitskiy/Shutterstock
When it comes to your new Dr. Martens, sock choice matters. You want to find socks that are thick, such as those made of wool, cashmere, or cotton blends. They should also be about quarter- or crew-length to ensure they sit higher than your ankle (via The Modest Man).
If your socks are still not thick enough, double up. Thick socks, whether on their own or layered up, will provide an extra cushion of comfort on your feet and help you avoid excess rubbing, irritation, and blisters (via Nylon).
According to DrMartens.com, extra padding on the upper heels of their shoes can also be beneficial. The company says this is a common spot for trouble when breaking them in. Additionally, strategically placed preventative blister patches can have the same effect. Options like the Engo Blister Prevention Patches or the Dr. Scholl's Moleskin Plus Padding Roll offer the ability to be placed wherever you most commonly feel irritation — typically the backs of your ankles, your heels, or your arches.
Stretch the leather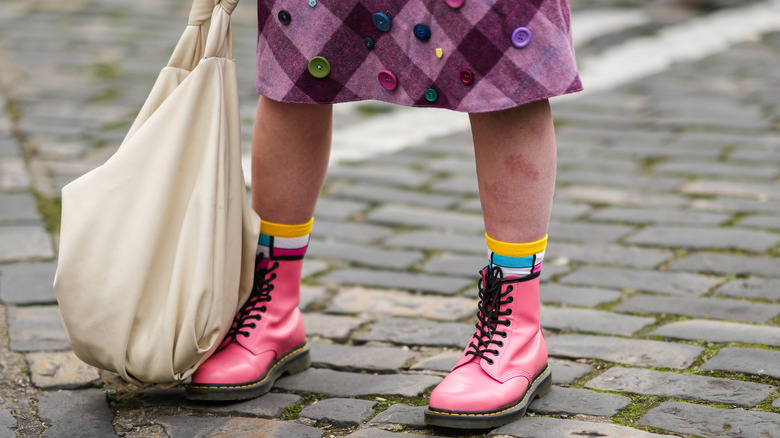 Edward Berthelot/Getty Images
Another way to break in your new Dr. Martens is to wear them often for short periods of time to soften and stretch the leather. When you first wear them, they will fit snuggly, but be careful not to size up because of this. In fact, if you are a half-size, you should size down, according to fashion blogger Gabrielle Arruda. The shoes typically fit true to size and the leather will stretch out with each wear and, in time, will conform to the shape of your foot.
Other techniques to stretch the leather include massaging it by hand, which will help mimic the effect of wearing the shoes, according to DrMartens.com. Simply move the shoe inward and outward in a wave-like motion, just as the shoe would move when you are wearing it. Additionally, the company recommends using rolled-up newspaper or an aluminum can to fill your shoes and stretch the leather when you are not wearing them. Special sprays and balms, such as Dr. Martens Wonder Balsam Shoe Protector or a boot spray can also help the leather stretch by nourishing, softening, and conditioning it.
Whatever steps you take to break in your new Dr. Martens shoes, be sure to have patience. A careful approach will protect your feet and ensure your shoes will be comfortable enough to wear for years to come.