The Quick Shower Switch That Can Get You Shinier Hair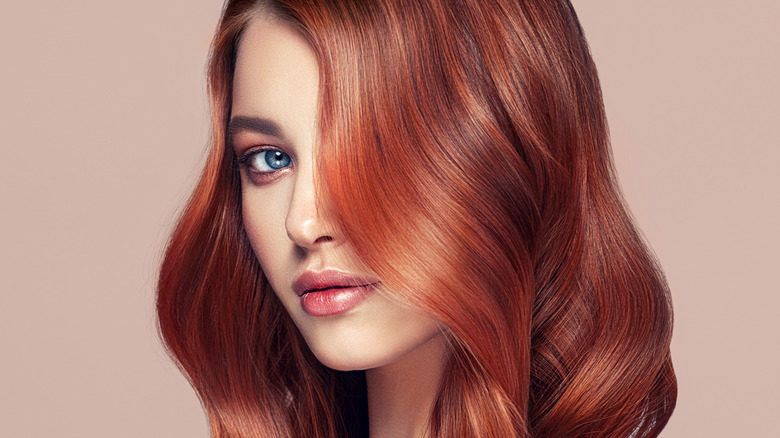 Sofia Zhuravetc/Shutterstock
Taking care of your hair is no different than taking care of the rest of your body. Healthy hair can be tricky to achieve, especially when there are so many products out there targeting different hair needs. If you suffer from dry or frizzy hair, you probably know the struggle of finding something that will work for you. You may be trying a new product every now and then or visiting the hair salon frequently to try to deal with the issues. Unfortunately, this is a common experience for all hair types.
As your hair gets frizzy, greasy, or even dry, it may feel like it's a never-ending problem. It can get frustrating, but it isn't a hopeless situation. There are certainly ways you can help improve your hair health right at home. All it takes is one small change in the shower involving cold water — a small adjustment that many may have no problem making. But just what is it?
How cold water affects hair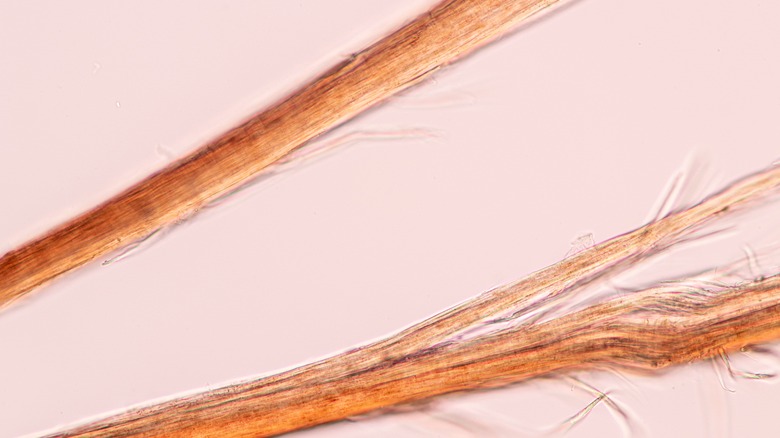 Rattiya Thongdumhyu/Shutterstock
Each hair shaft is made up of three layers. The medulla is the innermost layer of your hair which is more common in thick hair types and consists of thin transparent cells and air spaces. The cortex, or the middle layer that covers the medulla, is what forms the main bulk and color of your hair. This layer is then protected by the outermost layer, known as the cuticle, which contains a set of overlapping cells facing downward, similar to that of fish scales. A healthy cuticle remains flat and smooth as it maintains the hair's hydration and flexibility. Regular wear and tear of the hair, such as chemical processes or heat, can disrupt the cuticle's balance. This then results in hair damage (via Philip Kingsley).
Because the cuticle is the hair's main protective layer, a cold water rinse may be in its benefit for healthier hair. Cold water can actually help encourage the cuticle to close back up, flattening and smoothing out the "scales" as it's supposed to naturally. "Washing your hair with cold water helps with closing your cuticle after the wash. This also has the added benefit of helping, along with your hair care products, to make your hair look strong and shiny, and who doesn't want that?" celebrity hairstylist Florian Hurel tells Vogue. However, there is some benefit to having an open cuticle when cleansing and applying certain hair products.
Benefits of a cold water rinse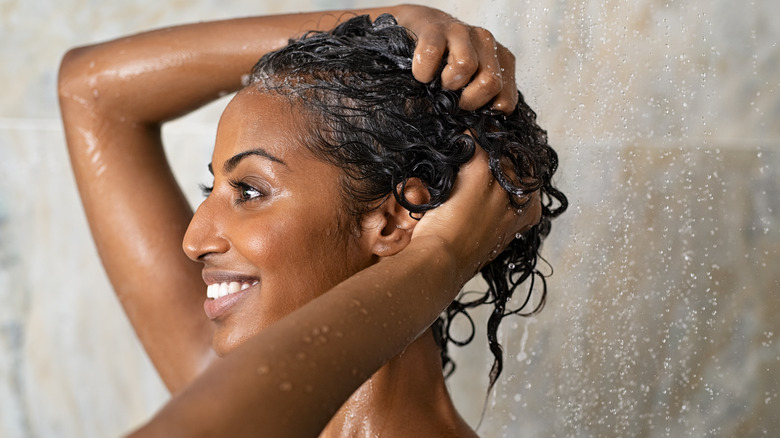 Rido/Shutterstock
If you're thinking that this means you have to take completely cold showers, don't worry, it's only for your hair after applying your shampoo. In fact, hair care experts don't recommend using cold water during the washing process, only after. "Use warm water to remove any kind of debris, one to two shampoos, depending on how long it's been since you've washed [your hair], then you're going to go ahead and add a conditioner [from] roots to ends," celebrity hairstylist Ona Diaz-Santin tells Shape. "Massage [the product] in really well, using your fingers to detangle, and rinse with cold water to lock in the moisture. [The cold water] will smooth out the cuticle and help detangle easily."
An important thing to note is that when you are washing your hair, the keyword is warm water. Hot water may strip your hair of natural oils, dry out your scalp, weaken your roots, and cause frizz or breakage. Warm water during a wash is effective for cleansing, stimulating blood flow for the scalp, and gently opening up the cuticle. Cold water during the conditioning process will close the cuticle, and therefore, will help your hair stay clean for longer periods of time. In addition to better controlling breakage, frizz, or other damage, cold water also preserves some of your hair's necessary oils, further encouraging smooth, shiny hair (via SkinKraft).