The Brow Pencil James Charles Swears By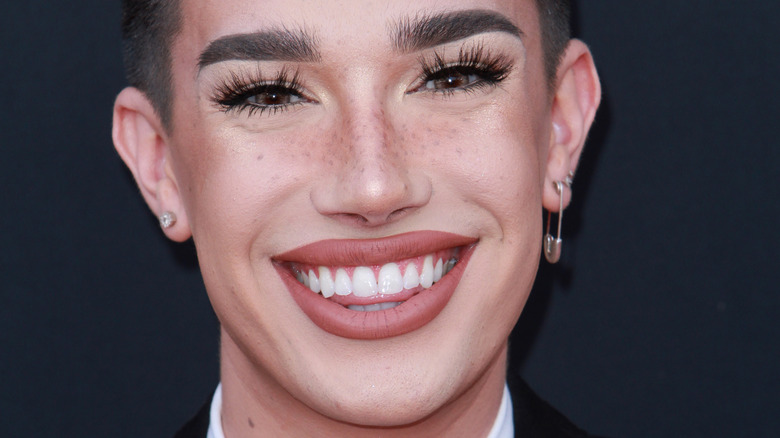 Kathy Hutchins/Shutterstock
We may receive a commission on purchases made from links.
Has anyone else noticed that eyebrow trends are constantly changing? We've seen how super thin brows were the ultimate standard in the 1990s and early 2000s, then full brows took over, then bushy brows became trendy, and now there seems to be some of everything. But regardless of how thick or slim you want your brows to look, everyone can benefit from using a brow pencil to fill them in or line them.
Advertisement
"[A pencil] is actually my favorite application ... They are great for applying fine, hair-like strokes and look very realistic," Sir John, a celebrity makeup artist, told Byrdie. Eyebrow pencils are excellent for enhancing your brows and making them look more polished or complete. Of course, there are so many products to choose from that it might seem challenging to pick one, but we know the one that James Charles recommends.
Between Charles' various scandals and how he and fellow influencer Jeffree Star were in hot water with the USDA, there's no doubt that Charles is a controversial person, but we also know he's a talented makeup expert. Charles has more than 22 million followers on Instagram and even more YouTube subscribers, as makeup enthusiasts value his opinions. So, which eyebrow pencil does this controversial yet talented makeup artist recommend?
Advertisement
James Charles likes the Anastasia Beverly Hills Brow Wiz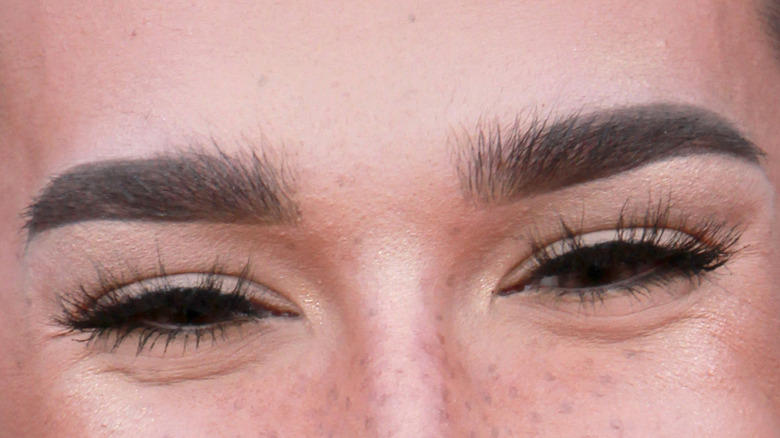 Kathy Hutchins/Shutterstock
If you've ever wondered how James Charles consistently rocks such flawless eyebrows, he shared his secret weapon: the Anastasia Beverly Hills Brow Wiz. "The tip is super, super tiny, but can be really defined when doing your brows," Charles told ET (via wkyc). "My brows have definitely underwent quite the transformation since I started doing makeup ... This pencil saved my life as opposed to a really intense pomade. I also love this as well because I have a lot of beauty marks and freckles and I love to intensify them and draw them on for a youthful, cute freckled look using a brow pencil."
Advertisement
Anyone considering purchasing Charles' beloved brow pencil can buy it at Sephora for $23, where it comes in a plethora of hues to match various hair colors, such as dark brown, taupe, and caramel. Or, you can purchase the Anastasia Beverly Hills Brow Wiz Ultra-Slim Retractable Detail Pencil With Spoolie from Ulta, where it also sells for $23. Moreover, the pencil sells on Amazon for $23, at Walmart for $21.15, and at Macy's for $23. We're so relieved that this product is accessible for anyone to obtain from many retailers and isn't an exclusive item for famous people to buy from celebrity-focused sites.
Here's what other people think of this product
Of course, this brow pencil gets bonus points for being endorsed by the one and only James Charles, but we wanted to see how other shoppers feel about the product, too. The Anastasia Beverly Hills Brow Wiz has 4.4 out of five stars at Sephora with over 15,000 reviews. One happy reviewer praised the item, describing it as a "Useful Tool for Everyday" and writing, "I am in love with this product and it really comes in handy when I'm in a rush!" And the feedback is even better at Ulta, where the brow pencil has 4.7 stars with more than 20,000 reviews. One pleased customer wrote, "Great pencil ... natural looking if you have eyebrow hair, I love it and definitely recommend it."
Advertisement
Furthermore, the Anastasia Beverly Hills — Brow Wiz is an Amazon's Choice item, with 4.7 stars and more than 20,000 reviews. A reviewer noted how well it matched her hair color, writing, "I would suggest people with silver brownish ash hair try this pencil." The product has glowing reviews on other sites, too, earning 4.6 stars with over 1,800 reviews at Walmart and 4.6 stars at Macy's with more than 2,000 ratings.
Thus, not only does Charles recommend this product, but countless reviewers enjoy using it, too. So, are you ready to try it?