What Makes A Curly Cut Different Than A Regular Haircut?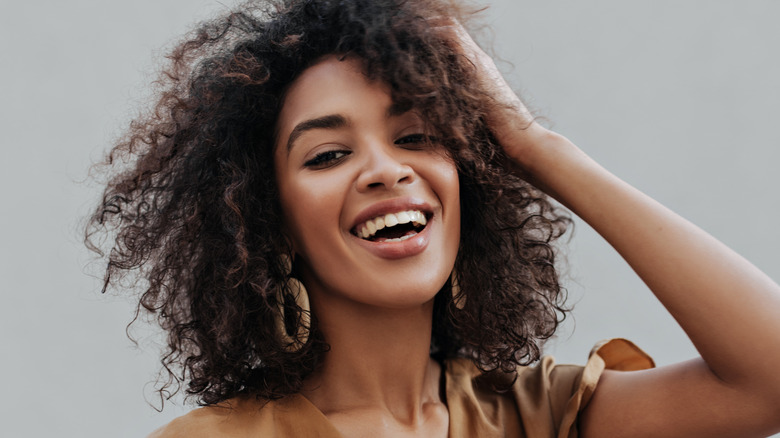 Look Studio/Shutterstock
Curly-haired beauties are back and gorgeous as ever thanks to this curly hair revival era. Many coily and curly-haired ladies have suffered years of heat damage in an effort to maintain their "unruly" hair. With the rising popularity of the curly hair method, however, people are reclaiming their coils and beginning their curly hair journey.
Advertisement
One of the key steps people often forget to implement during their curly hair journey is getting regular trims. Unfortunately, you can't just walk into a hair salon and expect every stylist to know how to cut curly hair. Instead, you have to do your research to find the right stylist for the job. Getting a regular haircut on curly hair can cause curl shock which is a phenomenon that can significantly alter the bounce and volume of your hair, and it can even affect your hair's health if styling tools such as flat irons or curling irons are used, per NaturallyCurly. So, it's important to choose a stylist who knows what they're doing.
Curly hair also tends to take on a triangular shape when grown out, which can weigh down the hair and result in a bottom-heavy look. This is why a curly cut is often done on dry hair, so your stylist can account for shrinkage and can get a better idea of what each curl type looks like (via Gossip Curls). There are hair stylists who swear by wet cuts, so it all depends on the stylist and your individual preference.
Advertisement
What are the different types of curly cuts?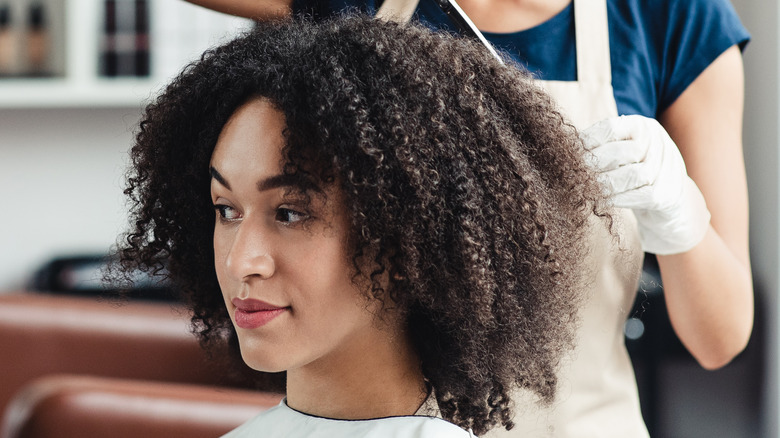 Prostock-studio/Shutterstock
According to Only Curls, when it comes to choosing the right curly cut, you have to account for your unique curl type, whether that's 2C waves, 3A curls, or 4C coils. The next step is to compare the different types of curl cuts and determine which one is right for you. The three most popular cuts include the Rezo technique, the Deva technique, and the Ouidad technique.
Advertisement
The Rezo cut is done on dry hair and sections the hair to create a round, even length around the head, per Kurlify. The main difference between the Rezo cut and Deva cut is that for the Deva cut, the stylist cuts your hair one strand at a time and focuses on framing the face, while the Rezo cut focuses on creating movement at the roots (via Pattern Beauty)
The Ouidad cut is done on wet hair and uses a unique carve and slice technique. As Ouidad-certified stylist Stevie Kennedy explains to PopSugar, "[Ouidad] curly cutting techniques like the 'Slice and Carve' involve slicing in to remove weight and encourage curl formation and carving out to eliminate density and bulk, while utilizing different elevations to create seamless layers." But which technique is right for you?
Advertisement
How to find the right curly cut for your hair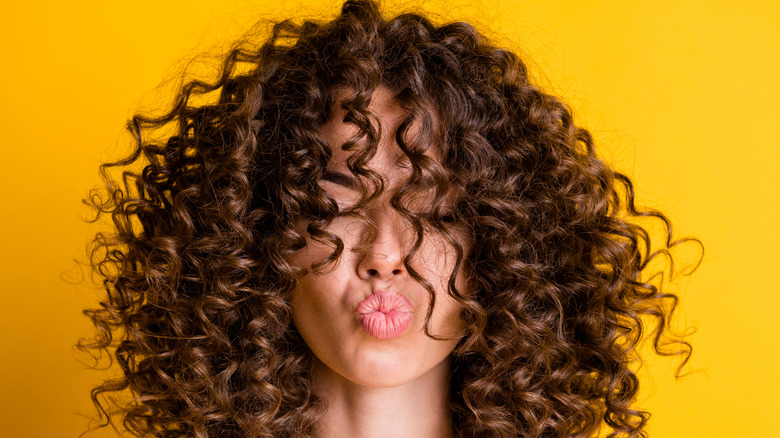 Roman Samborskyi/Shutterstock
Once you've identified your unique curl type, you can determine which curly cut will suit your hair. If your hair pattern leans towards the wavy side of the curl spectrum, or if you occasionally like to use heat styling tools, then you would benefit from the Rezo cut which works well for different curl types and looks great straight or natural (via Pattern Beauty).
Advertisement
The Deva cut, on the other hand, was specifically created for curly hair so this cut is perfect for curly to coily hair patterns, per Kurlify. This technique is designed to enhance your natural curl pattern so if you wear your hair curly on a regular basis, then this is the cut for you.
Lastly, the Ouidad cut is best for people with thick hair as it focuses on cutting down bulk on the thicker areas of your hair to bring more volume to strands with looser curl patterns (via NaturallyCurly). The Ouidad technique aims to create consistency and remove the dreaded triangle shape that often occurs in curly hair types. Now that you know which type of cut is right for you, you can get a cut in confidence and continue to rock the curls that make you, well, you!
Advertisement