Why Starbucks' Iconic Fall Drinks Are Falling Short At Drawing In Customers This Year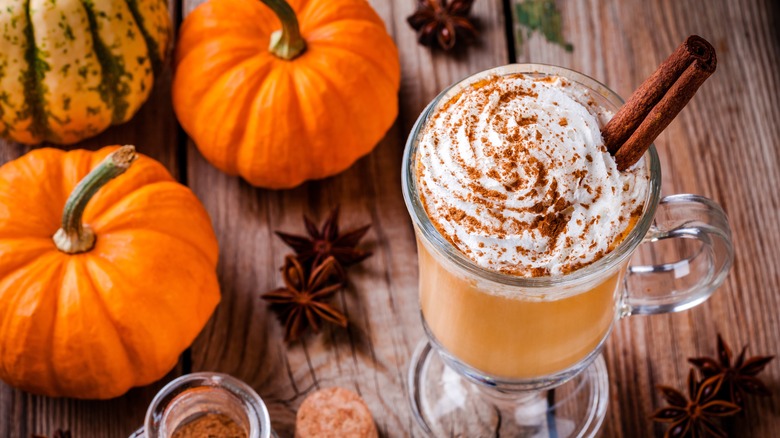 nblx/Shutterstock
September 22 may be the first day of autumn in 2022, but as far as Starbucks enthusiasts are concerned, fall began on August 30 when seasonal drinks dropped at stores nationwide (via Starbucks). From the quintessential pumpkin spice latte to the apple crisp macchiato, Starbucks' fall drinks have garnered a cult following and are typically huge draws for the brand. In fact, the pumpkin spice latte — aka the PSL — is often credited with kicking off the pumpkin spice craze that's infiltrated everything from scented candles to pumpkin spice SPAM.
It's no wonder that other restaurant chains and beverage manufacturers have been quick to mimic seasonal favorites, with similar drinks popping up on menus at competitors like Dunkin' and McDonald's. Still, Starbucks has historically relied upon its fall favorites for a quick business boost. After Starbucks released its autumn drinks in 2021, Saturday foot traffic rose by 20.8% over the four previous weekends (via Yahoo! Finance). However, the same can't be said for the brand's performance in 2022. Despite the seemingly timeless popularity of Starbucks' seasonal drinks, this year has seen in-store visits in serious decline. So, what's going on, and why aren't autumn menu items pulling their weight?
Despite sales growth, Starbucks locations lose in-store visitors
As customers flocked back to their favorite brands post-lockdowns, Starbucks enjoyed consistently high foot traffic through 2021. But as shown by data from SafeGraph, this traffic took a sharp nosedive in April and May of 2022. Dropping from 5,346,600 daily visitors on April 18 to 3,487,995 on June 27, in-store traffic decreased by nearly 35% in the span of just two months.
At the same time, Starbucks has seen steady growth, setting overall sales records in each quarter of 2022 and culminating in over $8.1 billion in revenue in Q3 (via Macrotrends). But it's worth noting that this growth is tied heavily to cost-per-ticket, rather than an increase in individual orders. For instance, Starbucks' Q3 Fiscal 2022 report shows an 8% increase in the value of each transaction but only a 1% improvement in the actual number of transactions. In essence, traffic isn't showing much upward movement; individual customers are just spending more, likely due to higher menu prices.
While daily visits certainly showed improvement following the August 30 release of seasonal beverages, it's clear from the graph that in-store traffic still lags far behind previous years. So, why aren't iconic drinks like the pumpkin spice latte attracting a greater uptick in visitors?
Bad press, inflation, and drive-thru purchases stymie foot traffic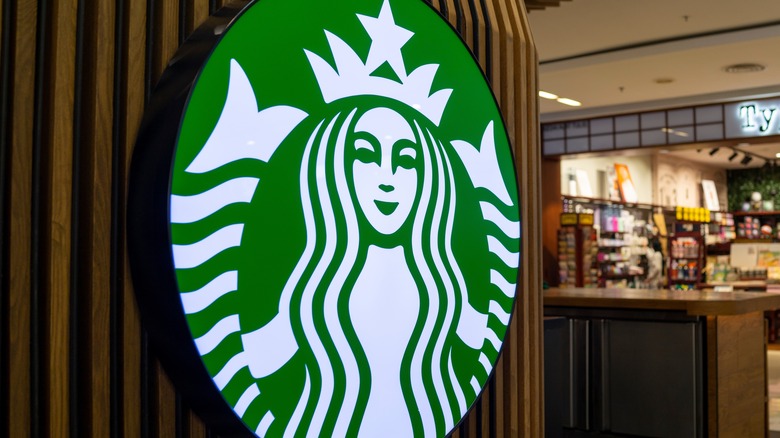 TY Lim/Shutterstock
Various factors may be contributing to the precipitous drop in Starbucks' in-store traffic. For one, Starbucks suffered a wave of bad press in 2022. Amid efforts to unionize, baristas have reported poor conditions and corporate retaliation. For instance, pandemic-era employee benefits were cut despite record-breaking sales (​​via NPR). This ongoing battle has continued to make headlines, with almost 200 U.S. stores unionizing as of September (via CNBC), and the news coverage may be putting a bad taste in the mouths of many would-be consumers.
Inflation is also impacting customer behavior across industries. June 2022 saw a 9.1% increase in prices over 2021, representing the largest year-over-year rise since 1981 (via the U.S. Bureau of Labor Statistics). As these soaring costs cut into customers' discretionary spending, many are removing luxuries from the budget — such as increasingly expensive coffee drinks.
Finally, the ongoing specter of COVID-19 may still be influencing consumer habits. April 2022 — the month that saw Starbucks' traffic begin to crash — saw a rise in daily cases that continued to surge throughout the summer (via The New York Times). This may have driven many Starbucks fans to prefer the drive-thru over an in-store experience, which would skew the foot traffic results dramatically. In addition, Starbucks leadership is leaning heavily on app orders and its loyalty program to drive sales, which may make online order pickup an attractive option for shoppers in a hurry. "Our loyal Starbucks Rewards members drove a record 53% of U.S. company-operated revenue," interim CEO Howard Schultz reported regarding the brand's Q3 results (via PYMNTS). While such loyalists enjoy their PSLs, other customers may balk at the bad press, rising prices, and COVID risks of visiting Starbucks storefronts in person.