Should You Send A Bill To Your Wedding Guest No-Shows?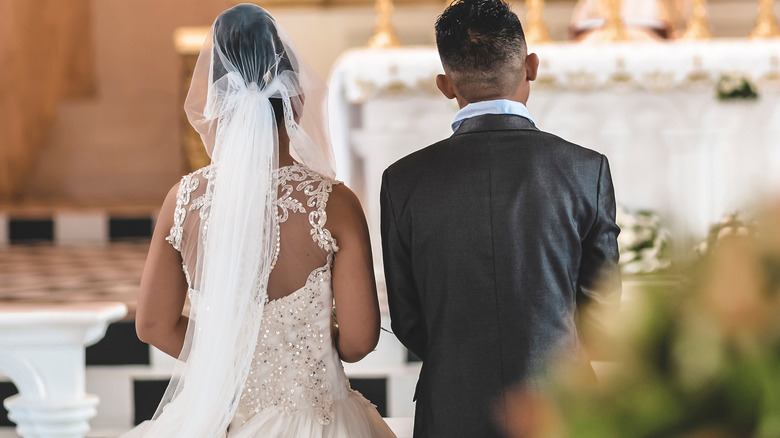 MDV Edwards/Shutterstock
If you've ever had to plan a wedding (or know someone who has), you'll understand how easy it is to break your budget. A wedding day is, after all, the big day, and many people spend years dreaming about the perfect nuptials, if not actively planning them. Emotion is often the driving factor behind wedding plannng decisions, while logic goes out the window. Pair that with a price-elastic wedding industry that bets on starry-eyed brides paying anything to bring their fairy tale to life, and you've got a recipe for ridiculous sky-high costs.
Advertisement
As an engaged couple trying to scrape the funds together to pay for their dream wedding, nothing is more frustrating than guests who RSVP yes and then don't show up. Looking back on the meals that went to waste and seats that remained empty — and money that could have gone towards another part of your wedding — you might feel like sending an invoice to your no-shows, simply asking them to cover their costs. The practice is certainly not unheard of, with 7 News recently reporting on a couple who created a bill for $240 for two guests who didn't turn up to their big day. The urge to claim that lost money back is understandable and nothing new, but should you do it? Etiquette experts have weighed in.
Advertisement
Is billing no-shows a faux pas?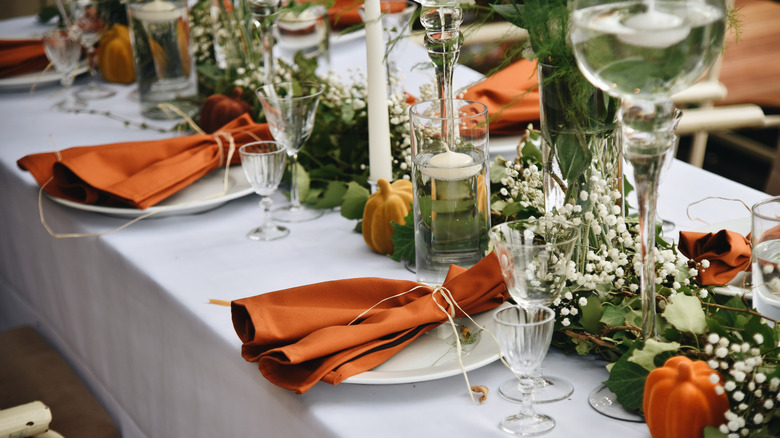 Jelena Ivkovic/Shutterstock
It's generally agreed that RSVPing yes to a wedding and not turning up is the height of rudeness. However, most etiquette experts still don't consider this a substantial reason to send an invoice. Co-host of the "Awesome Etiquette" podcast and great-great-grandson of etiquette wiz Emily Post, Daniel Post Senning argues that sending a bill is a faux pas that doesn't align with an engaged couple's role as gracious hosts. "In some ways, your role as a host is to be understanding that mistakes will be made," Post Senning told CNN.
Advertisement
Money.com agrees that newlyweds should never send a bill to no-show guests, as party hosts should account for the possibility that some people won't turn up when they're budgeting. While this behavior is rude on behalf of the guest, part of hosting is dealing with these hiccups, which can sometimes be costly. Additionally, sometimes life throws unavoidable curveballs like death or sickness, and slapping a bill on a friend already going through a difficult time is likely to permanently affect the friendship.
While most wedding and etiquette specialists are united in their stance against billing no-show guests, Brides claims that the one exception is destination weddings, where no-shows can incur significant costs. In this case, wedding planner Retno Dwinika advises including your policy in the RSVP so guests know up-front that not turning up will result in a bill. However, it's important to operate on a case-by-case basis, as there may be no need to bill guests who let you know months in advance that they won't be attending, even if they initially said yes.
Advertisement
How to keep your wedding costs down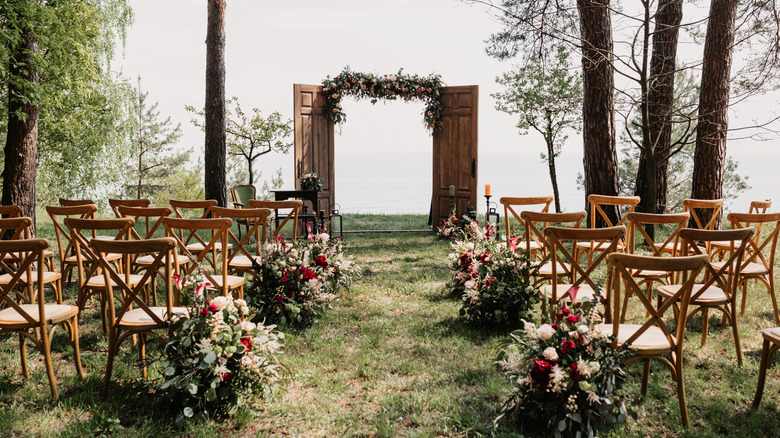 Alexander Shunevich/Shutterstock
Paying for no-show guests is often an inevitable part of hosting a wedding. While you can't control the behavior of other people, you can reduce the chance of incurring extra costs with a few simple tips. Namely, paying careful attention to your guest list can make it less likely that you'll get too many no-shows. Think hard about who you want at your wedding, and second-guess anyone on the list who is not a close friend or family member (via Love & Lavender). Reducing the guest list will reduce the overall costs and boost your chances of everyone showing up because they genuinely want to be there.
Advertisement
You can also cut guest-related costs by having a clear plus-ones policy (via The Knot). Decide what your approach will be to plus ones from the beginning, rather than working it out on a case-by-case basis. That way, you're less likely to begrudgingly accept (and pay for) plus ones you don't know. The Wedding Planner Institute outlines other effective ways to reduce your overall wedding costs, including opting for a weekday wedding, getting married during winter, and hosting a brunch rather than a dinner reception.
By setting a realistic budget and accounting for some no-shows as you plan your wedding, you'll find it easier to bear the irritating, yet inevitable, costs that come with hosting. Because while sending a bill to your guests might be appropriate in rare circumstances, it's generally a drastic move you're likely to regret.
Advertisement