What To Know About Wearing And Styling A Leather Harness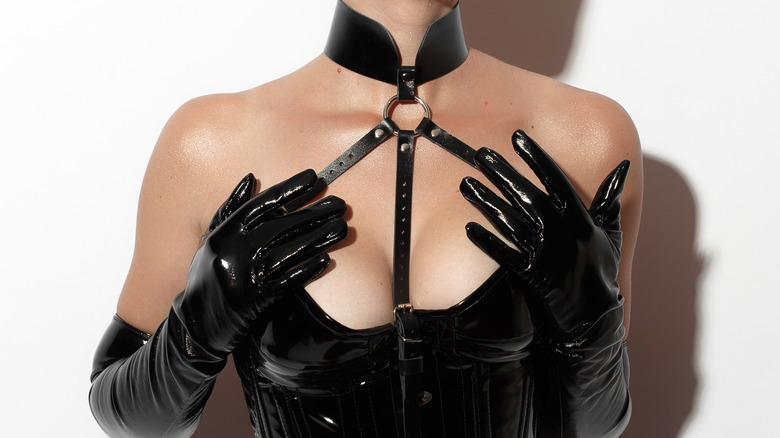 Fetish Deluxe/Shutterstock
The world has been fascinated with BDSM and kinky sex for some time. While some people have always viewed this sexual style as a disturbing taboo, others view it as exciting. BDSM culture made its way into mainstream music over a decade ago when Rihanna dropped the provocative song, "S&M," which sparked intrigue around the concept. With an upbeat sound, the BDSM anthem had many kinky lyrics, such as "sticks and stones may break my bones, but chains and whips excite me" (via YouTube).
Moreover, the controversial novel "50 Shades of Grey" sparked so much interest in BDSM relationships that this series was adapted into movies, where viewers get a taste of this non-traditional sexual activity involving power dynamics, bondage, and other erotic tools per YouTube. Another contribution to BDSM's rising popularity is how celebrities have started opening up about their experiences. For instance, the stunning and famously eccentric Julia Fox worked as a dominatrix when she was a high schooler. "I got into the sex industry, doing S&M stuff," Fox told The Hollywood Reporter. Her experience with BDSM seems to influence her outfits, as she wears many gorgeous looks involving lace-up pieces and seductive black leather.
BDSM culture is influencing fashion, as leather harnesses have become a popular trend. But believe it or not, this trend is nothing to be scared of — it's more versatile than you may initially think.
Leather harnesses can be ultra-sexual but don't have to be
When you first hear the phrase "leather harness," you probably think of a scenario that could've jumped out of "50 Shades of Grey." Of course, leather harnesses can be super sexy paired with steamy black lingerie for a night of passion in the bedroom. However, these leathery pieces aren't limited to looks dedicated to sexy time; you can wear a leather harness as an edgy accessory to add a bolder detail to various everyday outfits.
A writer for Refinery29 explained that she wore a harness as an accessory with a surprisingly classic ensemble: a white button-down, neutral shorts, and heels to dinner with friends. She shared that the harness was a hit, as she received compliments for her look, despite a few judgmental looks from families. Plus, she noted that she felt extra comfortable and confident when wearing it. So, why not follow in her footsteps and ease into the leather harness look by pairing it with a button-down?
Furthermore, you can find many ways to style your leather harness on YouTube. For example, a video by Beepworld explained some ways to style this piece and showed how surprisingly good it looks with a floral dress, adding just the right amount of edge to the otherwise dainty look. The leather harness also looks excellent with a dark graphic T-shirt and black skirt, as the harness' intensity naturally pairs well with emo and punk-inspired ensembles.
These are our favorite leather harnesses
We understand that you may feel nervous or unsure of where to start when shopping for a leather harness, which is why we already did some of the research so you won't have to. The black ROMWE Anime Solid Criss Cross Ring Linked Harness Belt provides that edgy, BDSM-inspired look and sells for only $10 on Shein. This harness has 4.71 out of five stars, making it an excellent option for easing into this provocative accessory.
A white harness is a stylish item for anyone hoping to dabble with this trend but doesn't want anything too intense. The White Harness is available at H&M for around $20 and offers a chic spin on this style without appearing too edgy or sexual. This faux leather harness has an impressive 4.6-star rating. Meanwhile, if you want to rock a super girly twist on the leather harness look, the pink ROMWE Anime Ring Linked Studded Body Harness Strap sells for $9 at Shein. This light pink harness has an ultra-strappy look and even features a collar for a dauntless BDSM-inspired detail, and it has a near-perfect rating.
So now, are you ready to embrace your sexy — or edgy — side with a trendy leather harness?