How To Apply Blush Based On Your Face Shape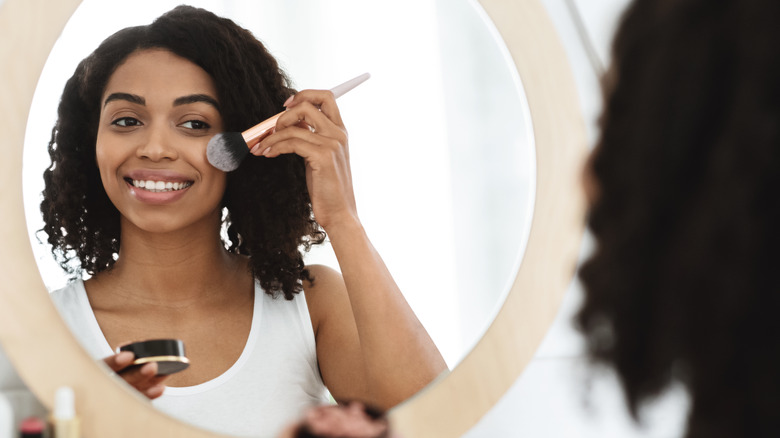 Prostock-studio/Shutterstock
Rarely does one picture capture so many universal truths. But there it was, on the front cover of McKinsey & Company's landmark report on the state of the cosmetics industry, "How COVID-19 is changing the world of beauty." The picture showed a woman applying eyeshadow with a brush while wearing a face mask that covered most of her face, climbing to just below her eyes. "What's the point of wearing blush during a pandemic?" the picture seemed to say.
Indeed, the report corroborated a drop in blush (and lipstick) sales, which many people predicted would eventually bounce back. Now, it looks like they were right: A NPD Group report shows that 70% of makeup wearers have resumed their former makeup routines, with some people wearing more makeup than they did before. You may be one of them, celebrating with the same exuberance you felt when you first started wearing makeup. So, why is your hand trembling as you hold your blush brush?
With the passage of time, it's entirely possible that a bit of uncertainty is tainting your newfound enthusiasm. You may not feel the same confidence about what looks good on your face, much less how to make it happen. If you can relate, try not to worry. All you may need is a quick refresher on how to apply blush based on your face shape. In a few steps, you can learn how to unmask a more glowing you.
Choose a flattering shade based on your skin tone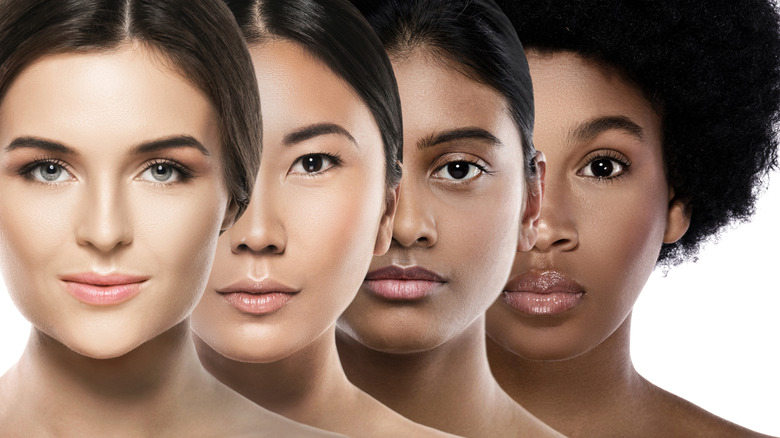 BLACKDAY/Shutterstock
No matter how many blushers you have in your collection — one, 10, or dozens — get your reintroduction to blush off to the best start by choosing a shade that suits your complexion. As noted by Nykaa, blush is different for everyone. Everyone has to find their own shade and perfect spots on their faces to apply it. A shade that is either too light or too dark can backfire; it can age you rather than give you the youthful glow blush is meant to provide. Just as skin tones go from light to dark, so too should the blush shades used to complement them. For example, if your skin is pale, you can wear light pinks and pale lilac shades. 
You may also be able to champion these shades with a light-to-medium skin tone, though it's hard to go wrong with a light peach color. Darker skin tones may require more experimentation. If you'd call your skin color olive or golden, brighter pinks, warm apricots, and deep peach shades may suit you well (via No. 7 Beauty). Your color palette may be even wider if your skin is dark. In this case, try shades in the bright apricot, deep peach, plum, or even warm brown continuums. Once you narrow your choices, boost your confidence with the "pinch test." Give your cheeks a good pinch until they change color. Then match a blush shade to your cheek color for a truly natural look (via Masterclass).
Identify your face shape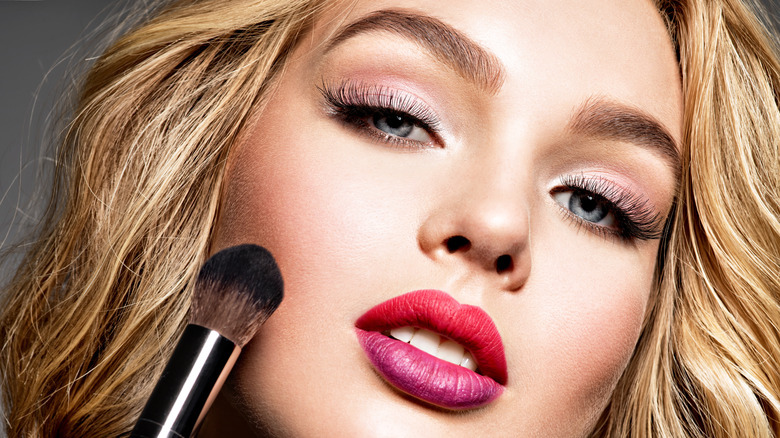 VALUA VITALY/Shutterstock
Apply blush with even greater confidence by identifying your face shape. Four basic shapes guide the work of many makeup artists: oval, round, square, and heart-shaped. If your face is oval-shaped, your cheekbones are likely prominent. In this case, MasterClass recommends elevating them by applying blush to the top of your cheekbones.
Applying blush to round faces can be tricky; even a little color can make them look fuller. Using a matte blush can help minimize this risk when you apply color just below the apples of your cheeks and then sweep your blush brush toward your hairline. In case you're rusty, the apples of your cheeks protrude when you laugh or smile (via Beauty Answered). If your face is square-shaped, apply a little blush right below your cheekbones, or you can smile widely and apply blush to those protruding apples. 
If you want to soften the edges of your face, apply blush around your hairline. As you do, step back and observe your work. It should be instantly apparent if the addition of color enhances your face. If your face is shaped like a heart, with a wide forehead and high cheekbones, you may have the most fun of all. Use your favorite blush to make a semicircle, starting just below the apples of your cheeks and going up to your temples. If you haven't tossed out your mask yet, get your throwing arm into position. Just look in the mirror; you're ba-a-ck.