Skip A Facelift And Try This Concealer Hack Instead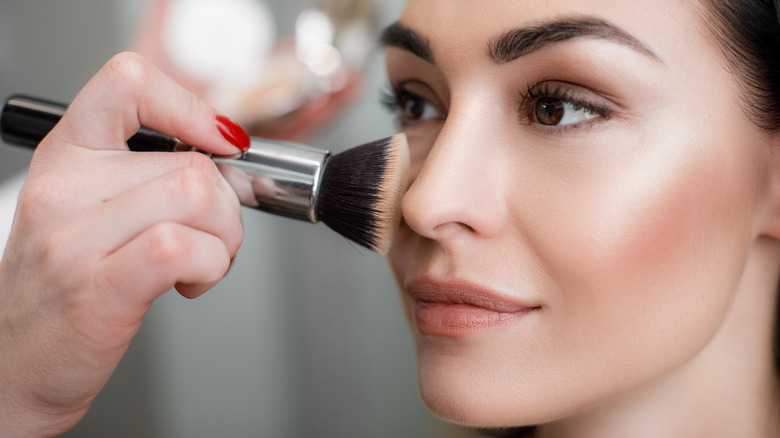 Olena Yakobchuk/Shutterstock
Many of us would love to reap the benefits of a facelift without having to undergo invasive surgery or pay thousands of dollars. While makeup tricks might not be quite as effective as the real thing, beauty gurus have swarmed TikTok to share a concealer hack that really does create the illusion of lifting your face. For a mere fraction of the price of a facelift and none of the painful side effects, your skin can look younger, smoother, and firmer.
Concealer is a beauty staple that most people will already have in their makeup bags. Neutrogena explains that this versatile product is similar to foundation in its neutral color, except it's thicker and has a greater ability to hide skin imperfections. Applied after foundation, concealer can be used to hide fine lines, blemishes, and dark circles; highlight cheekbones; and create a contour effect that draws flattering shadows and points of light on the face. Following the advice of hundreds of knowledgeable TikTok users, you can also "lift" your face using only a small amount of concealer.
The faux face lift
The viral TikTok trend that teaches you how to fake a facelift involves applying concealer to strategic areas of the face. L'Oréal recommends forgetting the traditional placement of concealer — in large upside-down triangles beneath the eyes — and instead applying a dab of product to the inner corner of the eye, stretching it out into the under-eye area. Then repeat the motion near the outer corner of the eye, extending upwards towards the temple. Blend the concealer with upwards swipes to create a lift.
According to Real Beauty School, you can enhance this look with blush and bronzer. Apply a cream blush below the concealer in the outer corner of your eye. Then you can apply cream bronzer below the blush. Blend with a makeup brush or wet sponge. Another well-known way to fake a facelift is to contour your face with bronzer in the shape of a large "3" (via City Beauty). This should start in the center of your hairline, travel down your temple, below your cheekbone, back toward your ear, and then to your jawline. Then, apply highlighter to the high points of your face, including your upper cheekbones and eyebrow bone. Again, blend with a beauty sponge until the lines of the product are no longer harsh. 
What to know about concealer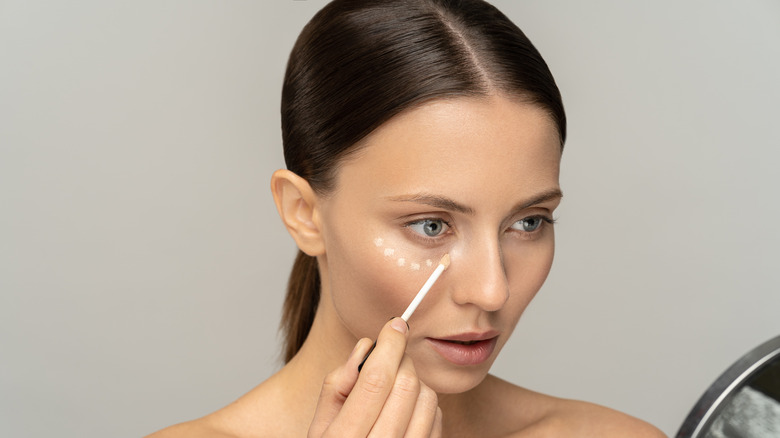 DimaBerlin/Shutterstock
If you are going to use the TikTok concealer hack to achieve a faux facelift, it's important to use the right concealer and apply the correct concealer techniques. When it comes to picking a concealer, Maybelline recommends using your foundation shade as a guide. For highlighting, it's best to pick a concealer that's one or two shades lighter than your foundation. If you're having trouble finding the right shade, you can always head in to your local makeup store and ask for some guidance. Naturally, IPSY advises choosing a concealer with a matte finish if you have oily skin, and a hydrating concealer if you have dry skin.
A beauty sponge is a popular and effective tool that you can use to blend your concealer, but you can also use your fingers if you find this easier. You should always prep your skin with a primer before using concealer, and apply it after your foundation, tinted moisturizer, or BB cream (via L'Oréal). A common concealer mistake to avoid is layering the product on too thickly. Remember, a little goes a long way. Once you've achieved the look you desire, lock it in place with a setting spray or powder so your hard work (or lack thereof) doesn't go to waste. Then you're ready to rock your faux facelift!